Don´t be just another tourist passing the cool local things by…If you want to experience something a bit different than average Prague visitor (without frittering your money away), you should take some time and go through my new blog post dedicated to new, trending and unknown things, places and activities happening in your next destination – Prague. 5 insider tips on how to boost your Prague stay.
#1 SOMETHING TO SEE
Drain Pipe Embryo By David Černý
This little thing is refreshing, disturbing, emotional, controversial, creative part of historical downtown. Another and rather less known piece of Czech artist David Černý. This little drain pipe "decoration" is hidden at the corner of Prague´s Na Zábradlí theatre, popular for close cooperation with Czech playwriter, dramaturg and democratic president, Václav Havel.
If you want to see something a bit different than others, "get lost" in Prague back alleys. Embryo is hidden in one of them. This fetus is trying to get through a narrow pipe which most probably reffers to how difficult for artists is to be understood by narrow-minded people.
My tips: It glows at night, don´t miss it at night!
Address: Anenské náměstí, Prague 1
#2 SOMETHING TO DRINK
Silák. Hey! It Is Not a Beer!
We love coffee, we love beer…now we also love a home made broth in a cup to go. The broth called "Strong man" ("Silák" in Czech language) is currently on offer in several Prague coffee places and on farmer´s markets. Absolutely unique idea in combination with cold winter time. This nutritive simple thing is also great for hangovered stomach (beer, beer, beer…).
Some of the local progressive (or hipster?) coffee places has recently started to offer this brand new item on their TO GO menu. This chicken broth in a cup is made by local food enthusiastists. Their product "Silák" is entirely cooked from ingrediences provided by Czech resposible farmers. This masterpiece is cooked 6 hours which means it really kicks!
Where to grab "Silák":
Ye´s Cafe
Bistro 8
Paralelní Polis
Farm Letná
Kavárna Do Větru
#3 SOMETHING TO VISIT FOR FREE
The Most Beautiful Tunnel in Prague: Vyšehradský Tunnel
This romantically looking tunnel from the beginning of the 20th century is so different and fascinating! It´s lenght is just few meters but the location is amazing. The tunnel takes you through a rock on which you can find a mysterious fortified area called Vyšehrad with history dating back to the 10th century.
If you want to explore more than just Prague downtown, take a tram and in just 10 minutes you can be away from the city madness. The tunnel is situated on a river bank so the tram ride is perfect for sightseeing, too. This tunnel is the shortest and the oldest Prague road tunnel and its decoration resembles entrance to the medieval castle.
My tips: You can easily reach the tunnel by walking (Old Town and New Town side) and take great pictures from the pavement (or take a tram number 17 to Výtoň stop).
#4 SOMETHING TO REMEMBER
Pragtique, Superlative Souvenirs From Prague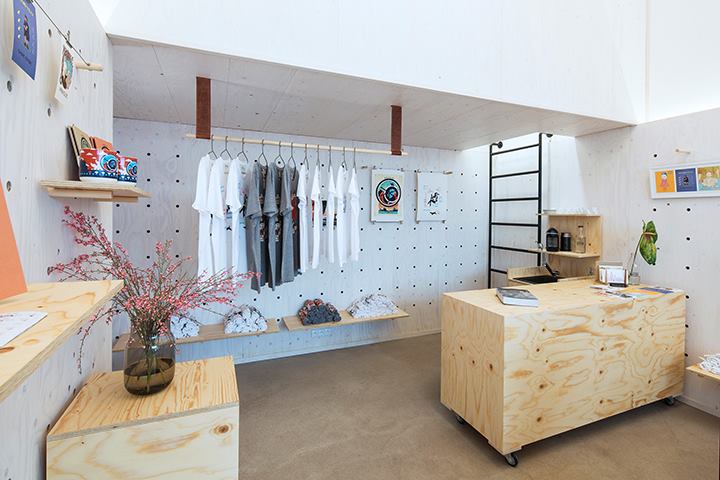 I am super excited that somebody was brave enough to finally come up with an idea to stand up to all the kitchy souvenirs sold downtown Prague. Forget about "I love Prague" T-shirts or matryoska dolls or any other fake stuff. Pragtique is about Prague original design and handwork. Skip the touristy circus and pop-in there.
If you really want to bring back home something original, you should skip the overpriced souvenir shops along all the major touristy routes! Pragtique is a little concept store, or rather smart gallery well hidden in house atrium called Platýz. And what is on offer? Prague focused designs from heads and hands of local progressive artists.
My tips: Quality check? Even Czechs like to go there!
# 5 SOMETHING WHAT WILL NEVER END
A Book Tunnel In Municipal Library
We love it! Because it is fascinating even after seeing it a hundred times. In front of the inner entrance to the Municipal library, there is a unique vertical "tunnel" made of books. The best thing about the book tunnel is that when you take a look inside, you will see a neverending hole. Why? Because there are mirrors on each side which make the space incredibely deep and high at once. It is little bit difficult to describe it as the best way how to understand the whole priciple is to see it on your very eyes.
The library building itself is perfect "non touristy" spot close to Old Town Square where you can find (besides books) toilets for free and a budget bistro with beer.
My tips: You will definitely enjoy it! Just make sure you don´t go there on Sunday when the library is closed. Opening hours here.
Address: Mariánské náměstí 1/98, Prague 1
Dana | guide for Prague Behind The Scenes Tours