Christmas starts in a few days. If you are visitng Prague during the upcoming days, read on. This blog post will be about what to do in Prague during the Advent and Christmas time.
All recommendations are written by me, Dana, Prague local and off-the-beaten-path tour guide. Have a wonderful stay in my hometown. 
Prague Christmas markets (but where to go?)
As I mentioned in my last Christmas blog post called 7 practical tips for Prague Christmas visitors, Prague Christmas markets are one of the most beautiful ones in Europe. However, from all the pictures or videos you don´t usually see the whole reality – how crowded these markets are and how some vendors are ripping people off. Now I am talking about the most centrally located ones: Old Town square, Wenceslas square and Prague Castle Christmas markets.
Locals try not to spend too much time there. To be honest, these three markets are just a big overpriced show for tourists. Locals prefer going to Tylák, Náměstí Jiřího z Poděbrad, Náměstí Míru and other local markets.
My tip: new downtown alternative to the classic Christmas markets is Manifesto. Opened in June 2018. Manifesto Florenc is aboslutely new concept of pop-up gastronomy | design | culture hub situated at former unused brownfield. This place consists of 27 transport containers and serves as a modern village for art, education, gastro & entertainment. In the heart of Prague. During the Christmas time it serves as a modern Christmas market.
Enjoy stunning views from Charles bridge (but how to beat all the crowds there?)
I suppose that many of you will want to visit Charles bridge during your Prague Christmas visit. And cross it. Of course,It´s the main attraction in Prague (together with Astronomical clock and Prague Castle). Before heading there you should however know that it´s also extremely busy and noisy place. If you don´t like crowds, don´t go there – you will just fight for your space.
My tip: I love Charles bridge, the views are absolutely breathtaking but since I can´t stand crowds I rather climb up to the bridge towers. There are two actually (one on Old Town side and one on the Lesser town side, both are great). You just pay a little fee and enjoy the fantastic moments at the top.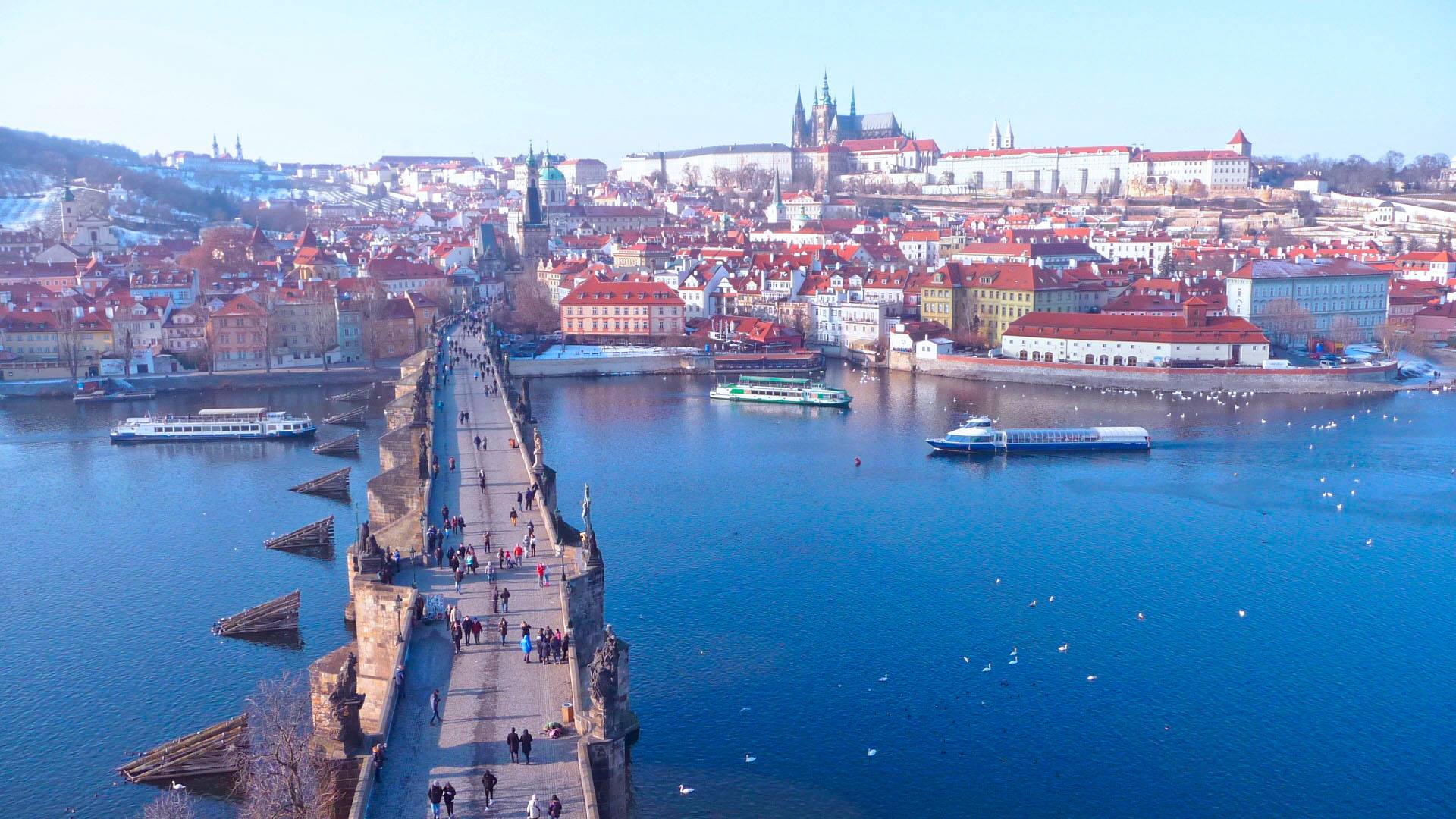 Shop authentic things (but what is it?)
Gift shops downtown Prague, oh well…it´s one big disaster. Many of these places are owned by various groups of Russian/Belorusian/Moldavian companies whose businesses are not always 100 % transparent. We try not to support places like these. Besides that they also sell souvenirs like matryoshka dolls or USSR army fur hats (typical Russian things) and present them as a cool gift from the Czech Republic.
In fact it is very abusive and rude towards Czech people. Some of them are also selling various jewelery, glass, crystal, porcelain of suspicious quality. Please don´t buy anything there, especially the famous Czech garnets.
My tip: Always go to authorized shops when you want to buy Czech garnets. Don´t risk anything even when the price difference is larger. The quality and authenticity is important. Regarding the Czech garnets I can only recommend shops of Granát Turnov.
I also recommend one non-touristy Czech gift shop located right on Old Town square (1 minute from Astronomical clock) called Lípa. It´s just a tiny shop hidden under big arcades but it´s super cozy. Great Christmas inspiration. And tourists don´t  know about it!!!
All the items are Czech made. Lípa in Czech language means linden tree which is a national tree of the Czech Republic. Therefore many of the products are decorated with minimalist linden tree themes (blossom, leaves…). These are my tips what I would buy there.