Speaking about Czech cuisine can be a bit boring. It is a world wide known that Czech cuisine is unhealthy, vegetarian/cardiologist unfriendly but terribly tasty and always followed by pint of beer and change of your BMI. There are many of so called Czech restaurants around downtown Prague and it is sometimes really hard nut to find a good one, with nice food and pleasant service. The latter can be even more difficult. Prague locals usually don´t look up "typical Czech" places as they prefer to learn about flavours they don´t know much or prefer to taste something more unusual. So we explore. Sometimes real bizarreness. Let me introduce you two cult places only Prague locals know about and believe me, not every place with exceptional food needs to be necessarily fancy.
Asian bistro "under eight" of Mr. Tuan vu Minh in Holešovice market place
So do you now say: "Holy crap, another Asian bistro???" I would not be surprised. And wait! It is even worse. The place is located in an Asian/Czech market area called Holešovická tržnice. In front of the bistro there are line ups all the time, you sit on uncomfortable wooden benches roofed with primitive shelter and you are surrounded with all the possible made-in-china-fake-brand-crap-quality-stuff. The funny thing is, that this exceptional bistro was discovered by lunch explorers from world renowned advertising agency Saatchi & Saatchi based in Prague, who actually push in our heads stories about the original brands. That´s basically background of the story. The reality is: authentic delicious Vietnamese cuisine. Cheap. Best Pho soup and Bun-cha in town. During the lunch time you can sit next to the creative directors and managers from local business centres and biggest advertising agencies: Ogilvy or Leo Burnett, Saatchi & Saatchi or Publicis. In case you are in search of new job, stop by. They come here almost daily.
My personal tip: skip the picture menu and go for Bun-cha or Pho or spring rolls right away. Best in town. For years…
Mon–Fri
8:00 AM–6:00 PM
Sat
8:00 AM–3:30 PM
Foursquare rating: 9,6 (based on 269 votes)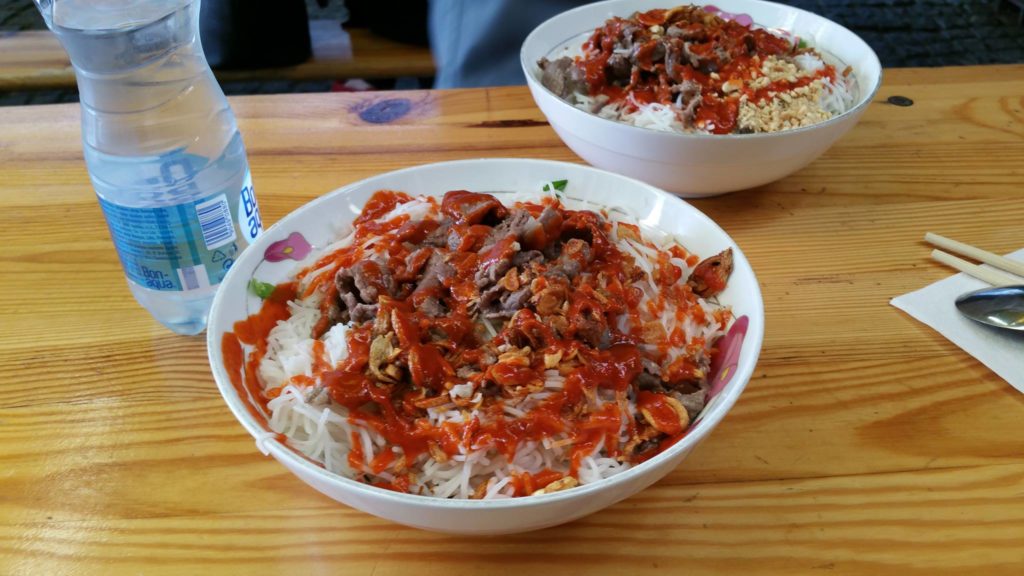 Strudel window
Don´t expect me to write about any fancy, overpriced Vienna style cafe place and stylish piece of strudel garnished with organic whipped cream served by refined waiter. That would be too boring. I want to point out something more authentic and local, with tradition dating back to early 90s…One of the best and cheapest strudel you can find in tiny hole in the wall in Prague district called Žižkov (Prague 3). The strudel place is located in the former pram room on a ground floor of one local block of flats. Hidden in Jeseniova 909/29 street. For less than 2 euro you will get a fresh, warm, traditional and super tasty strudel. But wait, not just one cut piece, but the whole 30 cm long thing (480g). They bake it daily in 4 versions: apple, plum, curd and poppy. It is difficult to miss this place, you will smell it from far, far, far away. So just grab yours and either take it with you home for breakfast or sit for a while in Parukářka park located nearby or walk some 15 minutes towards famous Žižkov TV Tower occupied by famous giant babies climbing up on the top, designed by Czech controversial sculptor David Černý.
My personal tip: Worth the effort to get to the window place!!! Just for your better orientation, from Wenceslas sq. you can get there in 15 minutes by tram, get off on Lipanská stop.
Mo – Fri 8 – 12 / 13 – 17 hod