For many years Prague Castle was open for free to everyone. Having several entrances, it was very easy to get inside without waiting. Since summer 2016, Czech president Miloš Zeman decided to put security checks in place. This measure started to cause a big problem: line ups. My new blog post focuse on how to make the most of your Prague Castle visit and how to avoid line ups.
UPDATED VERSION FROM AUGUST 2019.
My name is Dana and I am a local guide and also owner of a small business called Prague Behind The Scenes tours. I am helping Prague visitors to see Prague in a less touristy way.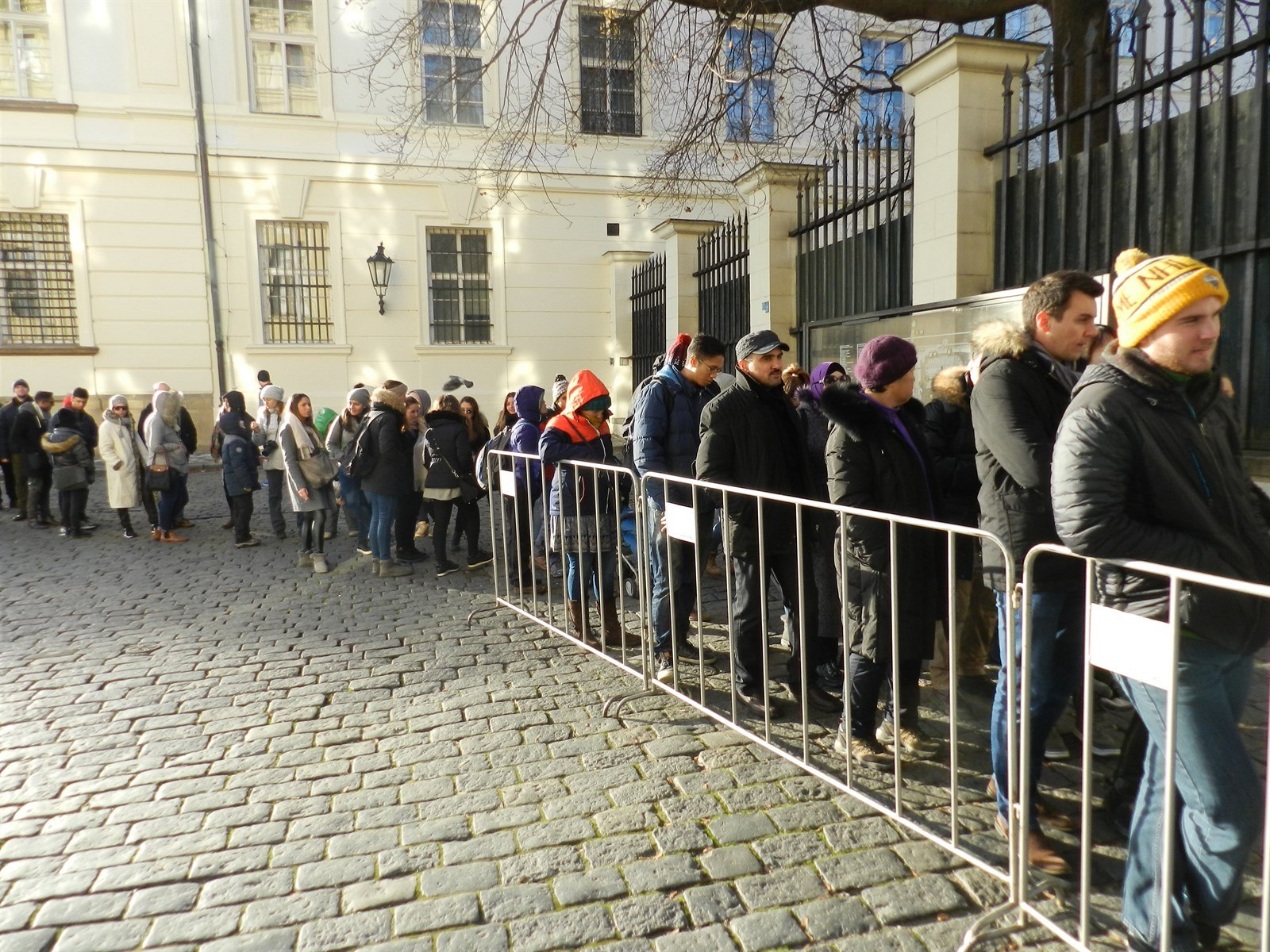 1. BEST TIME FOR YOUR VISIT 
Come either early in the morning or later in the afternoon or at night. Prague Castle is open from 6am – 10pm every day. If you plan to visit Prague Castle during the day (peak is 10am – 4pm), you need to count with some extra time in a line up for security checks, especially in summer or after changing the guards (every hour).
Working days are also better for visit. Entrance to Prague Castle grounds is free of charge. In case you would like to visit interiours and historical buildings (St. Vitus Cathedral, Old Royal Palace, St. George´s Basilica, Golden Lane), you need to purchase a ticket called B circuit / 250 CZK. This ticket is valid two days. Historical buildings are open from 10am – 5pm.
2. ALL ABOUT SECURITY CHECKS
By every entrance to Prague Castle (3 in total) there are personal security checks. You will walk through a security frame / or your body will be scanned by security device. You need to take anything made of metal out of your pockets (keys, coins…), then you will be asked to open your bag. Guns, knifes and drons are not allowed. Liquids are ok.
3. LINE UPS
Sometimes the line ups are super crazy and annoying expecially during holidays and weekends or when it rains. Around the noon, after changing of guards, you can wait 15 – 20 minutes. The times vary. Best option is to enter Castle from the east. You will not be waiting so long. Basically just walk from Malostranská via Staré zámecké schody (Old castle stairs) to reach east entrance. The worst entrance is from Prašný most. It´s also practical to enter the Castle while others are watching changing of guards. The line ups will be definitely shorter.
4. MY TIPS HOW TO MAKE THE MOST OF YOUR CASTLE VISIT (AND SAVE TIME AND NERVES)
Wake up early !!!!!!!!!!! And get to visit the Castle as soon as possible, best before 9am. In the morning you can enter Prague Castle through the main entrance (from west – Hradčanské sq.). It will not be so crowded.
Explore the Castle grounds, enjoy the atmosphere with just few people around you.
Optional and only for brave people who don´t mind crowds: once the ticket offices are open, buy a ticket to historical buildings (250 CZK / person) or visit Castle gardens

, open from April – October. UPDATE for 2019 – Zahrada Na Valech (South Gardens) will be closed the entire year. Fortunately you can still visit the Royal Gardens (open for free). To visit interiours of Prague Castle, you need to count with at least 2.5 hours to see everything and lot of people around you. Interiours are usually full of tourists, expecially Golden Lane and St.Vitus Cathedral.
Ticket office located on the 3rd court (by the Cathedral) is much better than the one on the 2nd court, the line ups are shorter there.
If you are not a morning person, come later in the day, Golden lane will be open for free (from 5pm).
Prague Castle is fantastic at night, between 8 – 9pm it´s the best time.
Dana | guide for Prague Behind The Scenes