Every city has some strange, curious secrets waiting to be discovered. Here are 5 Prague unknown sights and curiosities you can easily explore during your Prague visit. Enjoy roaming around the city while finding its less known parts not frequently mentioned in guide books. 
This blog post was written by Dana, Prague local and founder of Prague Behind The Scenes tours.
1. STONE SELFIE AT PRAGUE CASTLE
When visiting Prague Castle, you will most definitely be amazed by the magnificient St. Vitus Cathedral situated on the 3rd court of the Castle complex. While standing in front of the main entrace, look a bit closer or zoom in with your camera to see the finer details. Under the rosette (circle) window you may find sculptures of guys wearing modern suits and glasses. These are self portraits of the last architects of St. Vitus Cathedral – Josef Mocker and Kamil Hilbert. This may sound weird, as the cathedral is known as gothic – true, it was really founded in 1344 but was finished as late as in 1929. That's why you can see here "selfies" of men wearing suits typical for the 20th century. Fancy to know more interesting stories? Join my Prague Behind the Scenes Tour. St. Vitus Cathedral is one of my stops.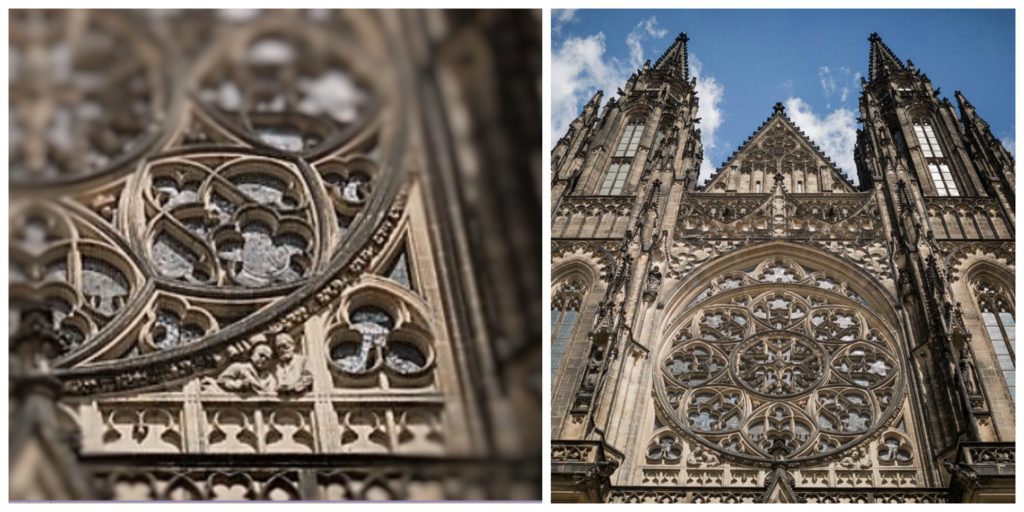 2. SINGING FOUNTAIN IN ROYAL GARDENS
Lovely Renaissance fontain often nicknamed as the "Singing fontain" is located in the Royal Gardens of Prague Castle (free entry) right in front of the Summerhouse of Queen Ann. Rays of water dropping down onto a bronze plate create amazing, unique, resonating rhytmic sounds. You just need to squat down under the fountain (that's the funny part) and listen (that's the serious part).
3. THE BIGGEST STADIUM IN A WORLD
Czech Republic is one of the smallest countries in the world at a mere 78 866 km² with only 10 milion inhabitants. However, its capital (Prague) houses the biggest stadium in a world! It is called Great Strahov Stadium and the word GREAT really deserves capital letters. It can easily accommodate 9 football pitches or up to 220 000 concert attendees. Earlier It used to be an icon and the pride of the communistic regime while hosting popular mass gymnastic events called "Spartakiáda". Nowadays it is probably the biggest standing ruins in Prague.
4. QR CODE MADE OF COBBLE STONES
Once you visit Prague, you will soon realize the hypnotizing effect of cobble stone patterns around you. Cobble stones are pretty much everywhere in Prague. When you are roaming around The Old Town, try to make your way to the main entrance of the New City Hall placed on Mariánské square number 2. Step in front of this beautiful building which ranks among the most important pieces of Art Nouveau architecture in Prague, and look down. There is a QR code made of classic Prague cobble stones. 
5. PRAGUE "PISA" TOWER
Prague doesn't only have a little copy of the Eiffel Tower situated on Petřín hill, but in Prague downtown you can also find a crooked tower slightly resembling the tower of Pisa. It is called Šítkovská Water Tower built in the 16th century on a bank of Vltava river. When you look closely you may notice a certain deflection of the tower… it is exactly 1,15 m to the south-east. Besides that, the top floor used to be a spying spot of communistic Secret Police for many years as it has a perfect view of the house where Václav Havel, the first democratically elected president of Czechoslovakia, used to live.
Dana | guide for Prague Behind The Scenes