Visiting Prague as a solo traveler? No worries – even ladies. You absolutely don´t have to be afraid, Prague and the whole Czech Republic is very safe country. According to Global Peace Index 2020, Czech Republic ranks among the top 10 safest countries in the world. Czech Republic is currently on the 8th position. 
My name is Dana, Prague local guide and founder of Prague Behind The Scenes – small touring company for all who wish to see Prague in a less touristy way. Besides being a professional in a travel industry I am also frequent solo traveler. Let me share with you few tips for your solo trip to Prague.   
1. Where to stay: best locations for a solo traveler
Prague doesn´t have no-go zones and you can perfectly stay wherever you wish or where your budget allows. Solo travelers prefer staying downtown (Old town, Lesser town, New town, Castle district) where they can easily meet other travelers.  When staying there, everything is close to hand – but of course also less authentic and less local and more expensive. If you prefer more genuine experience I can recommend you areas called Letná or Vinohrady. This is something what we call extended downtown. Very popular locations where many expats live. There are also many great local restaurants, bars, café with non-touristy offers. Prague is not that big and you can walk from Vinohrady or Letná to the city center for sightseeing. Prague is also very safe at night. Public transport is reliable and clean.
2. How to explore Prague as a solo traveler?
Prepare a good pair of walking shoes 🙂 The best way how to explore Prague is on foot. Prague downtown is prefectly walkable and something interesting is awaiting for you at every corner. If you are on a budget you can take one the many free walking tours to see the sights but if you prefer more personal and less touristy experience, you can explore the city with me, Prague local. I am doing regular small-group tours for maximum 6 people per group. I should also mention that I never limit the minimum size of the group. This means that even when you are the only one in the group, the tour is available for the same price (900 CZK / person or 35 euro / person). Perfect offer for every solo traveler, don´t  you I think? If you prefer exploring the city on your own, take a look at my tips on what not to miss in Prague
What to see and do in the Castle district (Hradčany in Czech language)
Prague Castle

(Prague Castle is open from 6am until 10pm. After 5pm you can also visit the Golden lane for free, no crowds, no noise, perfect atmosphere).
Area of Nový svět, the most picturesque quarter of Prague located only 10 minutes from Prague Castle. Here you should visit local café called Kavárna Nový svět Tiny family run café serving delicious drinks and home-baked cakes.

Loreta

,

beautiful Baroque complex and pilgrimage destination, very quite neighbourhood of Hradčany district.

Have a lunch or drink at Kuchyň. Fair prices, local cousine, great views!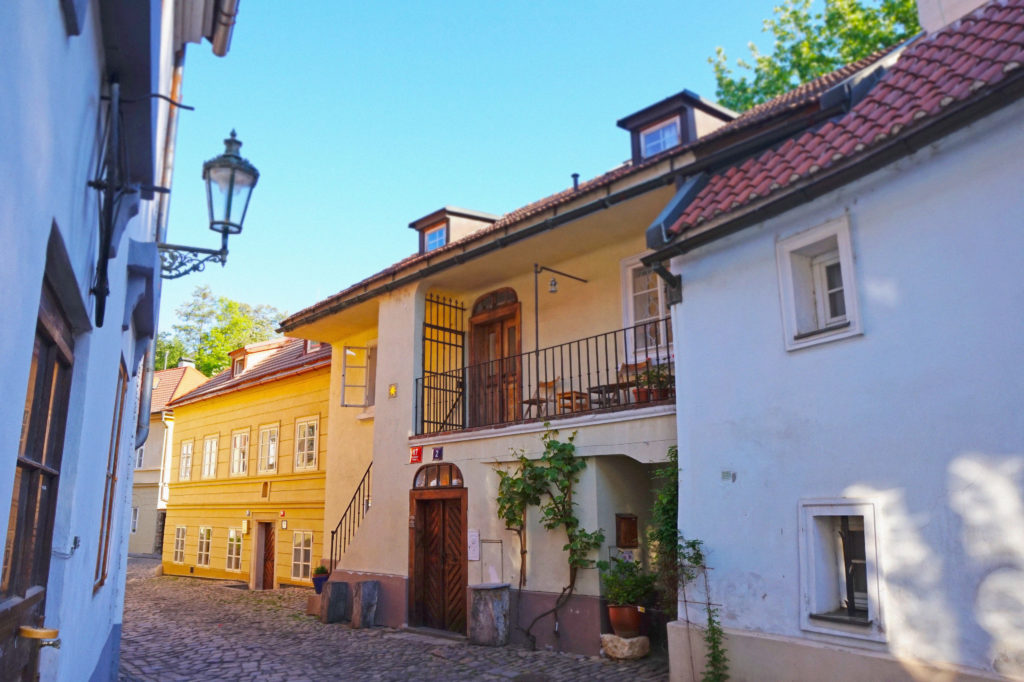 What to see and do in the Old Town (Staré město in Czech language)
Charles bridge

in the morning (until 7am it´s absolutely magical and empty). Later in the day definitely climb Old Town bridge tower for fantastic views and sunset).

Old Town square

+

Astronomical clock – also best in the morning for more authentic experience.

Visit at least one church with oppulent Baroque decoration. For example Church of St.Jacob the Greater where you can see – besides the fantastic interiour – hanging mumified human hand. Another option is Church of Our Lady before Tyn right on Old Town square.
Have a beer in a Scout institute and escape the crownds on Old Town sq.
Have a meal in a local butcher shop called Naše maso (you can tap your own beer here as well).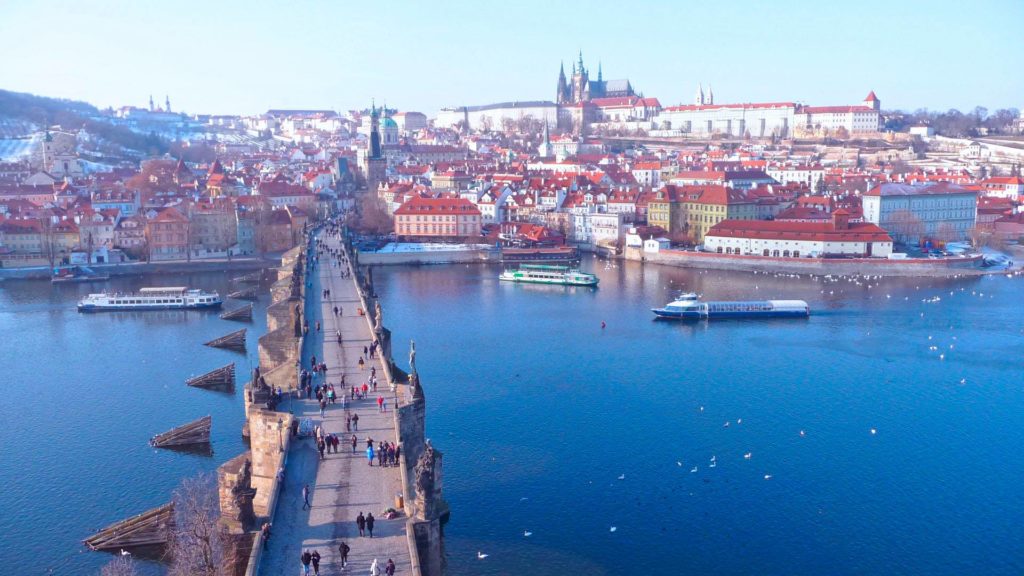 What to see and do in the New Town (Nové město in Czech language)
Start your tour with perfect chlebíček– cult Czech snack or cake at Ovocný světozor – that´s where locals go to eat.
Then continue to Lucerna Palace to see St. Wenceslas riding a dead horse (modern art).
On Wenceslas square you shouldn´t miss newly renovated building of National museum.

National theatre building

(close to here you can also visit many of Prague´s islands located on the Vltava river – for example Střelecký island or Slovanský island – perfect chill out zones / parks downtown, best in summer).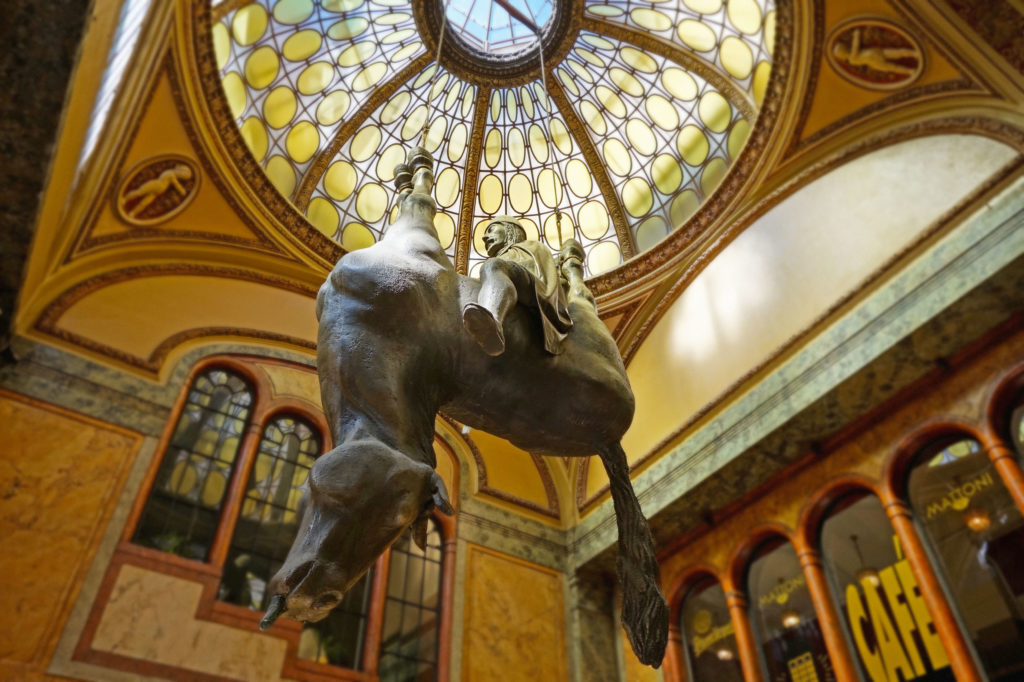 Where to meet locals?
As I mentioned earlier, you don´t have to be afraid of any harrasment or provocations from locals. We are a bit different. More closed. We usually don´t start conversation with people in the street or in a shop. Most of the time we are also frowning, it´s our default setting 🙂 Many locals are a bit reserved and shy when they have to speak English. Don´t take it bad please, after first beer they start to be fluent. Good places where to meet nice locals are: Cobra bar, Bistro 8, Café Letka. Another great places where to meet friendly locals are farmers markets (Farmers market at Náplavka or Farmers market Heřmaňák – both open on Saturday mornings).
Have a fantastic stay in Prague and if you have any questions or need more recommendations please feel free to contact me at dana@praguebehindthescenes.com. I will be happy to help you.
Dana, Prague local and guide for Prague Behind The Scenes