Prague behind the scenes tour
4,5-hour small group tour for only 4 people in a group. Book your spot!
Prague Behind The Scenes
4,5-hour small group tour
"Since 2015, this has been my most popular tour awarded by Tripadvisor Certificates of Excellence. I designed this special walk for all who want to explore Prague in one tour. In a less touristy way, with a local guide and in a small-group of max. 4 people (semi-private tour). This tour is a mix of the classic sights with the off-the-beaten-path extras. Pleasant half-day escape from the touristy madness."
Dana, tour designer & guide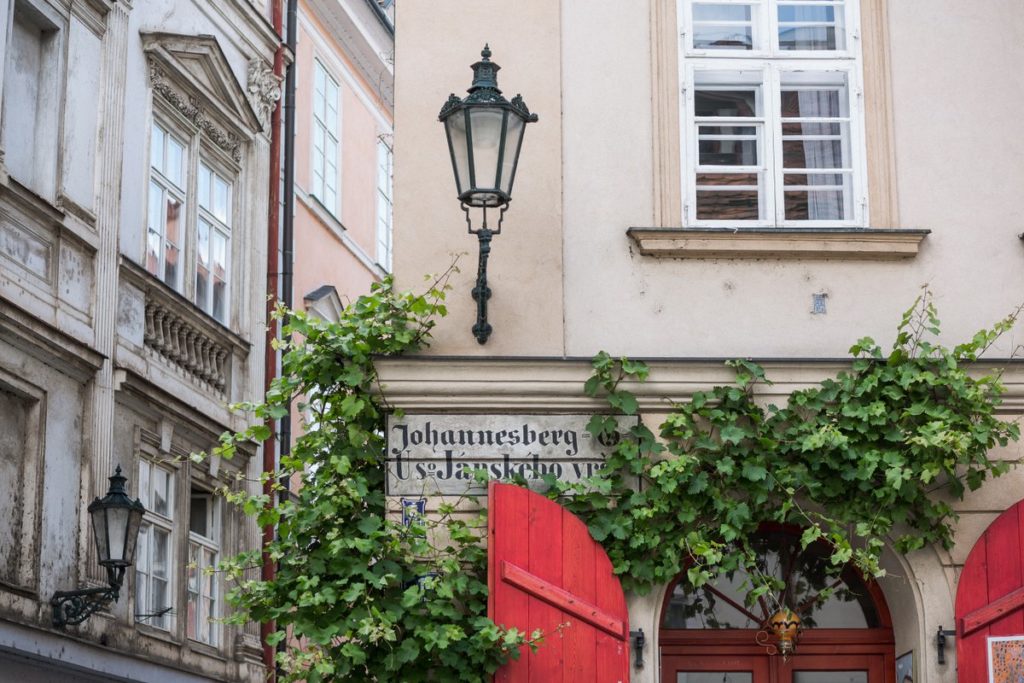 Mix of Prague highlights & hidden gems
This tour covers 10 most important Prague sights, such as St. Vitus Cathedral, Prague Castle or Charles Bridge and takes you to the less visited places, too. Great way to get the best overview about the city. Not only about sights, but also about local traditional businesses, curiosities, nowadays life and history.
Small group tour: for only 4 people
I designed this tour as a relaxed introduction walk for Prague first timers, solo travellers or people who don´t want to be part of the anonymous large tour groups following an umbrella. This tour isn´t a herd-style tour, it´s a friendly city experience with Prague local and fully certified Prague guide – Dana. Small group tour sizes (4 people maximum) means that you'll have plenty of opportunity to ask questions, enjoy your space, tempo and company of like-minded people.
Personal & authentic
I will take you away from the touristy routes which are full of rushing tourists and kitschy souvenirs; we will rather blend in with back alleys like locals do. For more authentic experience and original photo opportunities. We'll also stop for a coffee and a light lunch at local non-touristy coffee place. In total the tour is 9 km (5.5 miles) long with one uphill part where you will be profoundly rewarded for your efforts (yes, fantastic views!!). If you don´t feel like walking so much, you can always opt for the "lite version" of this tour.
Tour summary
10 Main Prague sights
Together we will see the following sights: Charles bridge from very unusual perspective, Kampa island, Powder Tower, Municipal House, Metronome, Rudolfinum, Loreta, Strahov Monastery, Prague Castle (1st, 2nd, 3rd courtyard)  and St. Vitus Cathedral. We will not visit any interiours but I can give you good recommendations on what it´s worth visiting later.
Hidden gems
I will also show you many of the local hidden gems, e.g. New World – the most picturesque quarter in Prague. Workshop where stained glass windows  for St. Vitus Cathedral were made. The smallest house in Prague. The shortest street and many other quirky and fun things you haven't found in your guide book.
Payment
You can either use my portable card terminal or pay cash after we finish the tour. I accept EUR, CZK and USD.
What is included / excluded in the price
Included: a tour for max. 4 people, fully certified local guide, free Wifi, original gift at the end, free e-guide book written by your guide. Not included: WC fees, food and drinks.
Small group
This tour is an experience for only 4 people in a group. Yes, super tiny group. No umbrella, no microphone needed, just us.
Start & End of the tour
Upon previous booking, this tour starts at 10 AM from Náměstí Republiky and ends at Prague Castle. After we finish you can either stay longer at Prague Castle or I will help you with directions how to get back to your hotel or city center. I recommend not to plan any other activity right after our tour. You might be a bit tired.
Free WiFi
You will have free access to my WiFi network throughout the whole tour. You can stay connected all the time and share your pictures online right away or track the route in the map.
Coffee break
We'll also stop for a coffee and a light snack (own expenses) at a cozy, local coffee place where you can relax your feet and enjoy yammy home-made food. During my scheduled tours I always try to support local non-touristy businesses including coffee shops where we stop.
My other tours
There are also other tours you can join. Both private. During my private experiences everything can be perfectly customized according to your needs, fitness level, timing or budget. Check the description or contact me directly at dana@praguebehindthescenes.com or via Facebook messenger.
3 h
Prague behind the scenes tour "light"
Private tour
tbd
Customized private Tour
Your private experience and itinerary designed for you