Prague behind the scenes
tour "light version"
3h private tour: perfect mix of Prague landmarks and hidden gems. And tram ride!
from 120 € / group
See the price list
Prague Behind The Scenes "Light"
3-hour private tour
"I designed this 3-hour tour as a private & shorter alternative to my most popular tour called Prague Behind The Scenes small-group tour. This "light version" is perfect if you wish to see Prague downtown in one tour, prefer privacy and don´t want to spend half of the day sightseeing among crowds. This is off the beaten track tour; perfect mix of landmarks and many local hidden gems. And a tram ride!"

Dana, owner & guide
3-hour friendly introduction tour
Charles Bridge, Prague Castle, Powder Tower and much more! This 3-hour introduction tour is perfect combination of the most important Prague sights and many local hidden gems. Together we will see 10 major Prague sights while walking through picturesque backalleyes and less crowded routes. This off the beaten track tour is 3 hours long, hence great option for all travelers with limited time in Prague. During this tour we wil also use public transport. Like locals do! The ticket is included in the final price.
100% private experience with Prague local
The "light tour" is designed as a private experience only for you and your group. It comes with flexible starting times and can be eventually customized according to your needs and wishes. The tour is bookable either via email dana@praguebehindthescenes.com or you can use the contact form at the bottom of this page. When I am not guiding any other tour, I am all yours!
Price list
| | |
| --- | --- |
| Group size | Price for the entire group |
| 1 – 2 persons | 120 Є |
| 3 – 4 persons | 180 Є |
| Larger groups upon request (max. 10) | TBD |
| Personal pick up / drop off at a specific location downtown | 10 Є |
I also accept CZK, USD, GBP while using the current exchange rate. Payment by card is possible, too.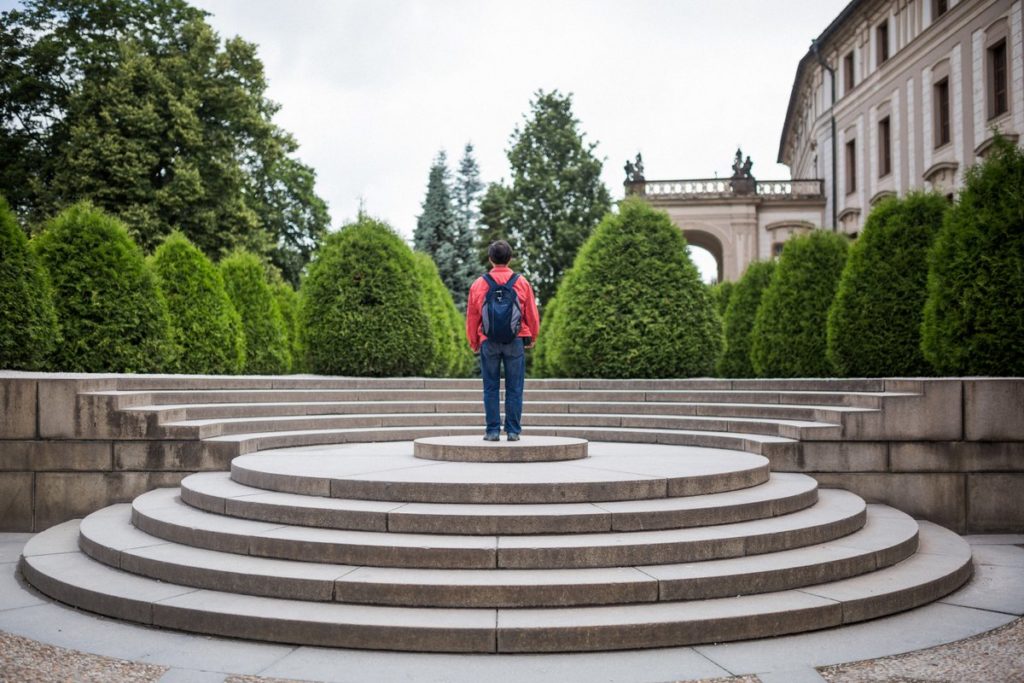 Tour summary
10 major Prague sights
This tour covers 10 major Prague sights – such as Charles Bridge, Convent of St. Agnes of Bohemia, Kampa Island, Powder Tower, Municipal House, Metronome, Rudolfinum, Loreta, Prague Castle (1st, 2nd, 3rd courtyard) and St. Vitus Cathedral. The must-sees in Prague!
Hidden gems
I will also show you many of the local hidden gems and quirky places that most travelers miss or can´t easily find on their own. For example New World, the most picturesque quarter in Prague downtown, workshop where stained glass windows  for St. Vitus Cathedral were made, amazing echo stairs at Prague Castle, the smallest house in Prague, quiet photogenic back alleyes and many other little details while walking off the beaten track.
Free WiFi
You will have free access to my WiFi network throughout the whole tour. You can stay connected all the time and share your pictures online right away or track the route in the map.
Private tour
This off the beaten track is designed as private experience with flexible starting times. Yes, it´s entirely up to you when you wish to start. Your tour will not be shared with any other people. Only you and your partner, friends, family. It´s not a problem for me to start touring early in the morning or later in the afternoon. I always try to be flexible for my clients if I am not guiding any other tours.
Start & end
This tour starts at Náměstí Republiky where we will meet. End of the tour is at Prague Castle. After we finish I will help you with directions, or take you to the nearest tram stop or call you a taxi. Pick-up and drop-off in your hotel is possible, too (extra charge).
Tram ride
During this private tour we will use Prague public transport and enjoy 10-minutes ride. This will save us lot of energy and time. No walk uphill! Tram ticket is included in the price.
Interested in this tour?
Please drop me a line.
My other tours
There are also other tours you may like. If you want to explore even more areas and you enjoy walking, I can recommend you my 4,5h small-group tour. It´s a shared tour for only 4 people in a group. Or maybe you want me to design a customized experience just for you? Then a private tour could be your choice.
4.5 h
Prague behind the scenes tour
Scheduled small-group tour
tbd
Customized Private tours
Private experience and itinerary designed for you