Since you landed on this page now, I suppose you will be landing in Prague soon, too? This blog post is dedicated to all of you wondering how to get from Prague airport to the city center. There are 3 easy ways – day or night. So, no stress and enjoy your vacation from the very beginning!
Who is writing you this post for you?
My name is Dana and I am a local guide focusing on off-the beaten-path small-group tours. With my services I strive to support respectful and sustainable tourism in Prague. It's been 8 years now. I am running a small business called Prague Behind The Scenes and I also write a lot about my hometown. Today about how to get from Prague airport.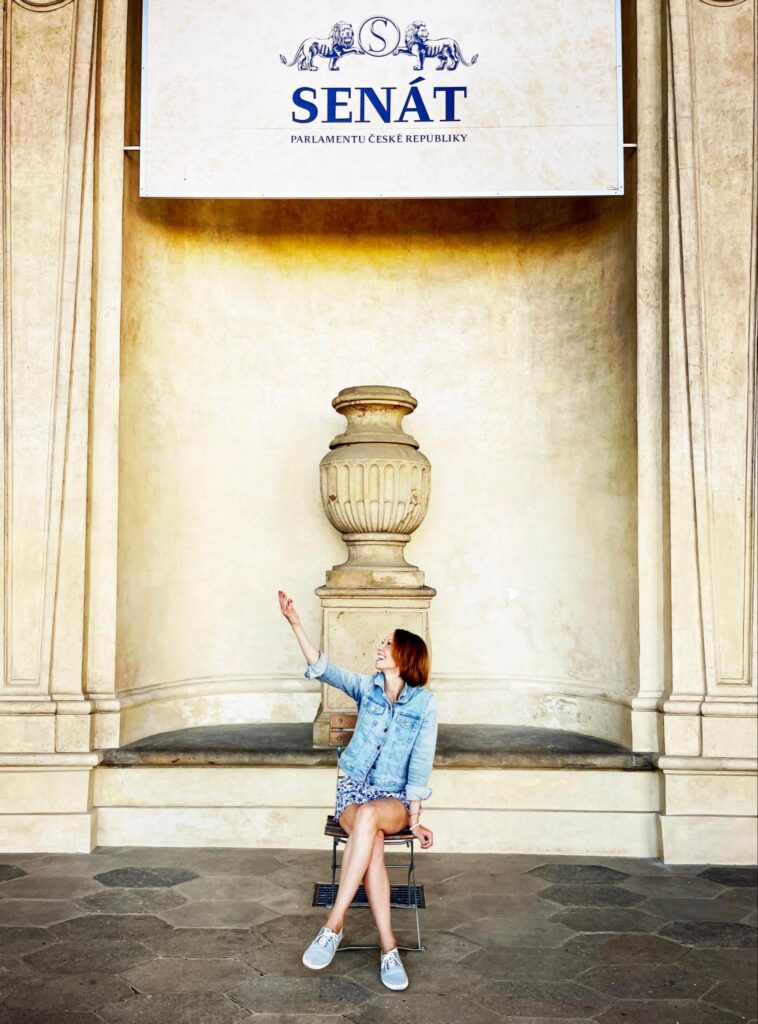 How to get from Prague airport to your hotel?
There are three ways: Taxi, Airport Express (shuttle bus) or public transport. I will write about each option lower on this page. Guys, you don't need to arrange a personal pick up or book a driver from your hotel. You will be able to get from the airport on your own. Without rushing. Whenever you land. With or without delay. Just no stress. Prague airport is not big or crazy chaotic. There are only two terminals, no crowds or street taxi barkers. There is even a supermarket with fair prices inside the arrival hall. So, if you need some groceries before going to your hotel / Airbnb, just search for Billa supermarket, it´s between Terminal 2 and 1. Short walk.    
1) How to get from the airport by a taxi
Which one to take and how much it will cost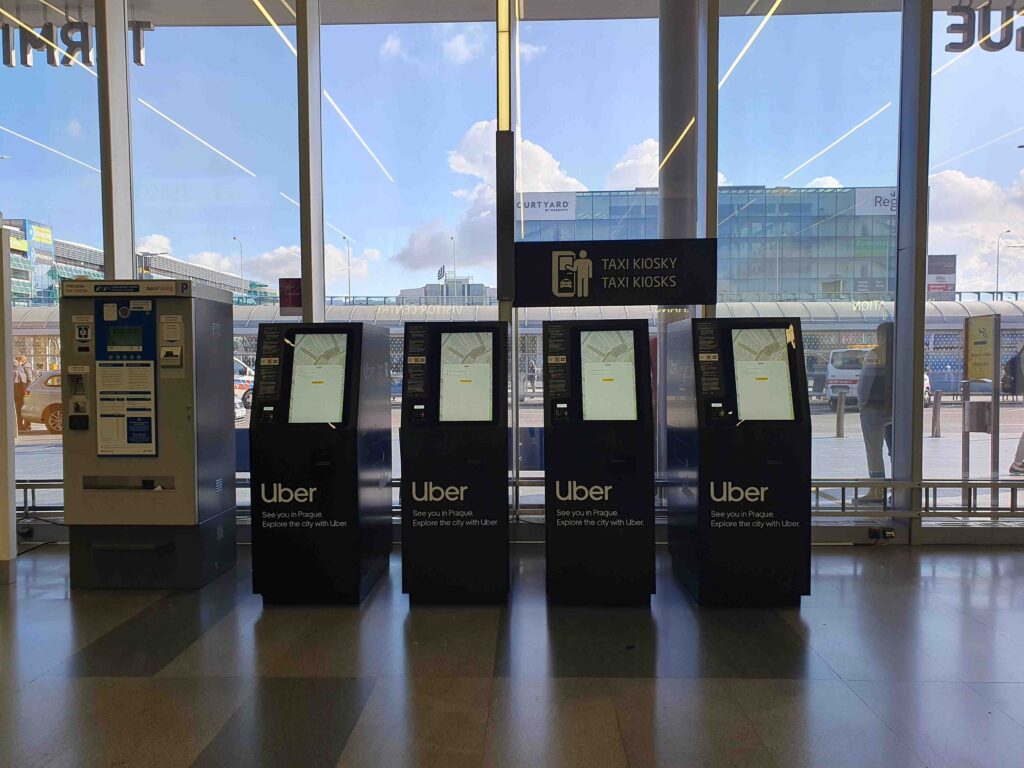 After long, tiring slogging through the airports, it is always tempting to take a taxi to your hotel to finally relax in a horizontal position. In Prague, if we need a taxi, we use online apps UBER, Bolt or Liftago. UBER is actually an official Prague airport taxi service. Their cars are branded (Uber Airport) and standing right in front of the terminal halls. If you have the UBER app, simply choose UBER Airport cars. If you don't have it, you can also use practical UBER kiosks located in both arrival halls. Since UBER is an official taxi service at the airport, you don't have to be afraid of taxi scammers. Everything is safe and prices are transparent.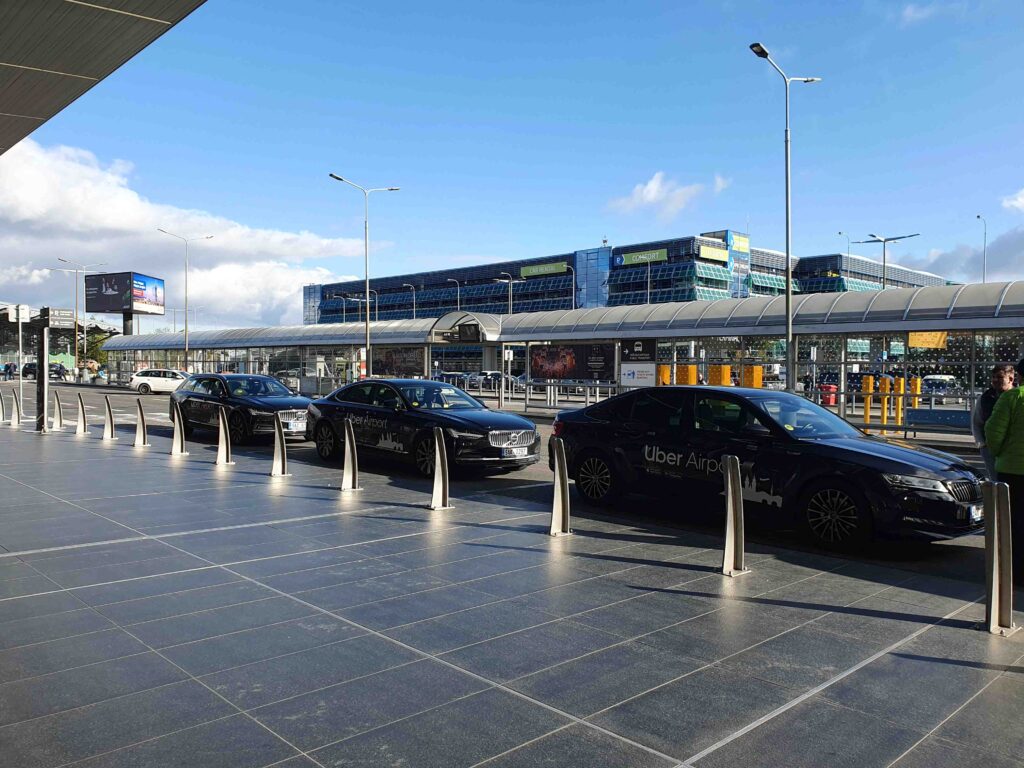 The UBER Airport cars standing in front of the airport are new, nice limousines, not older than 5 years. But they are also a bit more expensive (nothing extreme). You will book them through the UBER kiosk or simply use your app. Booking though the app is always cheaper. If you don´t want to pay for the UBER Airport cars, simply book a regular UBER ride. Even the cheapest one (UBER saver)!!! They will come to pick you up in a few minutes. Your ride to the city should cost 400 – 600 CZK, depending on your location and time of the day.
With the UBER Airport limousines it´s a bit more (nothing extreme) but you will get the car immediately, 2 minutes away. If you book it though the kiosk, you don´t even need UBER account. You pay by card.
How long is the ride? Between 20 – 30 minutes, depends on traffic and your location.
2) Take a shuttle bus – Airport Express
Where to get the tickets, how often does it run and where to hop on it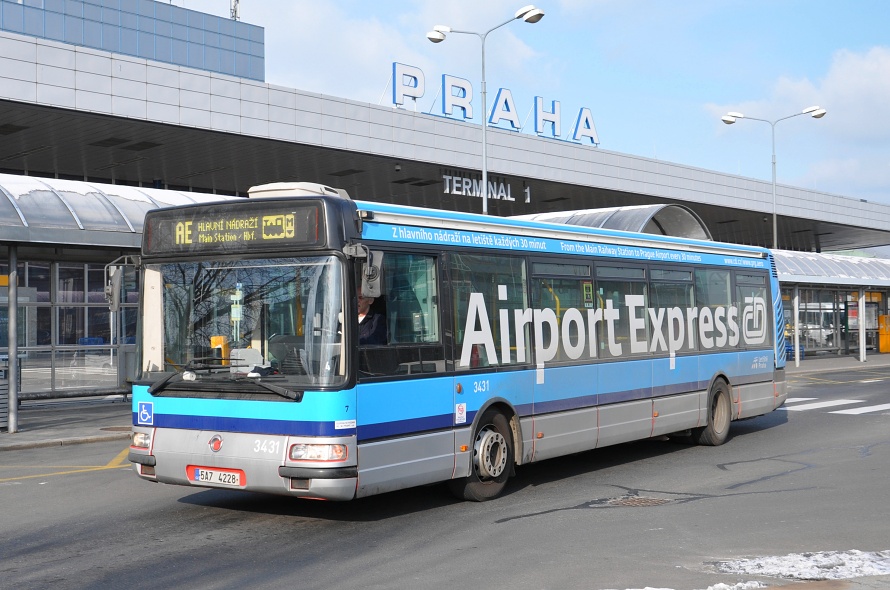 From the airport you can also take a practical Airport Express (AE). It is a shuttle bus going directly downtown. AE bus is especially practical for all of you staying in the Old Town and New Town. The AE will take you to the Main Train Station ("Hlavní nádraží"). If you are staying nearby, this could be a great option for you. AE is a convenient and affordable compromise between taxi and public transport. This service only costs 100 CZK / person; luggage is free of charge.
The tickets are available in the arrival halls (go to the Visitor center) or get the ticket at the driver.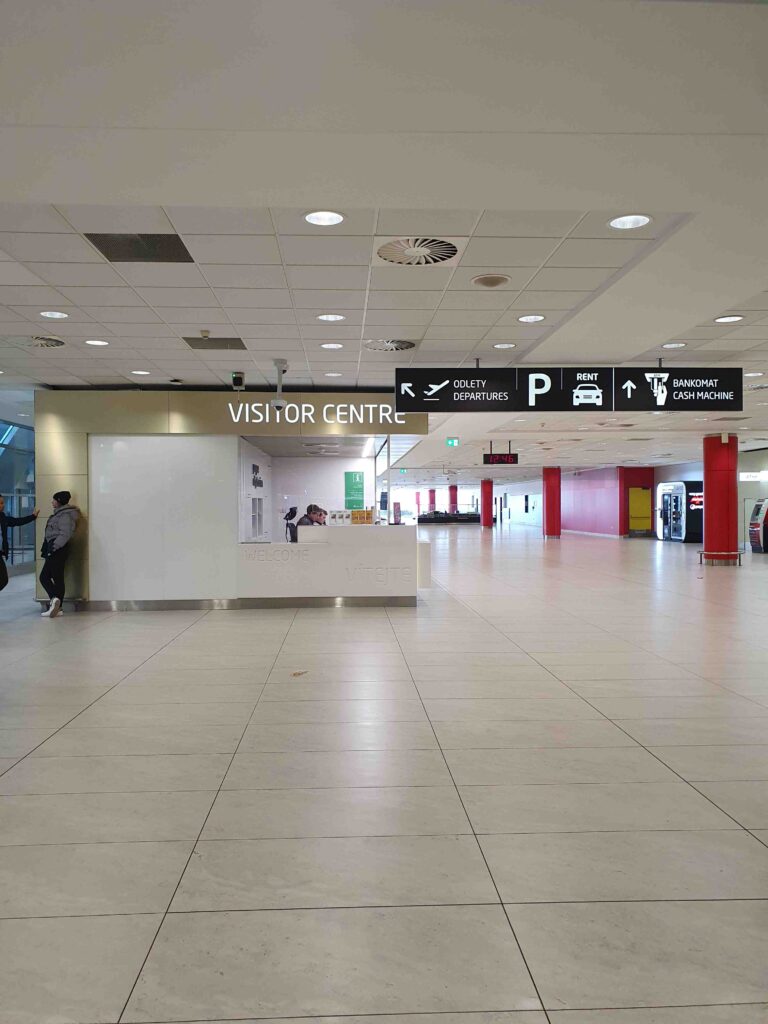 AE buses are running every 20-30 minutes from / to the airport and it's a direct connection – no stops along the way. The whole ride takes approx. 40 minutes. In operation between 5:30 AM – 9 PM. In the opposite direction (city center to the airport) between 5:30 AM – 10 PM. The AE bus stop is in front of the Terminal 1.
How long is the ride? Usually around 35 – 40 minutes.
You can also use public transport. See how!
Easy and budget friendly option (for only 40 CZK)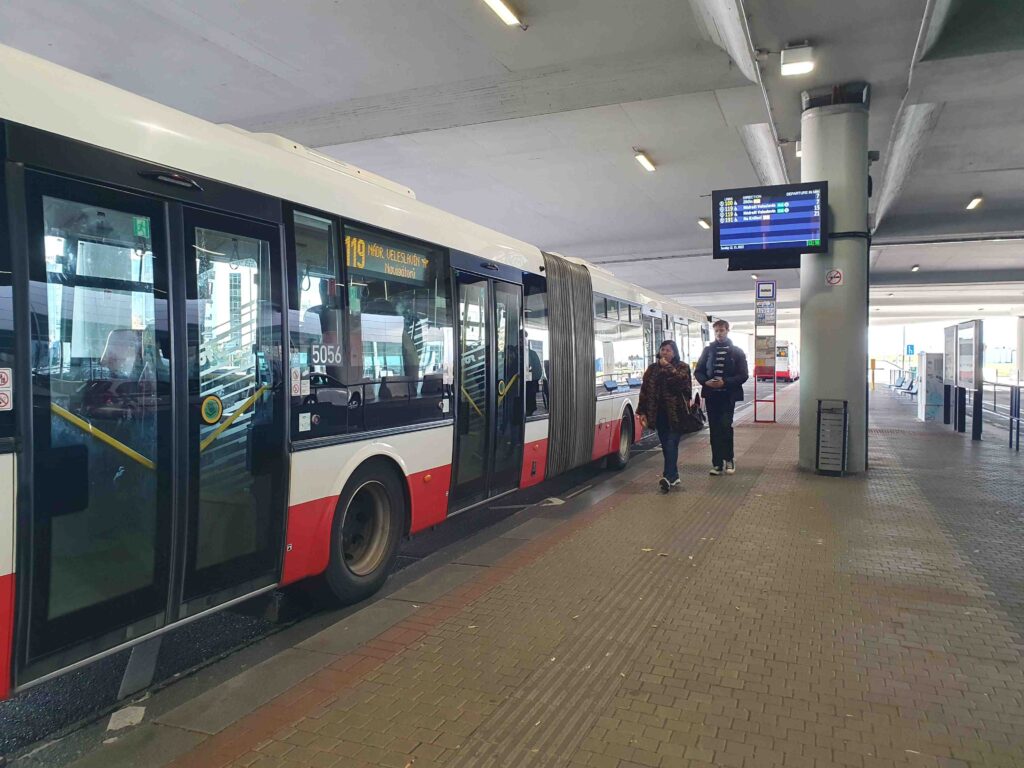 I highly recommend using Prague public transport while you are here. It is cheap, safe, reliable, clean and always close to hand. Public transportation is an essential part of our daily life, and we are proud that we can rely on the smart system – day or night. Prague public transit is not considered to be a solution for low-income people without cars. All sorts of residents use it on a daily basis. From the airport you can also take public transport.    
Look how to get from Prague airport by public transport: in front of Terminal 1 or 2, hop on a bus number 119 and go to "Nádraží Veleslavín" (it´s the last stop) where you change for the green metro line. The entrance to the metro is right by the bus station. The green metro line (in a direction to " Centrum / Depo Hostivař") will take you directly downtown (Staroměstská, Malostranská, Muzeum, Můstek = most centrally located stops). No worries, you will not be the only one taking this service. You will not get lost!!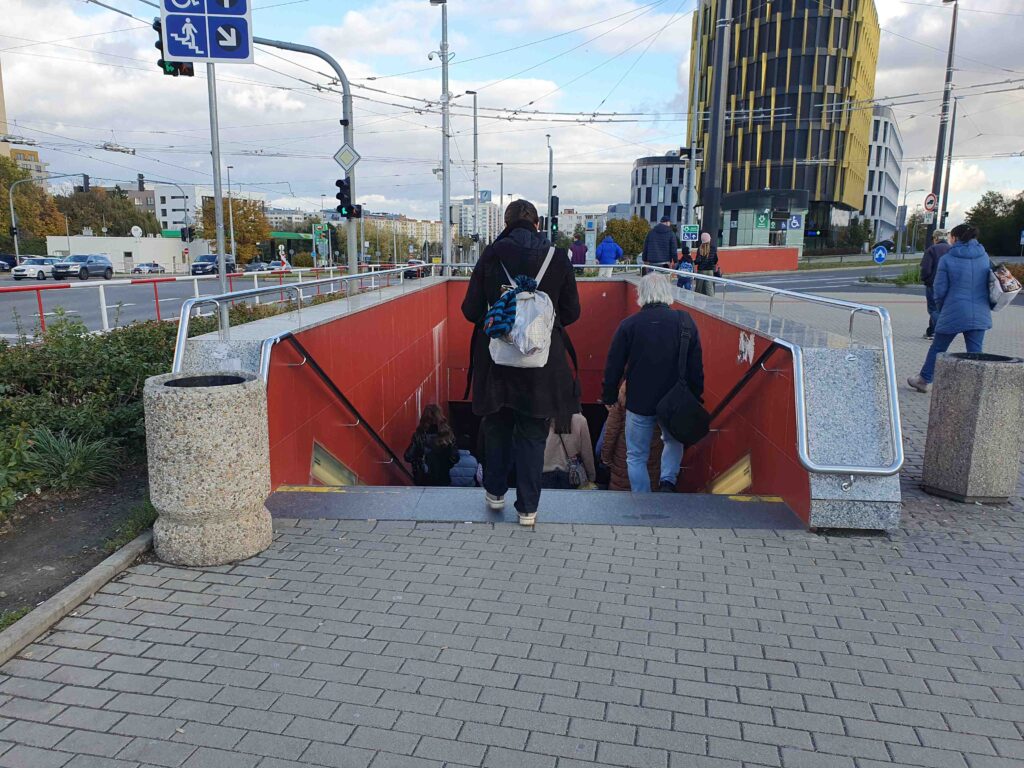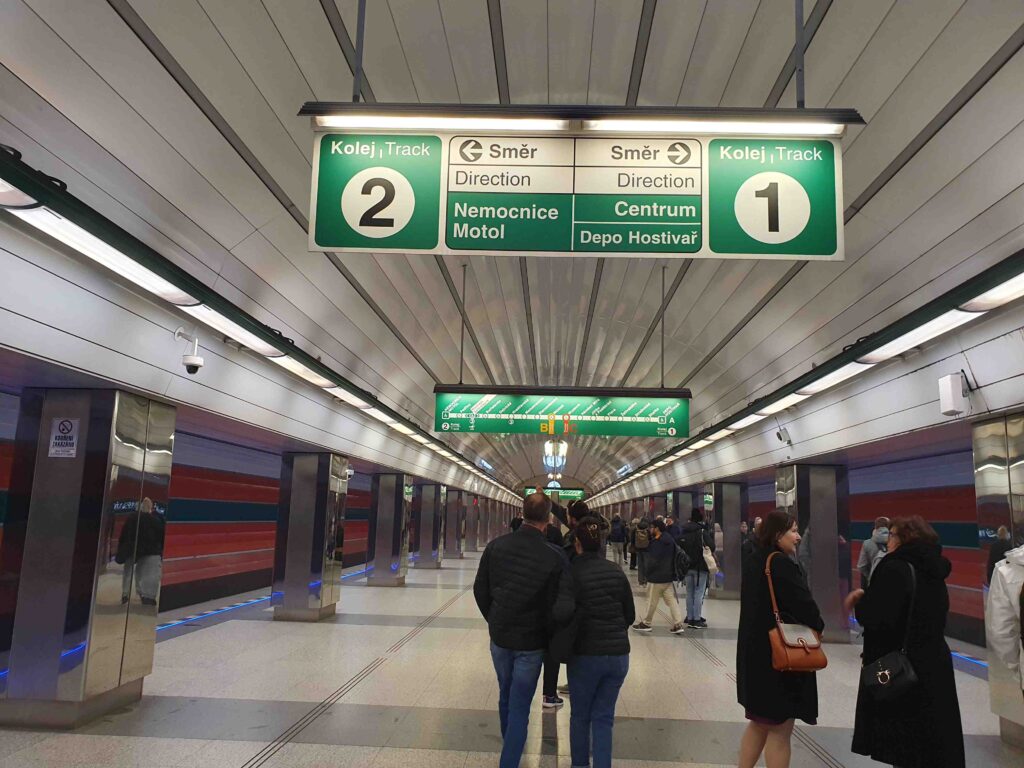 How much does it cost? 40 CZK / pp. This ticket is valid for 90 minutes which is enough for your ride downtown. If you are 65+ you travel completely for free (just please have a passport with you if the ticket controller comes).   
The tickets are available on the bus. There is a machine where you pay by card. You will find it by the first door. The machine prints you a ticket – and this ticket is already validated.
But you can also buy the tickets right in the arrival hall from the vending machine or from the public transit kiosk. If you buy the ticket from the vending machine or kiosk, don´t forget to validate it once you get on the bus!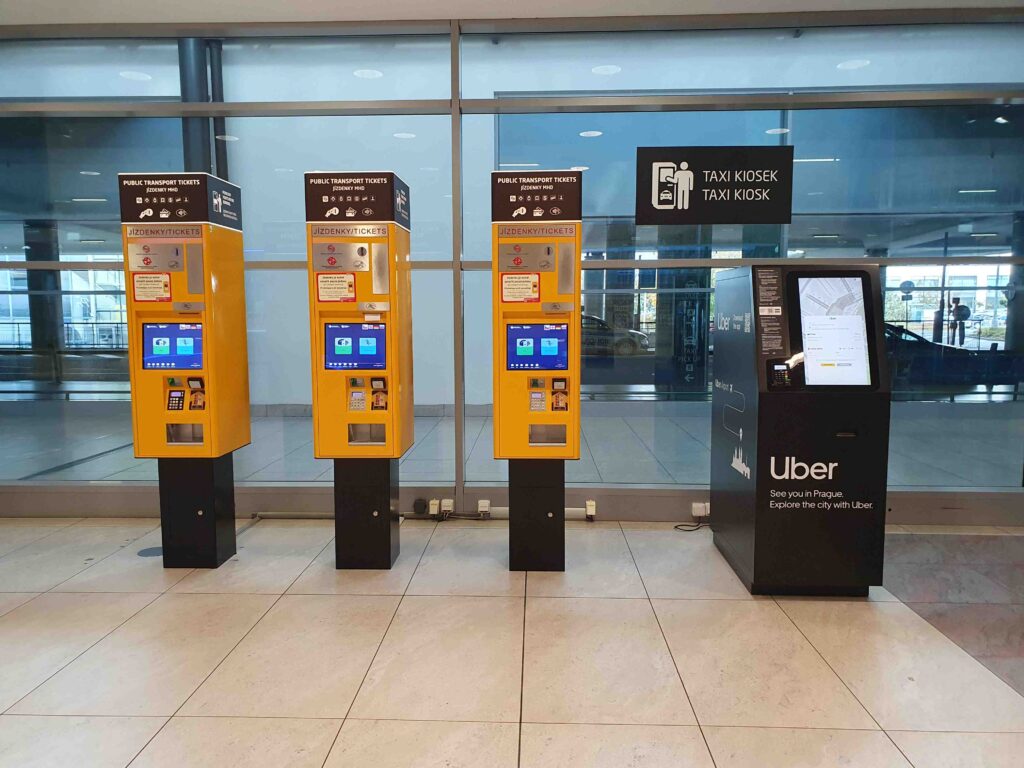 Please don´t validate any ticket multiple times! Since the validation, your ticket is good for 90 minutes and within this timeframe you can travel as much as you wish absolutely everywhere (bus, tram, metro). To learn more about Prague public transport please check my blog: Prague public transport: tickets, prices, practical tips and recommendations from a local.   
How long is the ride? Around 45 minutes. Depends on your location.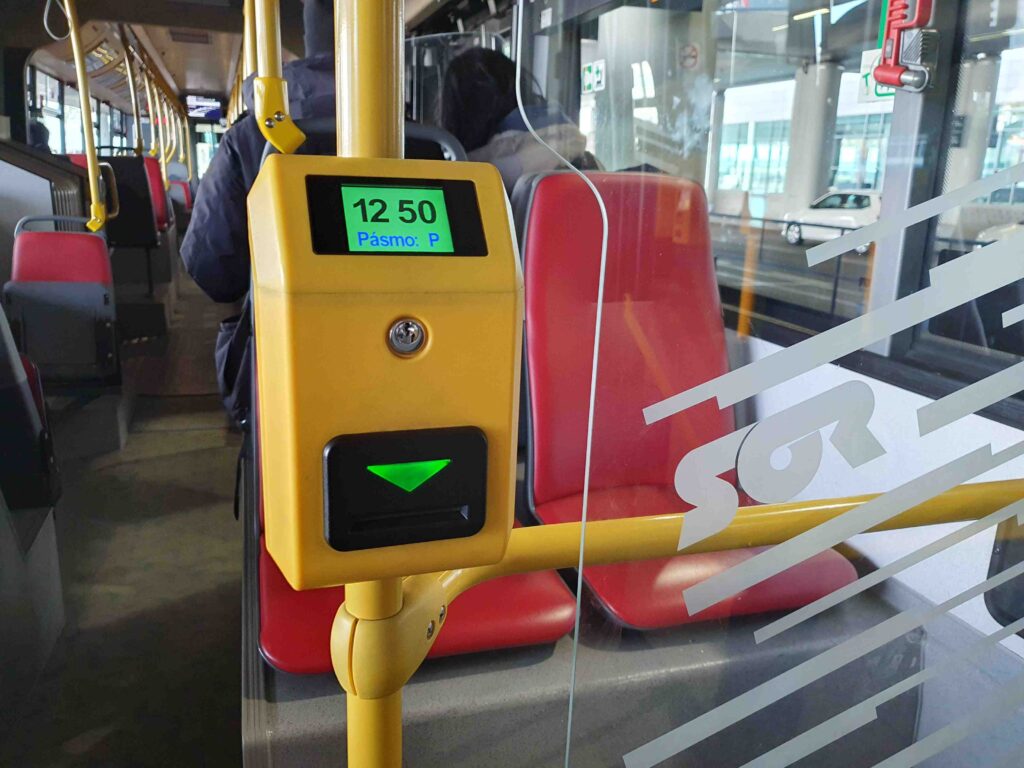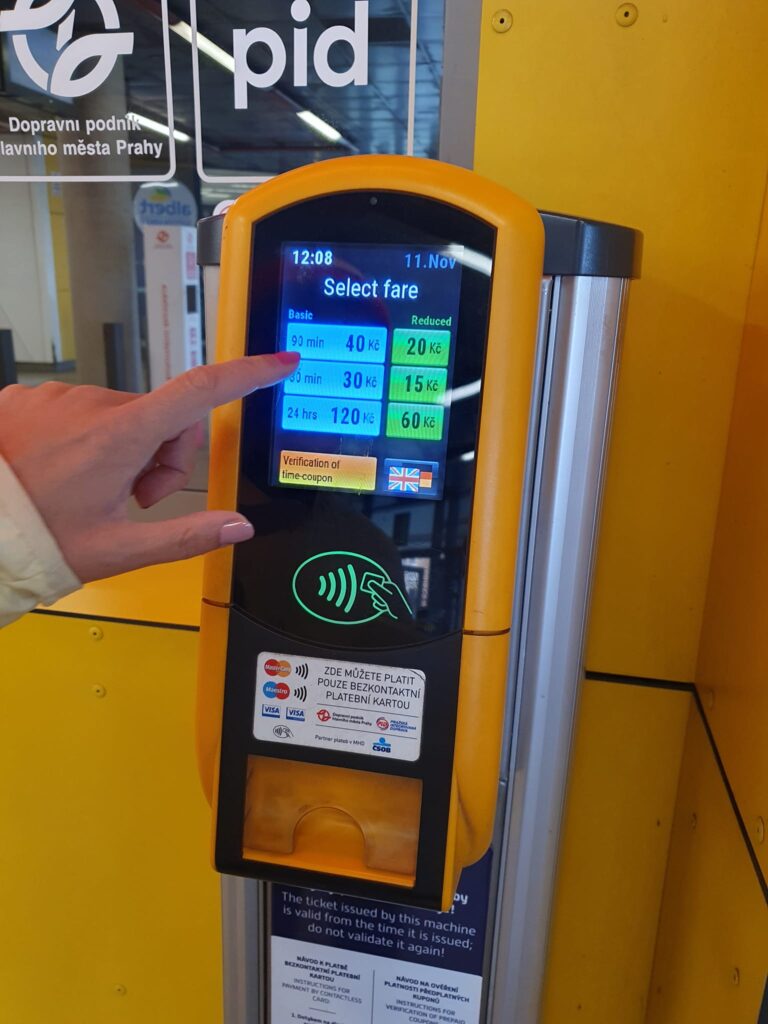 How to get from / to the airport at night
Use UBER (or other online taxi apps) because it will be a smooth and quick ride without traffic. But you can also go by public transport!! Yeah!!! Our public transport (trams and buses) are running 24/7. They just use different numbers at night and the intervals are longer. From / to the airport you can take buses number 907 or 910. The bus stops are in front of both terminals. It will take you 45 minutes to get to the city center. For this ride you will need a 90-minute ticket (40 CZK) and you can buy it right on the bus.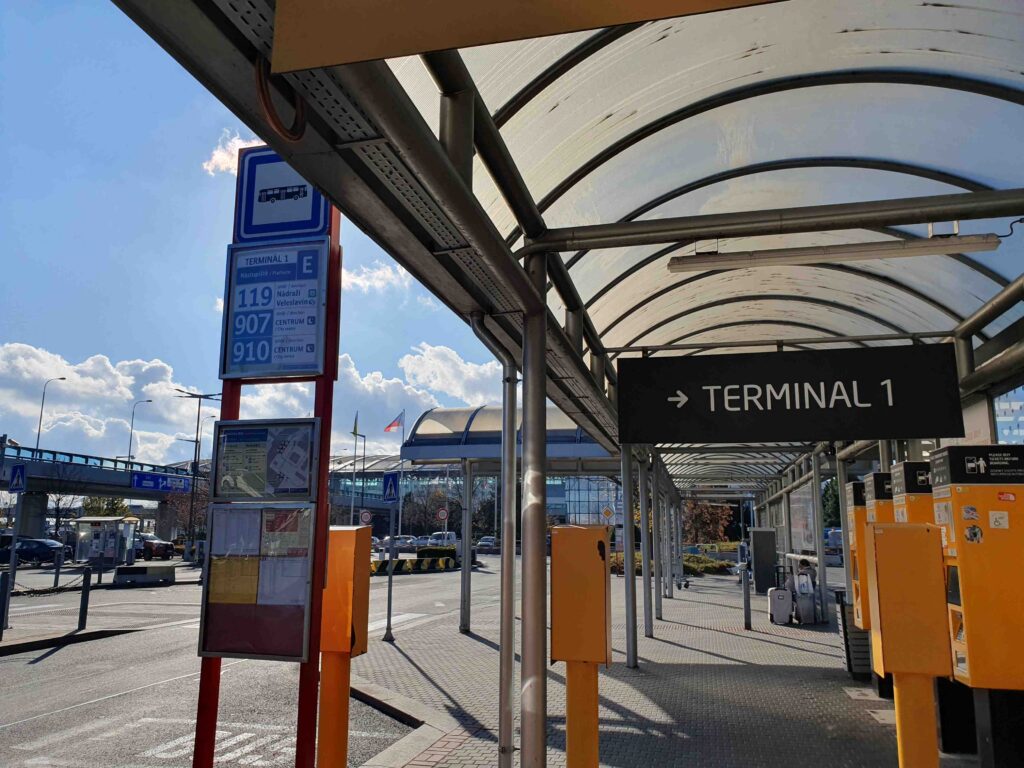 And that´s all!!! Just don´t be afraid of anything. Prague is safe and people will always help you. If they don´t speak English, they always speak with hands:-) Wish you a nice and memorable stay in Prague. Welcome!!
---
Dana, guide for Prague Behind The Scenes | small-group tours and experiences.
Please feel free to contact me if you have any questions or want to see Prague with me: dana@praguebehindthescenes.com
You can also follow Prague Behind The Scenes on Facebook and Instagram.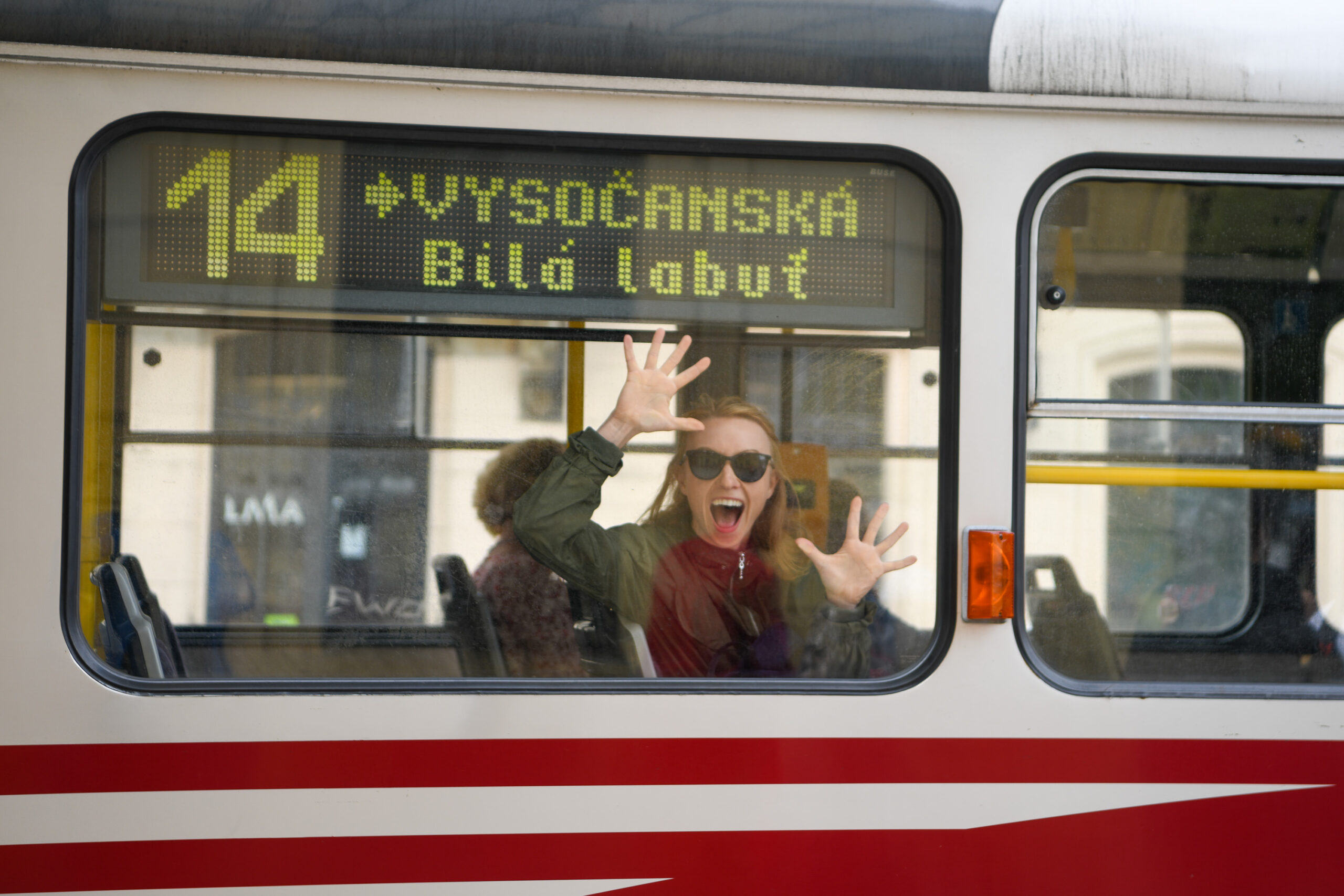 ---
Where to next
3-hour private tour of Prague downtown with Dana
3 hidden gems of Prague food scene (still undiscovered by food bloggers and masses)
Where to exchange money in Prague and how much?