Prague public transportation is an essential part of our daily lifes. And we are proud that we can rely on the smart system – day or night. Prague public transport is not considered to be a solution for low-income people without cars, totally not. All sorts of residents use it on a daily basis because it´s simply great – clean, reliable and always close to hand. In this article I would like to show you how to use it, how much it costs and give you some insider´s tips for sightseeing by using a public transport.
My name is Dana and I am Prague local. And you know what? I don´t have a car. I only use public transport! I am also Prague guide running my small business called Prague Behind The Scenes. If you wish to see Prague downtown in a less touristy way, please feel free to drop me a line. Besides guiding I also enjoy writing about my hometown. Today about our trams, metro, tickets and original sightseeing experiences by Prague public transport.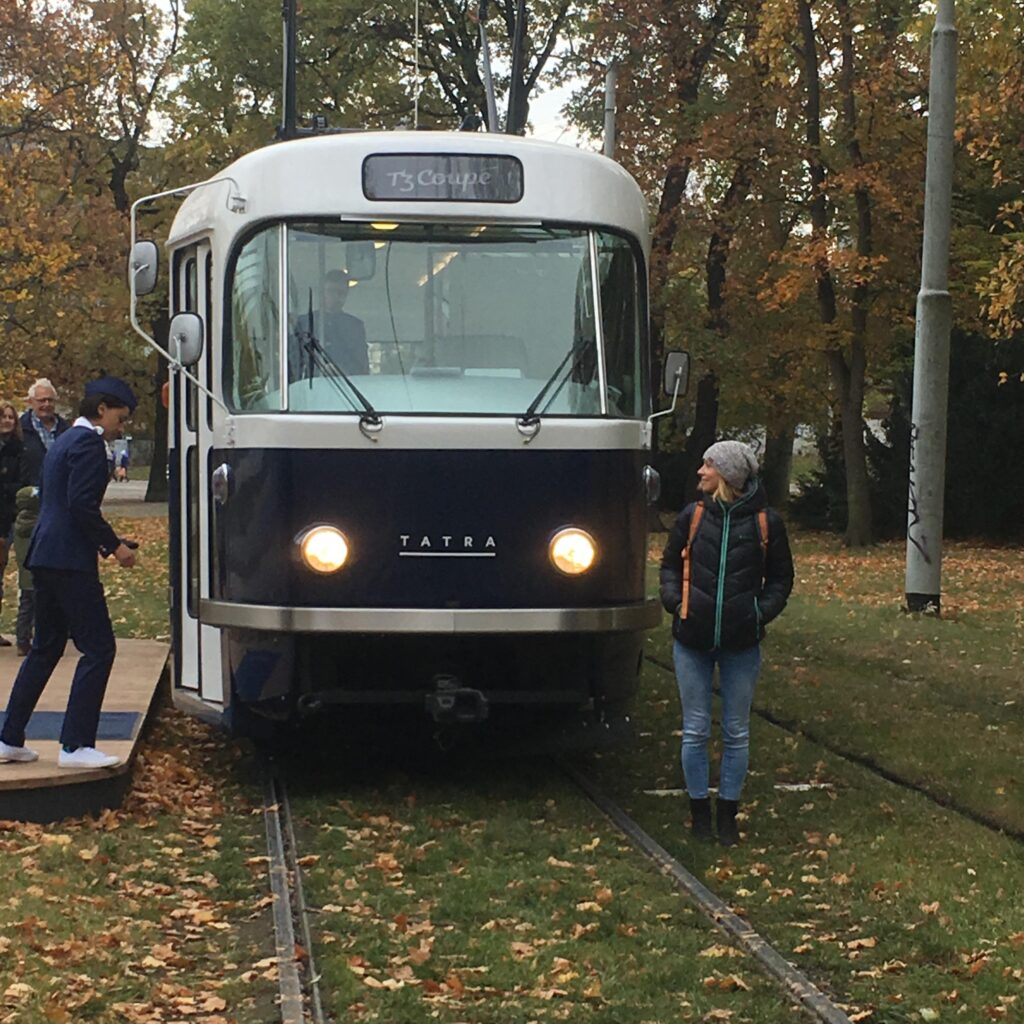 Trams, buses, metro. And a funicular! That´s Prague public transport
During your Prague trip you will notice many trams downtown. Lot of lines, lot of wires in the air – that´s Prague. Trams! Plus, under the ground you will also find three lines of subway called metro.
In total we have three metro lines A-green, B-yellow and C-red. Fun fact: locals call the metro lines by letters (A, B or C), non-residents and visitors by colors (red, green, yellow). That´s a good old trick how we quickly recognize who is who 🙂
Part of Prague public transport is also a funicular – or rather a cable car – going from the city center up to Petřín Hill. If you want to enjoy fantastic views or even a stunning sunrise, I highly recommend using it!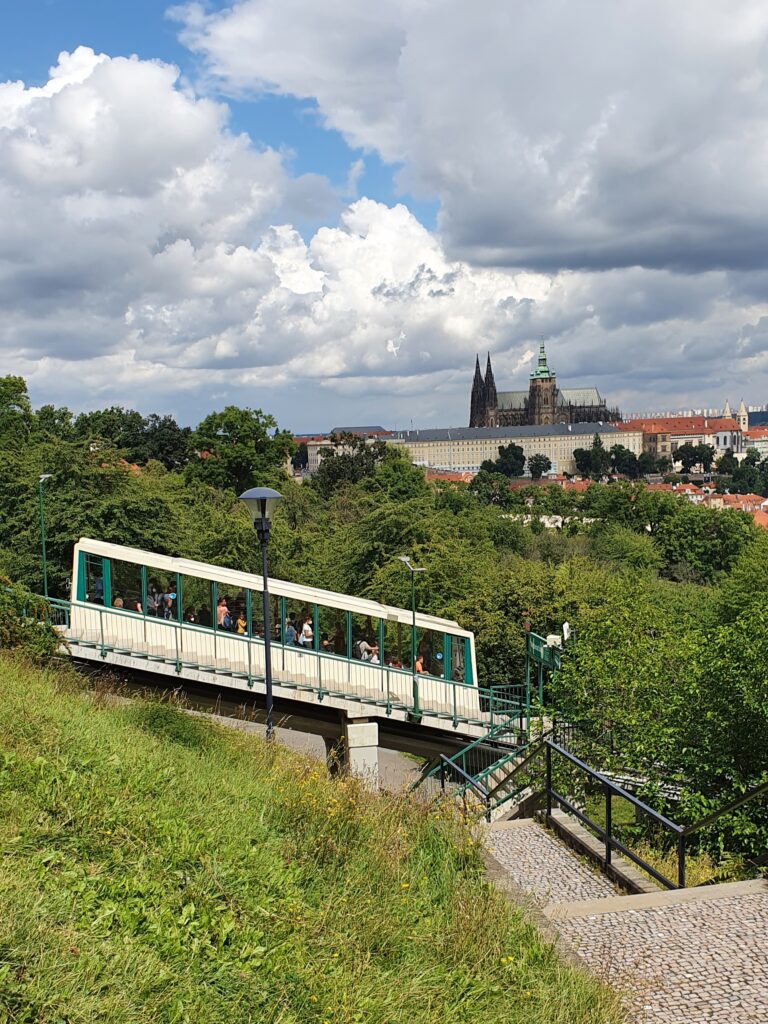 What tickets will you need and how much do they cost?
So, how it works here? Prague public transport ticket system is very simple. Thanks god we have no zones! You don´t even have to worry about changing the lines multiple times, or hopping from a tram to metro or try any other combinations. Just get a ticket and ride metro, tram, bus as much as you need.
What types of tickes do we use here? Locals have pre-paid passes but short-time visitors either use single tickets or day tickets.
We have two types of single tickets: for 30 minutes (price 30 CZK) or for 90 minutes (40 CZK). Within this timeframe you can use any type of Prague public transport even multiple times or change the means of transport as much as you wish.
Full-day tickets and multi-day tickets: 24-hour ticket costs 120 CZK, 72-hour ticket costs 330 CZK. With these tickets you can also use Prague funicular for free!! Otherwise the single ticket for the funicular costs 60 CZK.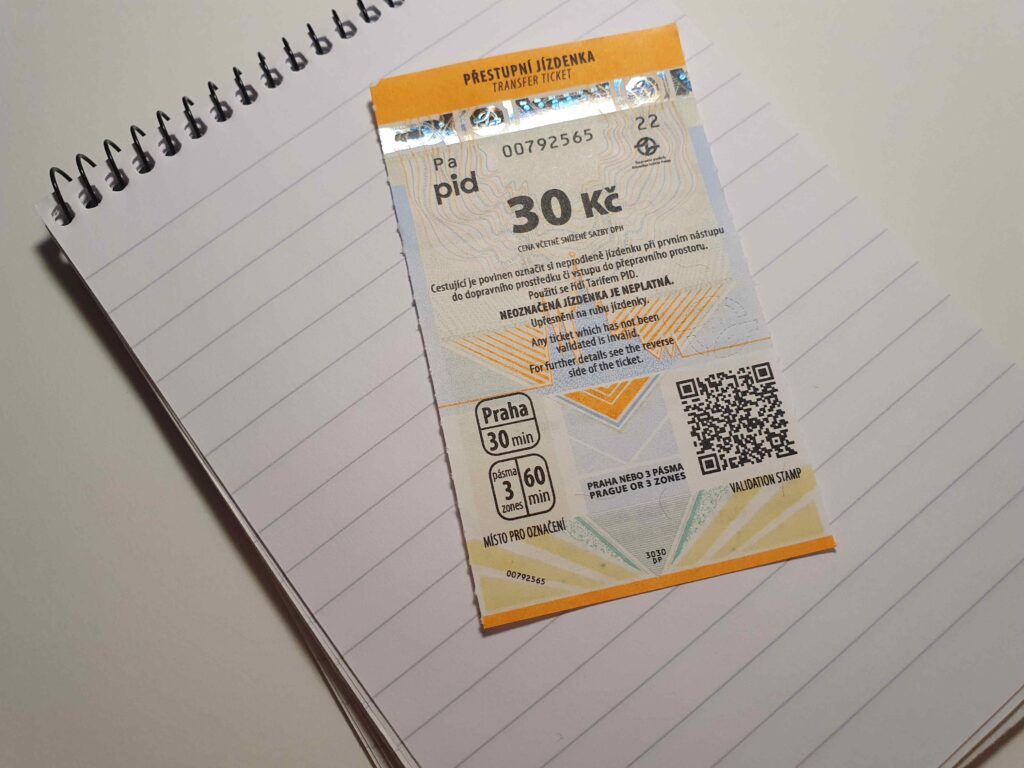 Where to buy public transport tickets?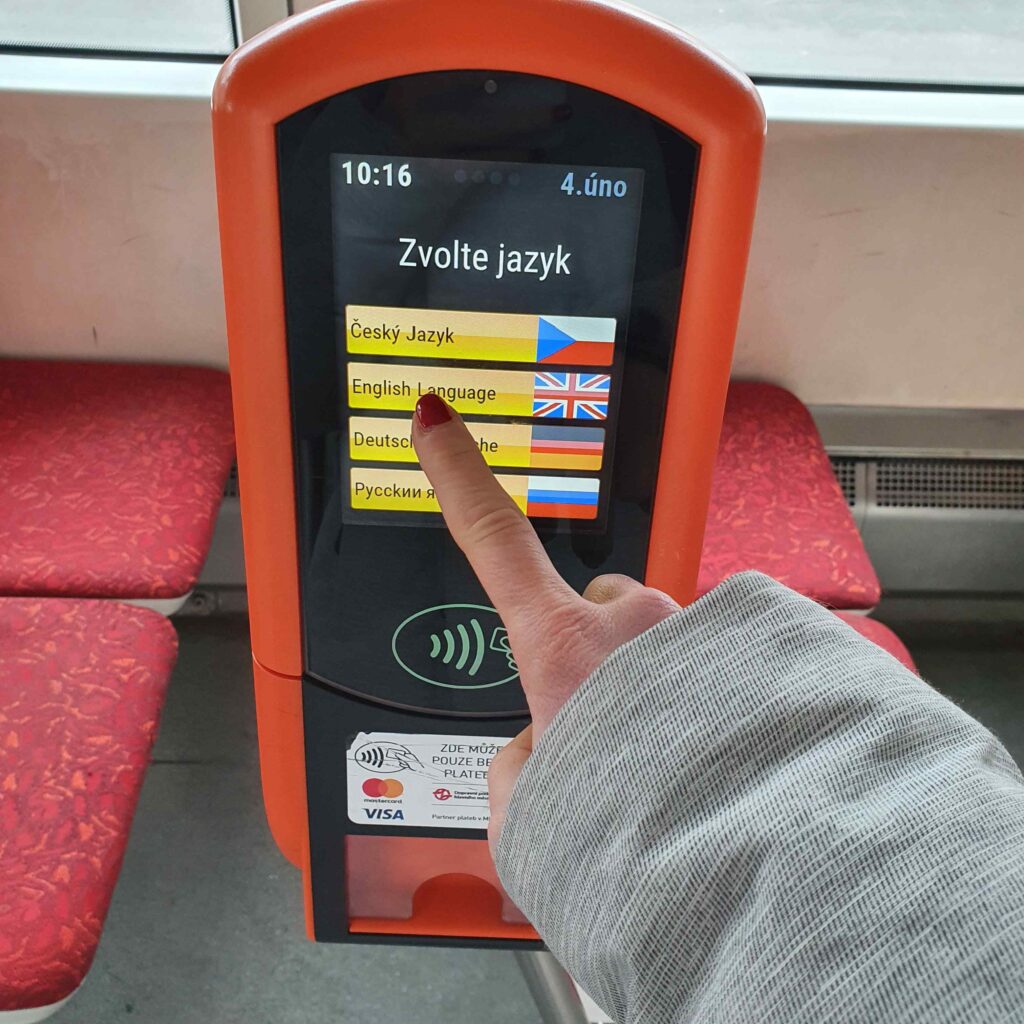 Right on a tram or bus On every tram / bus there is a machine where you can buy the ticket. And pay with a contactless card. Just look for an orange machine, it´s usually in the middle of the vagon. It has a display, use multiple languages and after the payment it prints you the ticket – this ticket is already validated.
Metro vestibules Ticket machines you can also find in all vestibules of metro. Here you can either pay cash or by cards. The machines are always by the entrance, you can´t miss them. They are yellow and also "speaks" multiple languages. Once you get a ticket from this machine, you still need to validate it! Don´t forget.
Tobacco / newspaper shops Many tobacco shops also sell single tickets. But usually only the single tickets not the multi-day ones.
SMS If you are using Czech SIM card while in Prague, you can also purchase your Prague public transport ticket via SMS. How to do it? Write in SMS: DPT42 or DPT31 or DPT120 or DPT330 and send it to number 902 06. In approx. two minutes you will receive your SMS ticket. What the abbreviations mean?
DPT42 = 90 min. ticket
DPT31 = 30 min. ticket
DPT120 = 24 h ticket
DPT330 = 72 h ticket
Online app You can also download Prague public transport app and buy your tickets as you go. This app is called PID Lítačka. Available for Apple / Android. Personally, I find it a bit confusing and not really 100% user friendly, but maybe it will work for you better.
What would be my choice? If I were a traveller and wanted to try Prague public transport, I would buy the 24-hour ticket for only 120 CZK (5 euro). Just to enjoy the freedom and the funicular rides:-)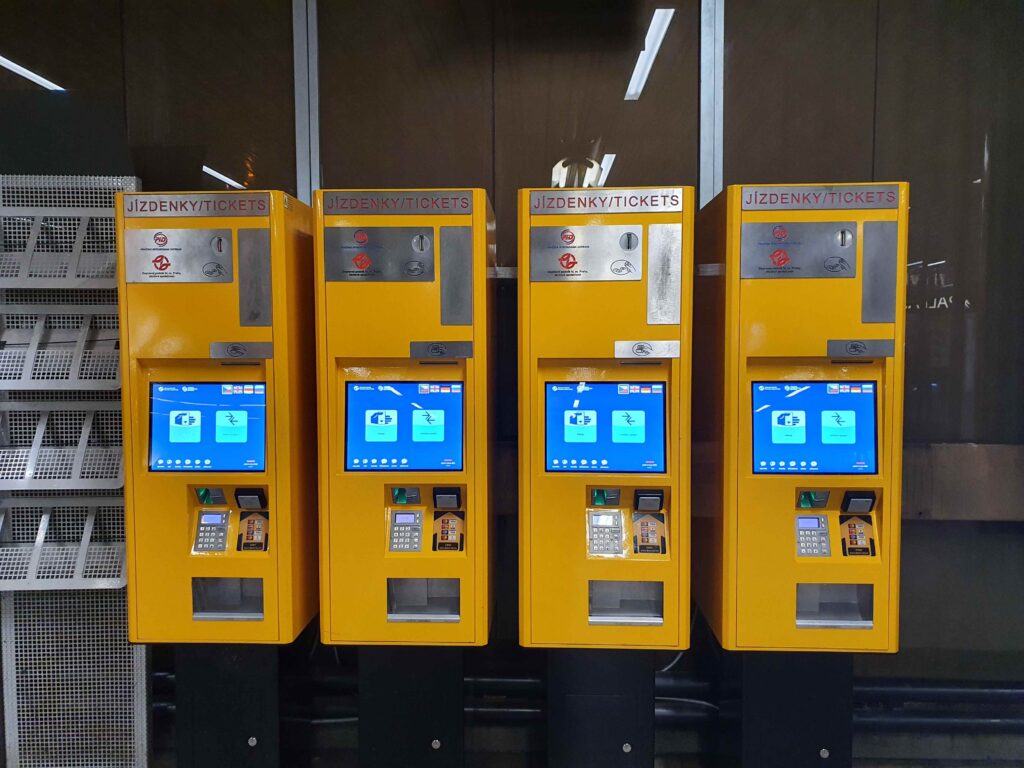 Don´t forget: Prague public transport tickets needs to be validated.
This is extremely important, guys. You buy a ticket but without validation it´s invalid and you can be fined! The ticket controllers have no mercy:( If you buy a ticket for example in a tobacco shop or in a metro vestibule, you need to get it stamped. The validator gives you a stamp with time and since then it´s valid either 30/90 minutes, or 24/72 hours – done!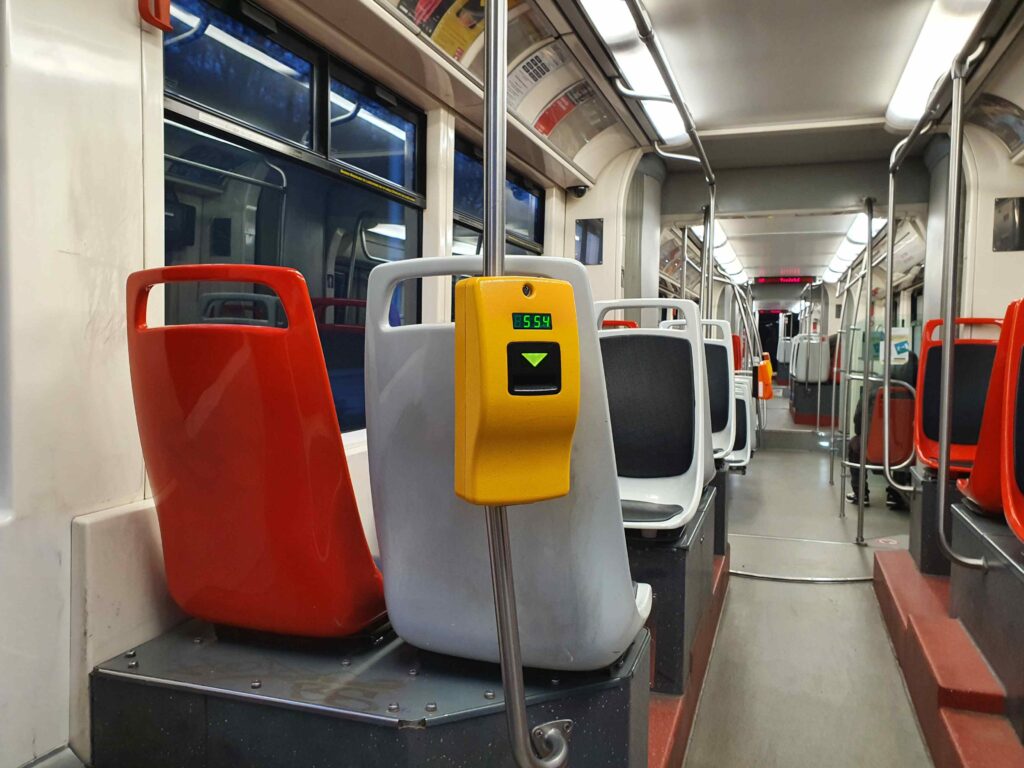 What if you change the lines or the means of transport? No problem, once your ticket is validated you can change as much as you wish (within the timeframe of your ticket). But don´t validate it again and again…otherwise the first stamp wouldn't be readable to ticket controllers = problem.
Exception: Only if you purchase the ticket on a tram / bus (right in the vagon), the ticket is already validated.
My tip: buy the tickets on a tram / bus only if you need them right away. If you want to keep them for later, buy them somewhere else because all the tickets purchased on a tram / bus are automatically validated.
Ticket controls
Are random. The ticket controllers are not on every tram, bus, metro…and we don´t have any turnstiles. It´s all about the random controls. If you are cought without a ticket, or if your ticket is expired or not validated, the fine is 1500 CZK (63 euro). If you pay right away it´s slightly cheaper. I recommend not to cheat here. The controls go day or night.
Who can travel for free on Prague public transport?
Kids not older than 15 years, seniors 65+ (please don´t forget ID – passports are best), dogs – if their owner has a valid ticket 🙂 bikes can also be transported for free but only on metro or on funicular, they are banned on trams and buses. Prams are also free of charge.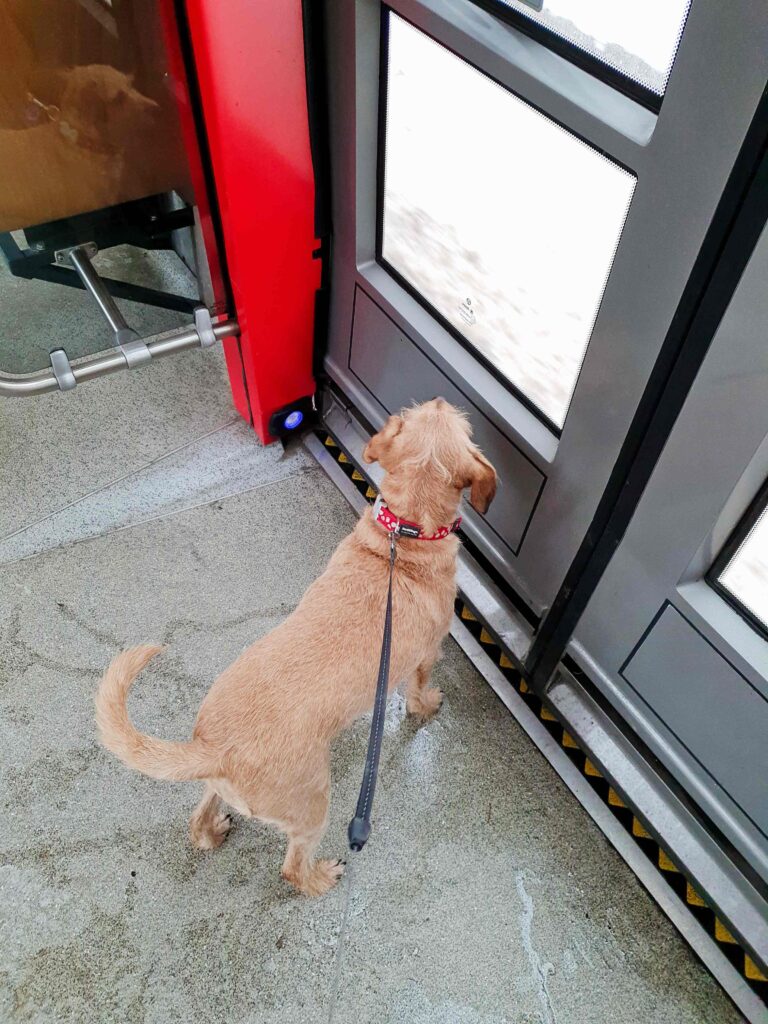 Prague public transport is safe, clean and running 24 / 7
Many of my clients often ask me about the safety on Prague public transport. I have been using it my entire life (never had a car) and there wasn´t a single moment I would feel unsafe or uncomfortable. Even solo travellers / women don´t be afraid.
The trams, buses, metro are cleaned every day and locals use it day or night – for going to work, theaters, events, for their way back home from a bar…. The metro stops operation at midnight but buses and trams have their night versions and whenever we need to get home, the public transport is always close to hand.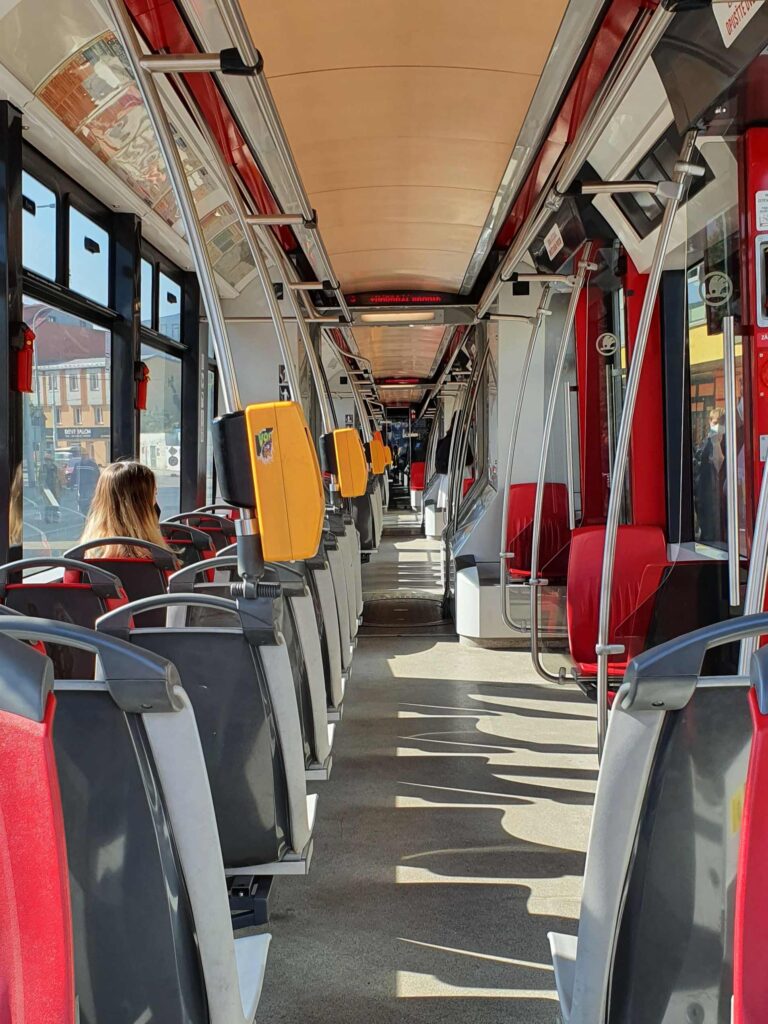 Sightseeing by public transport – my secret tip is a bus number 194. Read why!
Guys, I know this article was long, but this is finally its last paragraph! Here, I would like to share with you my secret tip how to enjoy Prague like a local while using a tiny bus running through all the cool Prague back alleyes but also around the major highlights.
The tiny bus number 194 is my local hero and its patient drivers as well! 194 is part of Prague public transport and is often used only by elderly locals or people who knows it. Local experience at its best – people greeting the driver, chatting about their lifes, you can also often see nuns in habits on this service. Why? They are going to work in a hospital – hospital is the terminal station of the bus (Nemocnice pod Petřínem).
194 bus is leaving from Florenc stop. And along the way it takes you through the Old Town, Lesser Town, stops in Jewish quarter, at the Old Town Square, next to Charles Bridge. You can easily get off, explore the area and then hop back on this cute bus and continue like a local. The final stop is Nemocnice pod Petřínem located in a beautiful fruit orchard with fantastic views over the whole city center.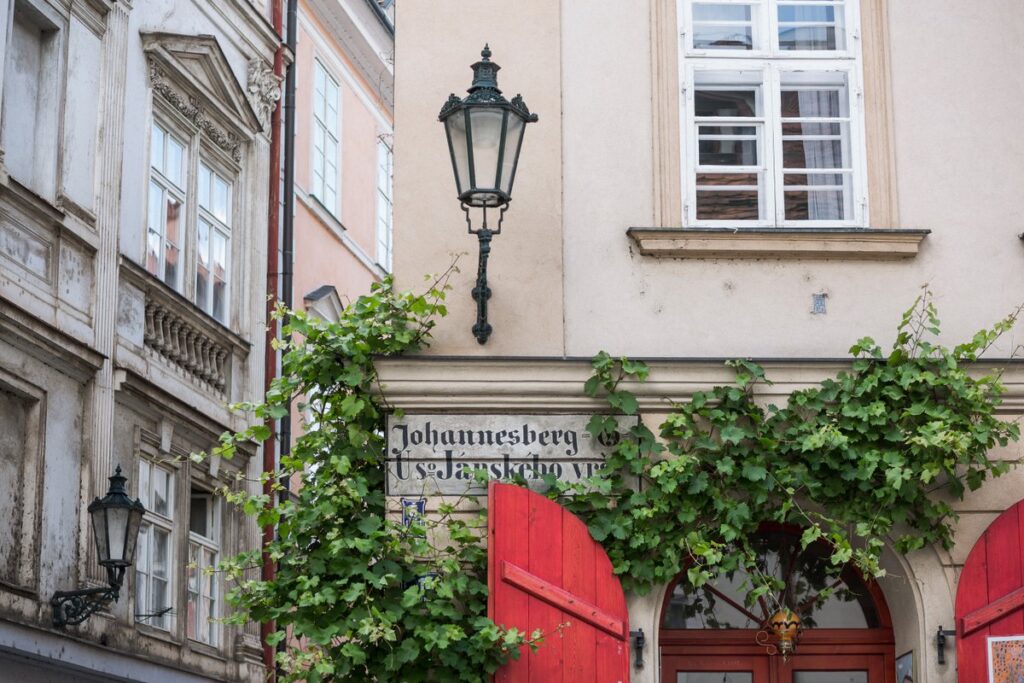 For this "Prague public transport sightseeing" I recommend using the 24-hour ticket so that you have enough freedom and time.
Have fun and enjoy Prague in a less touristy way.
---
Dana, owner and guide for Prague Behind The Scenes | small-group tours and experiences.
Please feel free to contact me if you have any questions or want to tour with me: dana@praguebehindthescenes.com
More content about Prague on Facebook and Instagram
---
Where to next
What to do in Prague as a solo traveller?
What to avoid in Prague? This is a list of the most flagrant Prague tourist traps.
Prague downtown in a less touristy way – private tour with Dana.
8 original gift ideas with Made in the Czech Republic label.
Where to exchange money in Prague and not to be ripped off?
Easy trip from Prague: Nelahozeves, hidden gem of Czech countryside only 40 minutes from Prague!