Prague is lovely and fanscinating city. However, sometimes very crowded, busy and full of distracting objects, especialy people stepping into your photos. If you want to enjoy Prague in more tranquil atmosphere, I highly recommend seeing the city from above: from hills, parks and towers. There are so many! So, why not to take few extra steps and climb up! This blog post will help you to find 7 easily accessible locations from where you can enjoy the best Prague views.
I am Dana, fully certified local guide designing original itineraries and tours for travellers to Prague. And these are my favourite places where I like to take my clients. Maybe you will find here an inspiration for your Prague trip, too. Enjoy!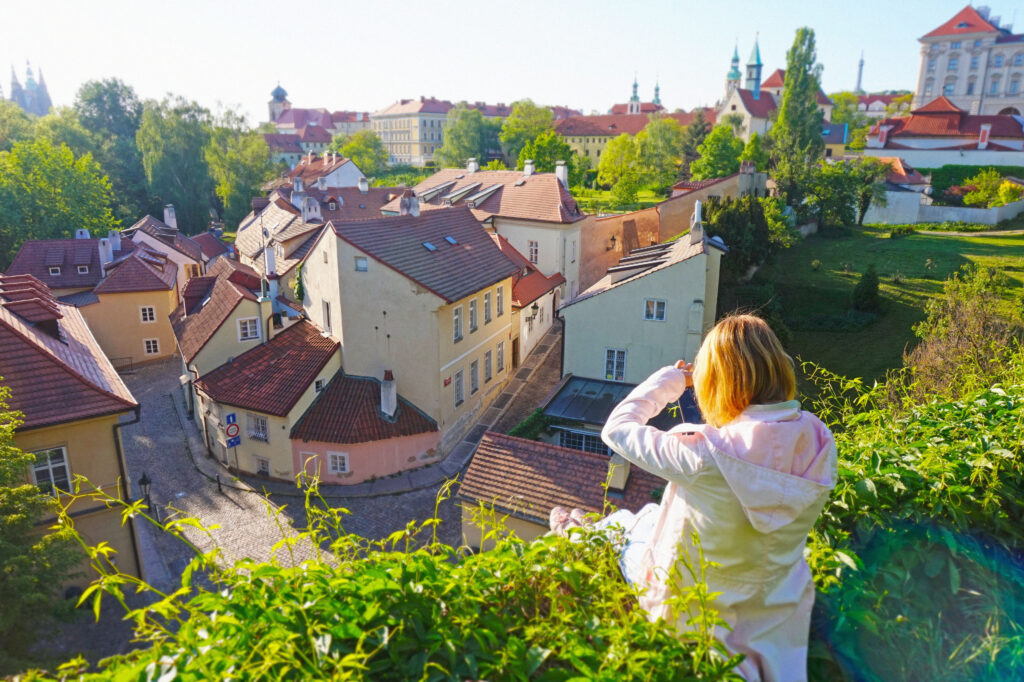 1. Strahov orchard: 100% the best place for watching sunrise in Prague
Strahov orchard is a peaceful park connecting Malá Strana (Lesser Town) with Hradčany (Castle area). Walking this way can be a bit tough, but believe me, it´s worth the effort. Strahov orchard is a very tranquil part of the city where you can relax, lay on the grass, have a picnic or enjoy the best sunrise in Prague. Surrounded by nature, away from crowds and city madness. No entrance fees, open 24/7.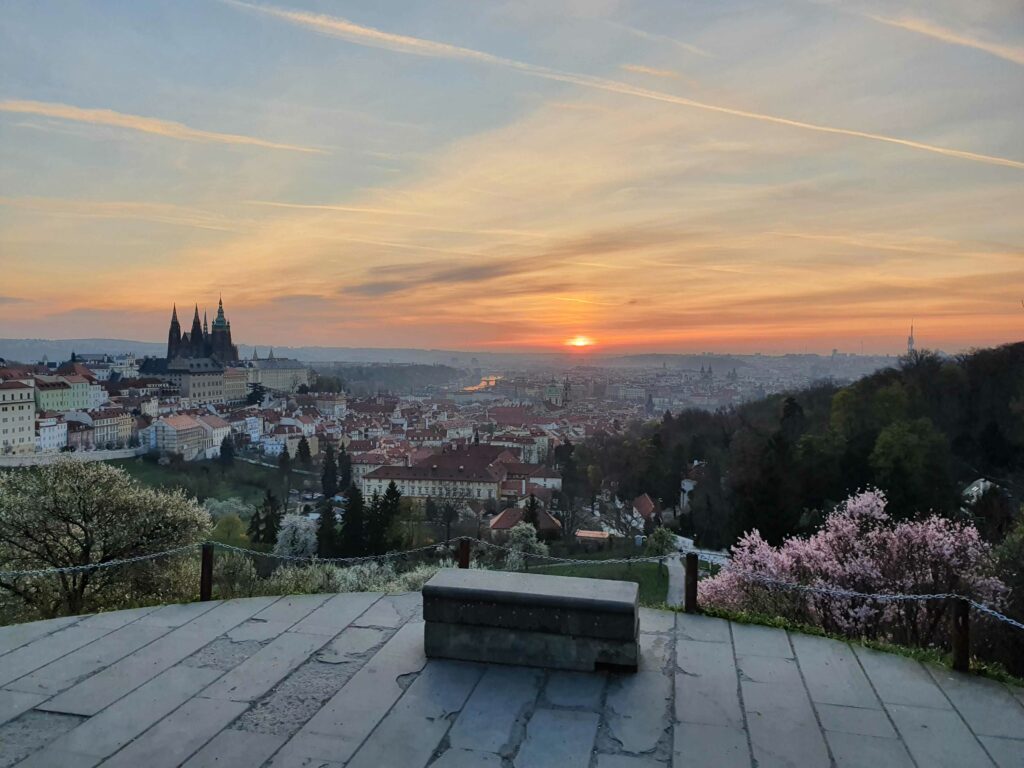 2. Petřín Tower: 360° views from our "Eiffel Tower"
Petřín lookout tower is located at the very top of Petřín hill, a lovely park located close to Castle district (Hradčany) and Malá Strana (Lesser Town). You don´t have to hike up there. Instead, use a funicular going up to the hill (single ride cost 60 CZK, with 24-hour public transport ticket it´s for free). The ride takes approx. 5 minutes. After another five minutes walking you will reach the entrance to Petřín lookout tower. To get to the top you can either walk (299 steps) or take an elevator (extra fee). Entrance fee 150 CZK.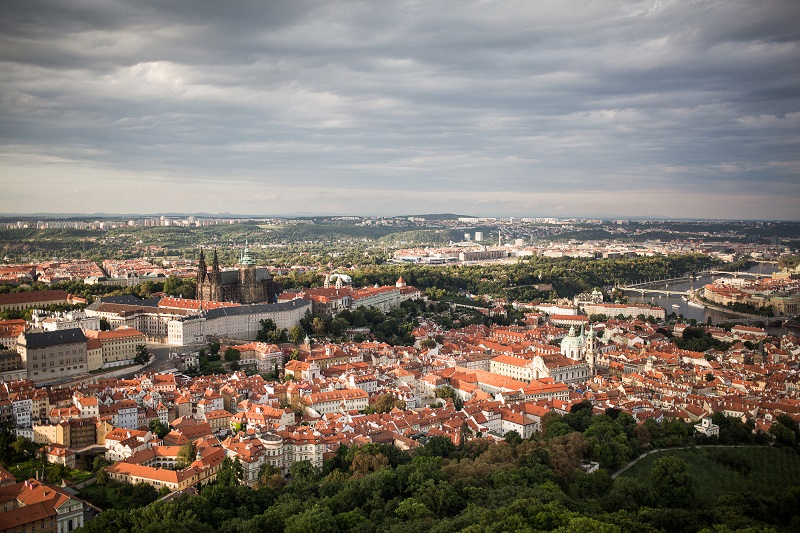 3. Charles Bridge Tower: your private viewpoint above the crowds
It is one of the top sights of Prague, a masterpiece of Czech gothic architecture. However, not so many people know about a chance to walk up to its top. Since the entrance is quite tiny, people easily pass it by without knowing they can get in and up. It is definitely worth it paying 150 CZK for entrance. From the top balcony there is a stunning Prague view. Old Town Bridge Tower is located at the foot of Charles bridge (Old Town side) and it´s usually completely empty – unlike the Charles Bridge under you!. One of the best Prague views 100% guaranteed.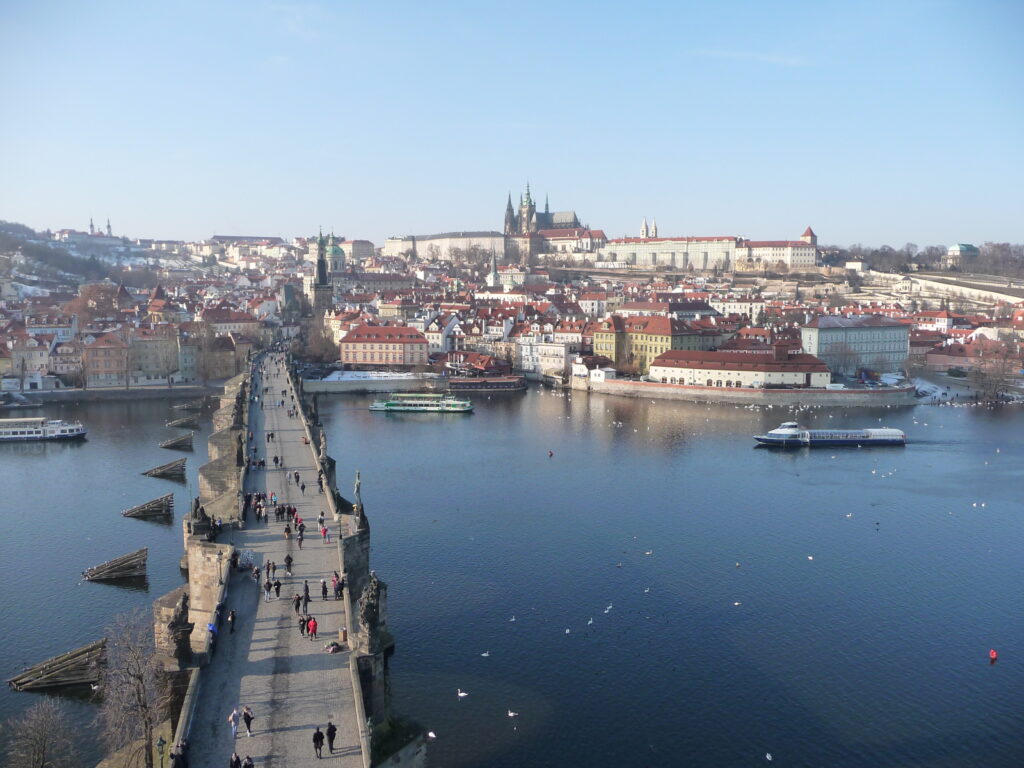 4. South gardens of Prague Castle: holy grail for all photographers
There is probably no better (and free) viewpoint of Prague than Na Valech garden (Garden on the ramparts) located right at Prague Castle. You can enter it via a small gate called "Bull stairs" located on the 3rd courtyard of Prague Castle. That´s where the St. Vitus Cathedral is. It's gorgeous. Don´t miss it! Count with at least 30 minutes to see everything here. The garden is huge and offers amazing photo opportunities but also places for relaxation or afternoon snack or drink.
Opening hours: 10 – 6pm (April – October, closed during winters)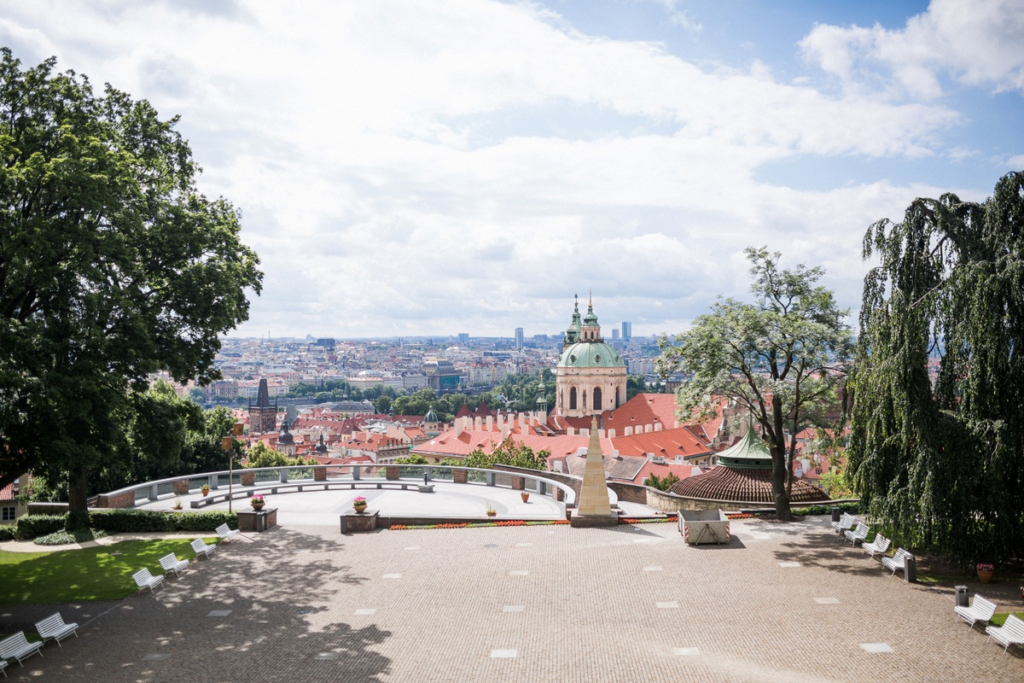 5. Letná park: cold beer and fantastic views
Letná park is a huge green area separating downtown from the peculiar and popular Prague district called Letná (Prague 7), well known for its nice local bars, bistros and restaurants. The best spots for taking pictures and relaxation are: Letná beer garden, Metronome/Stalin, or Hanavský pavilon. My recomendation: start at Letná beer garden and grab a beer (drinking in the public is allowed), continue towards Stalin/Metronome viewpoint, and finish at Hanavský pavilon. You can just walk along the rim of Letná park to enjoy various views. No entrance fees, open 24/7.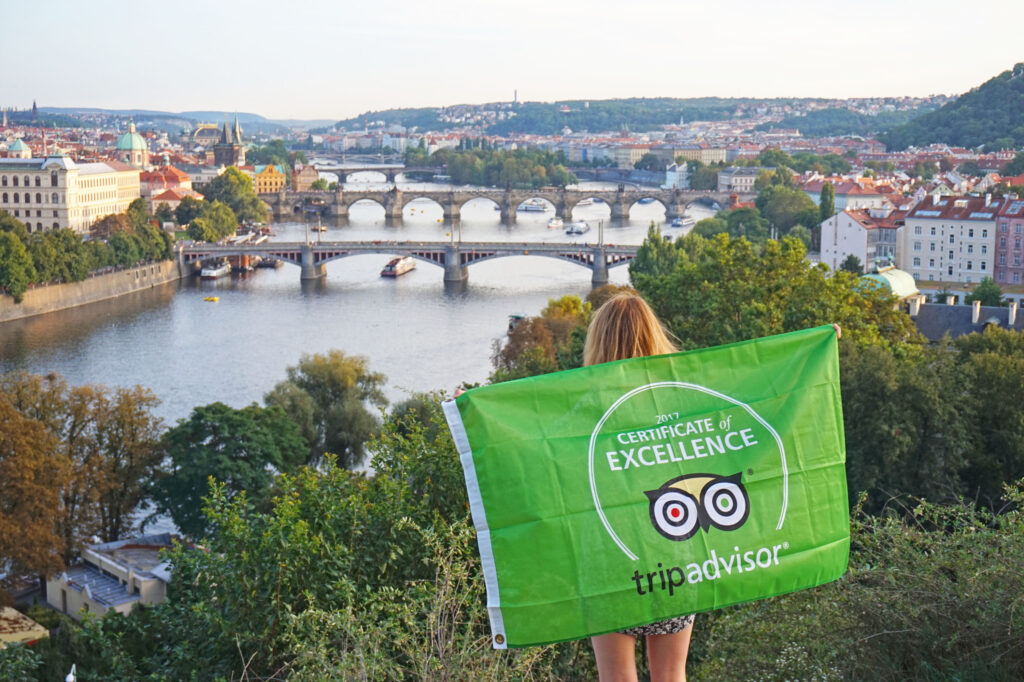 6. New Castle stairs: open 24/7, best in the morning
New Castle stairs are connecting Lesser Town with Hradčany square. For this little exercise you will profoundly be rewarded with the best Prague views. Especially if you make it out of your bed early in the morning. Before the crowds come. From here you can experience one of the most beautiful sunrises ever.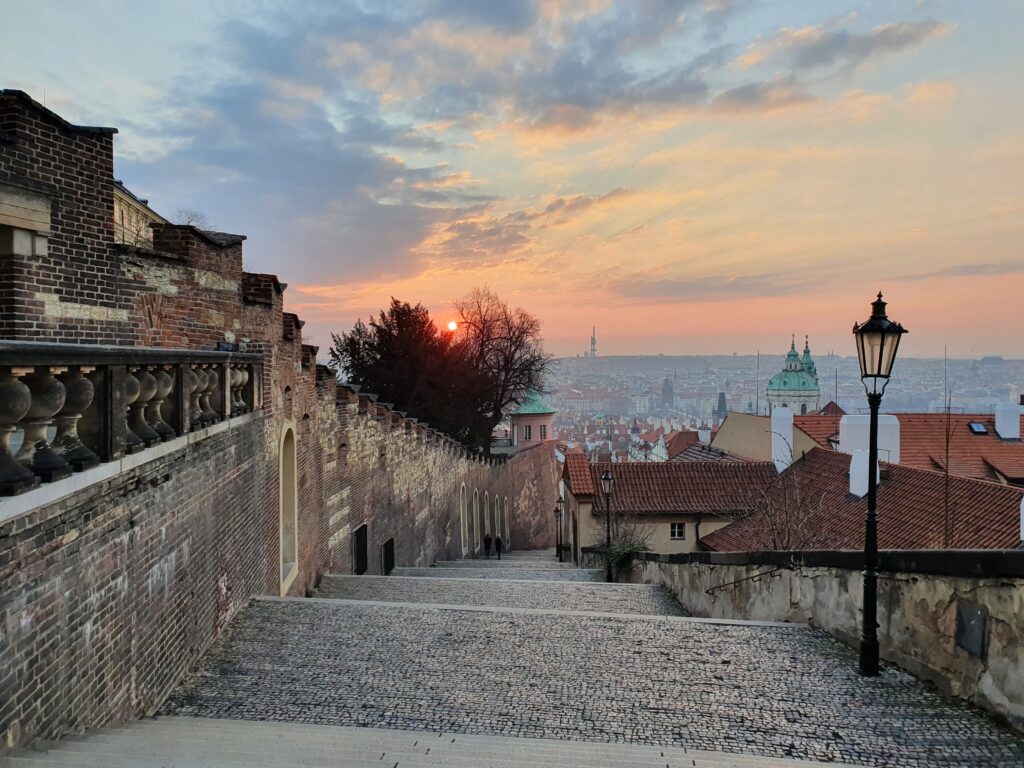 7. Great South Tower of St. Vitus Cathedral: stairway to heaven
St. Vitus Cathedral, beautiful and majestic part of the 3rd court of Prague Castle. But there is yet another beautiful place to be discovered – the Cathedral tower. There is no elevator and you will have to walk up nearly 300 steps! But you will never regret. On your way up to the top you can also admire the biggest bell in the Czech Republic called Zikmund from the 16th century. If they want to make it ring, 6 people need to come to make it move! Tough shifts! 4 to swing the bell, 2 to manipulate the clapper. Entrance fee to the tower: 150 CZK.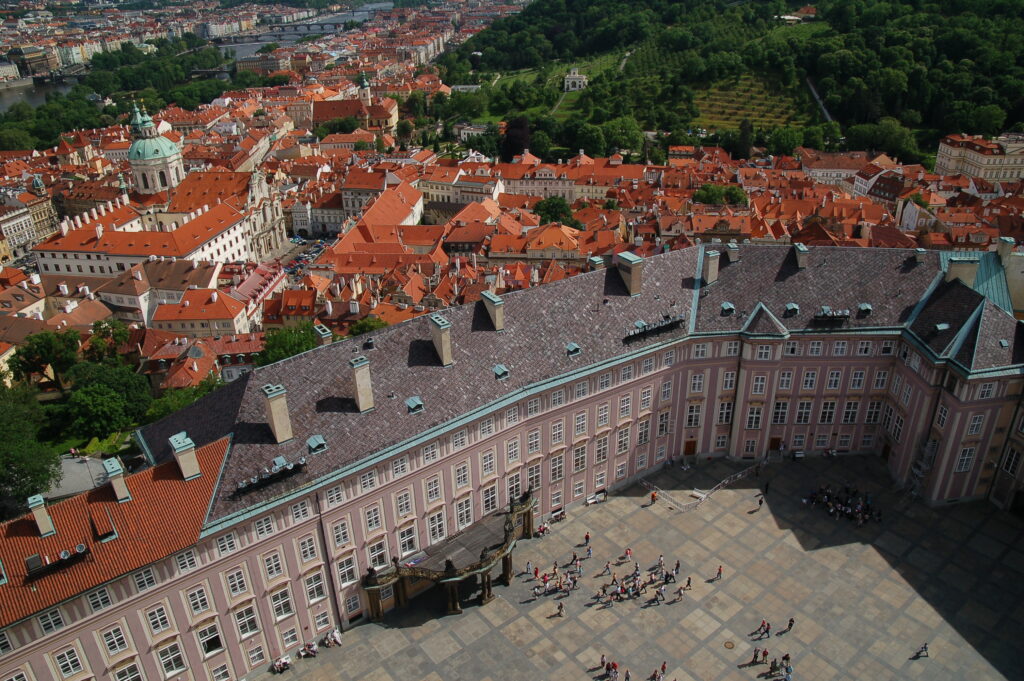 Where to next?
Prague Castle: 6 hints for your stress-free visit.
Prague in one day: what to see and do if you only have limited time.