Prague Castle, number one highlight of Prague and UNESCO World Heritage Site. Even if you are coming to Prague just for a short trip, Prague Castle is the place you definitely shouldn´t miss. I am not going to explain the history now – that´s what you can find all over the internet. I will rather share with you some practical tips. For example how it is with tickets, opening hours, whether to visit the castle interiors or not, where to eat at Prague Castle, and much more.
And who is writing this blog for you? My name is Dana and I am owner of a small local touring company called Prague Behind The Scenes. Besides showing travellers around Prague in a less touristy way, I also like writing about my hometown. Especially about practical things and less know topics related to tourism in Prague.
1. What is the best time to visit Prague Castle?
One of the best things about Prague Castle is that the opening hours are very generous: 6am – 10pm. The best time to visit Prague Castle is until 9am or after 5pm. In the morning you will only meet there locals, few photographers, castle employees or people leaving the morning service at St. Vitus Cathedral. In the evening, everything will be lighted up, tranquil, peaceful. Mornings / evenings, highly recommended times. When knowing this, you can perfectly avoid the peak hours, lines ups for security checks and large noisy tour groups.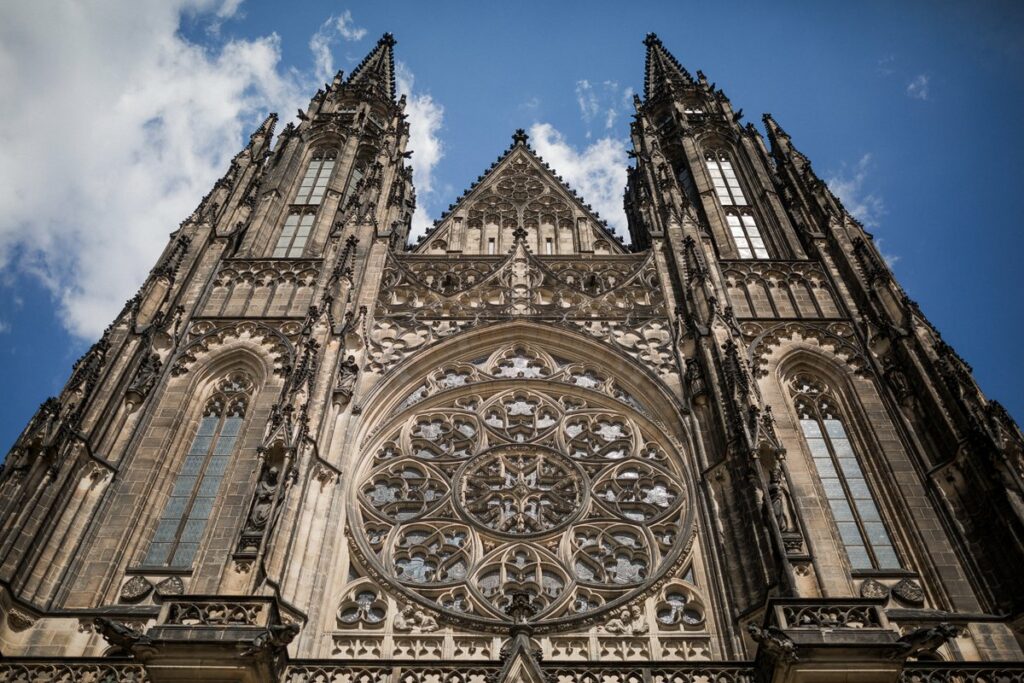 2. How much does it cost to enter Prague Castle?
Prague Castle grounds (courtyards, gardens) are open for free. You don´t need any tickets to get in, there are no such things like skip-the-line tickets, etc. The castle exteriors are free for all! You only need a ticket if you plan visiting interiors. No pre-purchase is needed. You will find the ticket offices on the 2nd and 3rd courtyard. Please don´t believe anyone who tells you you need some skip-the-line tickets or to buy everything ahead of time. That´s a lie. The paid interiors are: St. Vitus Cathedral, Old Royal Palace, St. George Basilica and Golden Lane and you will need a ticket called B circuit (250 CZK / pp). It´s a combined ticket that allows you to enter all of the above mentioned interiors. There are no single tickets e.g. just for cathedral. The current price list and options you will also find here. The B circuit ticket is valid for two days so you can split the visit. However, every interior can only be entered once!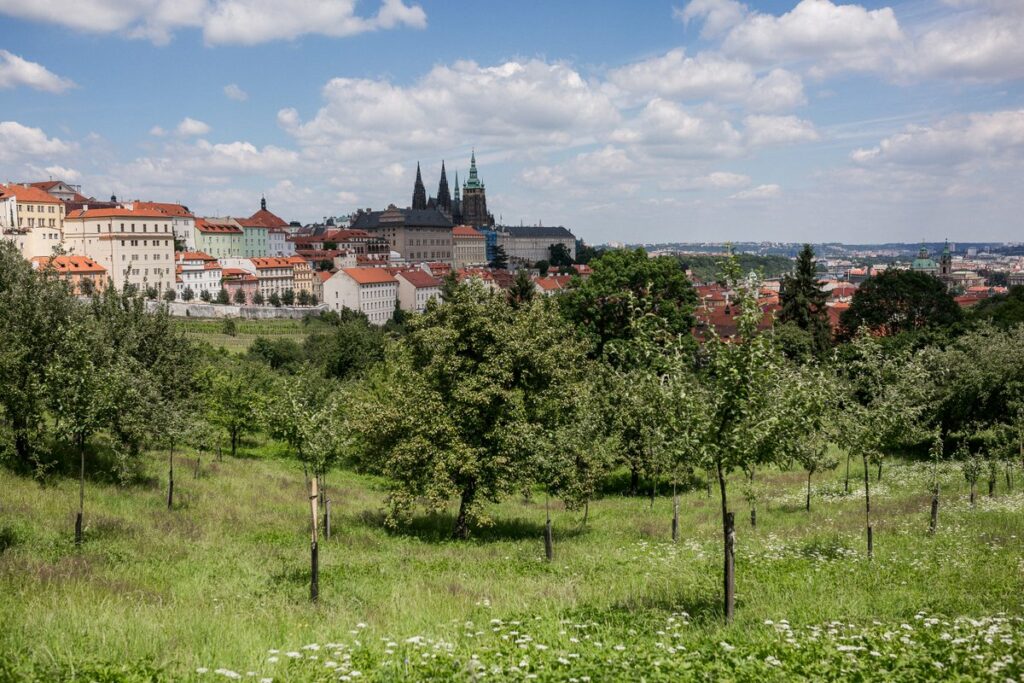 3. Visit the castle interiors – yes or no?
One of the most frequestly asked questions of my clients 🙂 And I always answer that it all depends on their time. How much time they have in Prague. To make it clearer, if you wish to see all the interiors and paid parts of Prague Castle, you should definitely count with at least 2,5 hours. And that´s just for the interiors, then there are also exteriors: viewpoints, gardens, St. Wenceslas vineyard…From my experience, most of the people skip the interiors visit. I am not saying it´s fine but I absolutely understand their time limit. Lot of visitors are also expecting Prague Castle to be more "romantic", with oppulent baroque interiors and great photo opportunities…nope, the interiors you are allowed to enter are way too old and quite austere. You might be a bit disappointed in this way.
In the castle complex you can also visit lovely observation deck at the top of the Great South Tower of St. Vitus Cathedral (150 CZK) or interior of Lobkowitz Palace, the only privately owned palace at the castle (290 CZK). It still belongs to Lobkowitz family, one of the oldest Bohemian noble families.
Hope you are not too confused now. If you are, this is what I recommend most: visit all the exteriors and courtyards, attend a service at St. Vitus Cathedral, relax your feet and enjoy the views from Prague Castle gardens (April – October), climb up the Great South Tower of St. Vitus Cathedral, visit Golden Lane in the evening, have a beer and lunch at Kuchyň restaurant.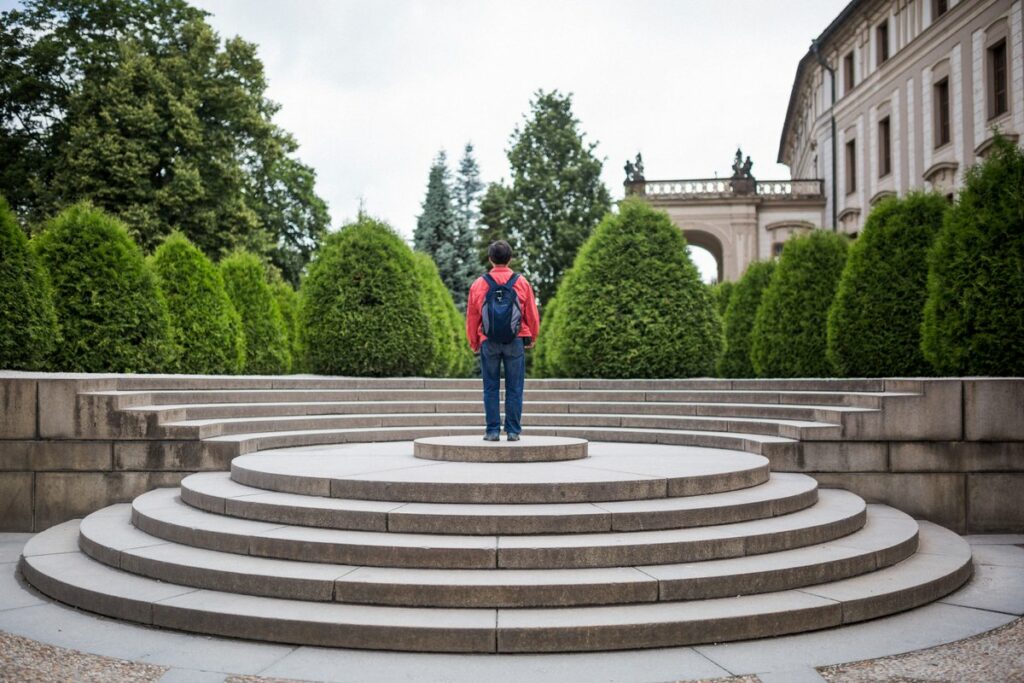 4. What is for free at Prague Castle?
St. Vitus Cathedral. If you don´t want to buy the combined ticket for Prague Castle interiors, you can still see the St. Vitus Cathedral for free. Not so many people know about it, but the front part of the cathedral is open for free. Just for the idea how it looks inside it´s absolutely fine. Daily services are open for free to anyone (please just respect the whole ceremony and don´t leave before it ends and don´t take pictures!!!).
Prague Castle Gardens. During the high season (April – October) you can also visit for free the gorgeous Prague Castle gardens. The most beautiful ones are the south gardens (entrance through the 3rd courtyard).
Golden Lane. This picturesque street with tiny colorful houses is the paid part of the castle – but only during the day time, however, after 5pm it stays open for free.
All courtyards and exteriors.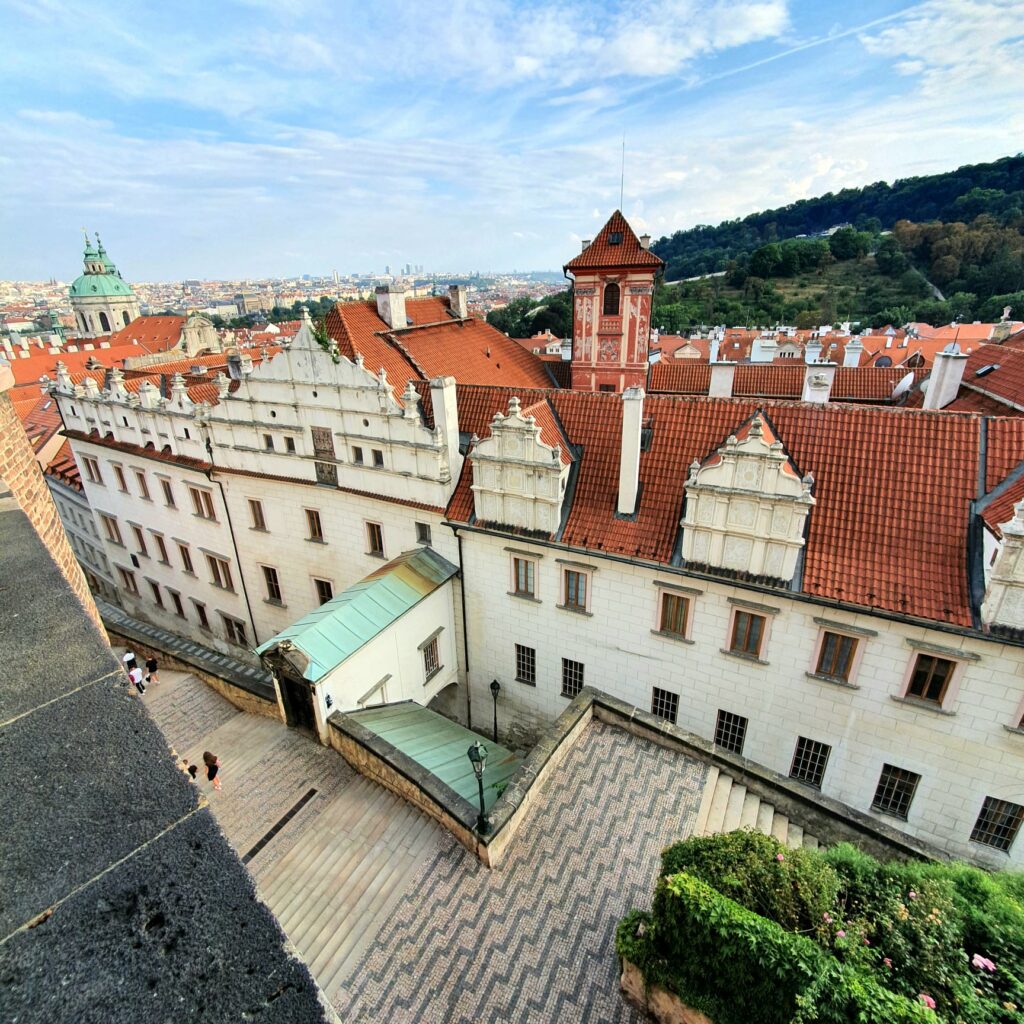 5. Opening hours of Prague Castle: exteriors, interiors, gardens
Prague Castle grounds: 6am – 10pm
Interiors of the historical buildings (St. George Basilica, Golden Lane, Old Royal Palace): 9am – 5pm (4pm during the low season)
St. Vitus Cathedral: Mo-Sa 9am – 5pm, Su 12 – 5pm (last entrance 4:40pm)
Great South Tower of St. Vitus Cathedral: 10am – 6pm (last entrance 5:30pm – because there are 300 steps to the top 🙂
Prague Castle Gardens: 10am – 6pm (April – October)
Official website of Prague Castle here.
6. Where to eat at Prague Castle?
Prague Castle attracts a lot of tourist. Therefore there are many touristy and cheesy restaurants, shops, cafés and bars in the neigborhood. You really need to know where to go. All of my recommended places are local and authentic businesses not owned by some anynomous companies.
Kuchyň na hradě: ("Kitchen at Prague Castle") right by the main entrance to Prague Castle at Hradčany square. This place is perfect for a lunch/dinner and fresh beer. They specialize in meat meal, however there are always some vegetarian / lighter options, too.
Kafe a hrnky: ("Coffee and Mugs") cozy place located on Nerudova street. Former souvenir shop. Now friendly Czech coffee shop and ceramics workshop with secluded garden in the backyard. They serve small meals, coffee and beer. Simple hideaway place with very reasonable prices. Besided food for humans, they also serve food for visiting dogs 🙂
Kavárna Nový Svět: ("Coffee shop New World") a small family café located just 10 minutes from Prague Castle. Tiny, clean and cozy place, serving small meals, cakes and high-end coffee. The menu is written on a board by a counter, no printed menu. As long as you don´t meet one unfriendly barista there, this place is super sweet. People keep complaining about the barista in reviews and I can just echo them. Very sad, but I still do recommend visiting this place because when he is not there, it´s simply great spot!