Learn where to exchange money in Prague and where not! If you come to Prague, it is always good to have some cash with you. Not much, Prague is a very card friendly city. However, just for your personal comfort and back up you should exchange at least a small portion of your budget to Czech Koruna / Czech Crown (CZK). You can either use a bank branded ATM or stop at a money exchange office. Just make sure you pick the right one. It is not always easy here.
---
And who is writing this blog for you? I am Dana, Prague local. Besides designing and guiding my small-group tours, I also like writing about Prague. To prevent future visitors from the local tourist traps (there are so many!!!). And changing money is one of them. Hope this blog post saves you lot of money and nerves.
Please feel free to drop me a line if you need further help or wish to see Prague with me – away from the crowds, silly souvenir shops and spots ripping tourists off: dana@praguebehindthescenes.com
Or check my reviews if you are not sure 🙂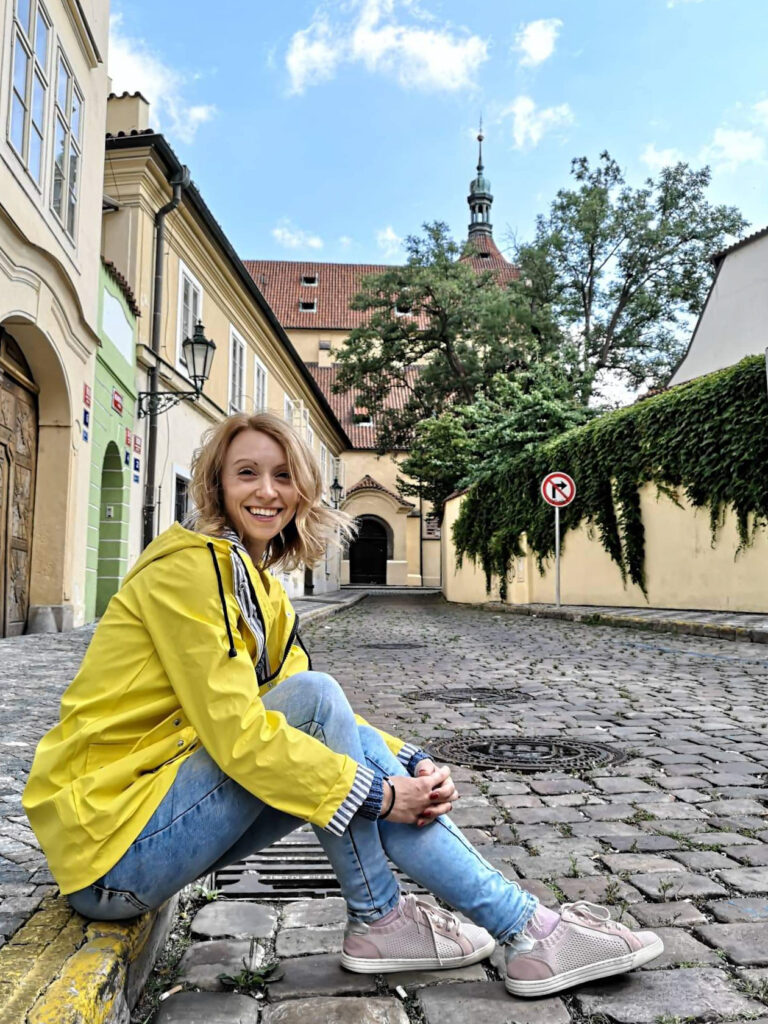 Fast facts: how much for one Euro and USD (November 2023)
Exchange rate for 1 Euro is currently around 24 CZK, and 22 CZK for USD, anything lower than that is not so good. One of my clients told me that this blog post saved him a lot of money – because he nearly ended up with only 17 CZK for euros!! So, please be careful!!! There are many unfair exchange places downtown. But also several fair ones.
Today (November 19) I went to my favourite exchange office and the exchange rate was 24.30 CZK for euros, for 1 USD I got 22.45 CZK.!!! Please read on to learn where to go and not to be scammed.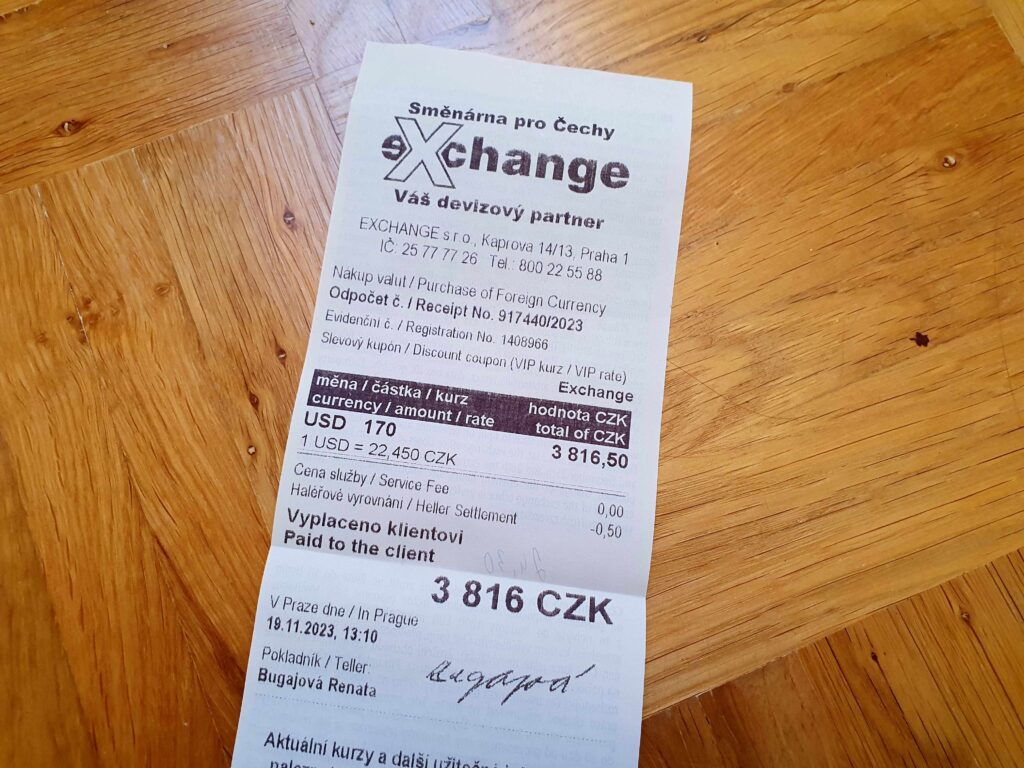 Such an exchange rates we consider to be fairly good (information from November 2023). Be careful, in some exchange offices you can find very similar exchange rates, sometimes even higher, however, this might be a trap called "commission". Charging a commission is a good trick of some exchange offices. At the end – not a good deal. Always ask ahead: How much can I get for 1 euro? Do you charge a commission? If they give you at least 24 CZK and there is no commission, it´s ok. But don´t exchange much, you can perfectly pay by card here.  Except for Christmas markets. Here you will need some cash.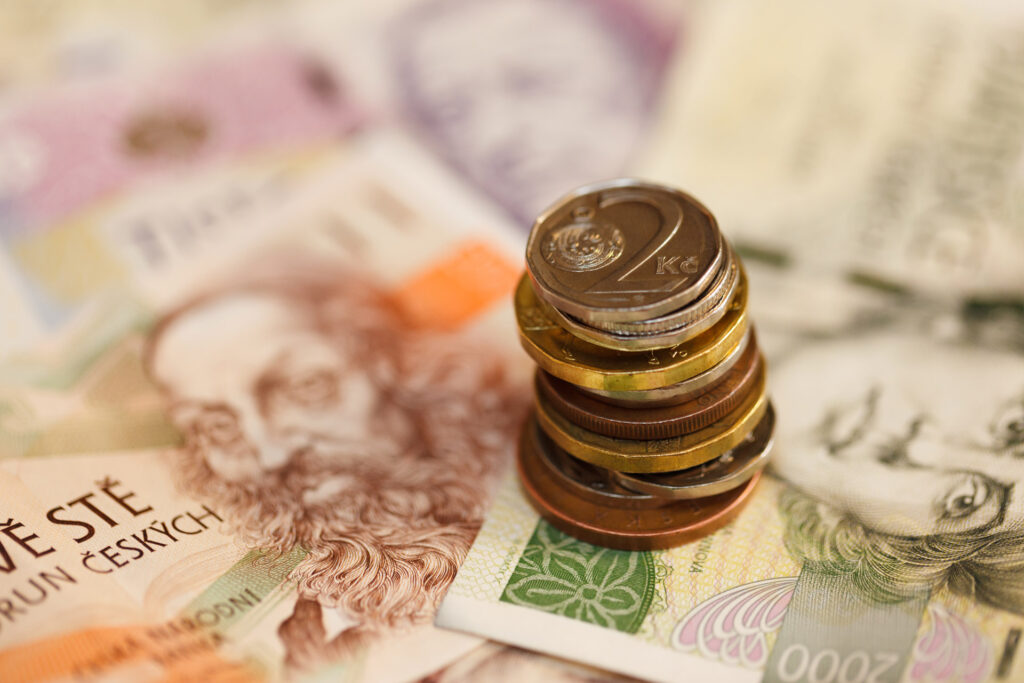 Christmas markets are not very card friendly
If you are visiting Prague during the Advent / Christmas time, you may need some cash for shopping at the Christmas markets. From my experience this weekend, it´s 50:50 card / cash.
Where do locals go to exchange money in Prague?
Many Czechs, including me, go to a place called EXCHANGE CZ as we all know that many exchange offices downtown (or at railway stations) are notorious for ripping people off. I am repeating: railway station. My recent clients told me that they were scammed there as well. What a fantastic "welcome to Prague" gesture!!
Where to find the EXCHANGE CZ? It´s a corner spot connecting two streets and one square: Kaprova and Maiselova and a square called Nám. Franze Kafky. That´s why you may find this exchange office under three different addresses. Don´t get confused, they all will lead you to the same corner 🙂 Just check the picture below and you will understand what I mean.
Sometimes there are line ups in front of the entrance but no worries, it pays back (literally). They provide fair services and have good exchange rates. You don't have to be afraid of any hidden fees or paying a commission. I go there myself when my clients pay cash for my tours.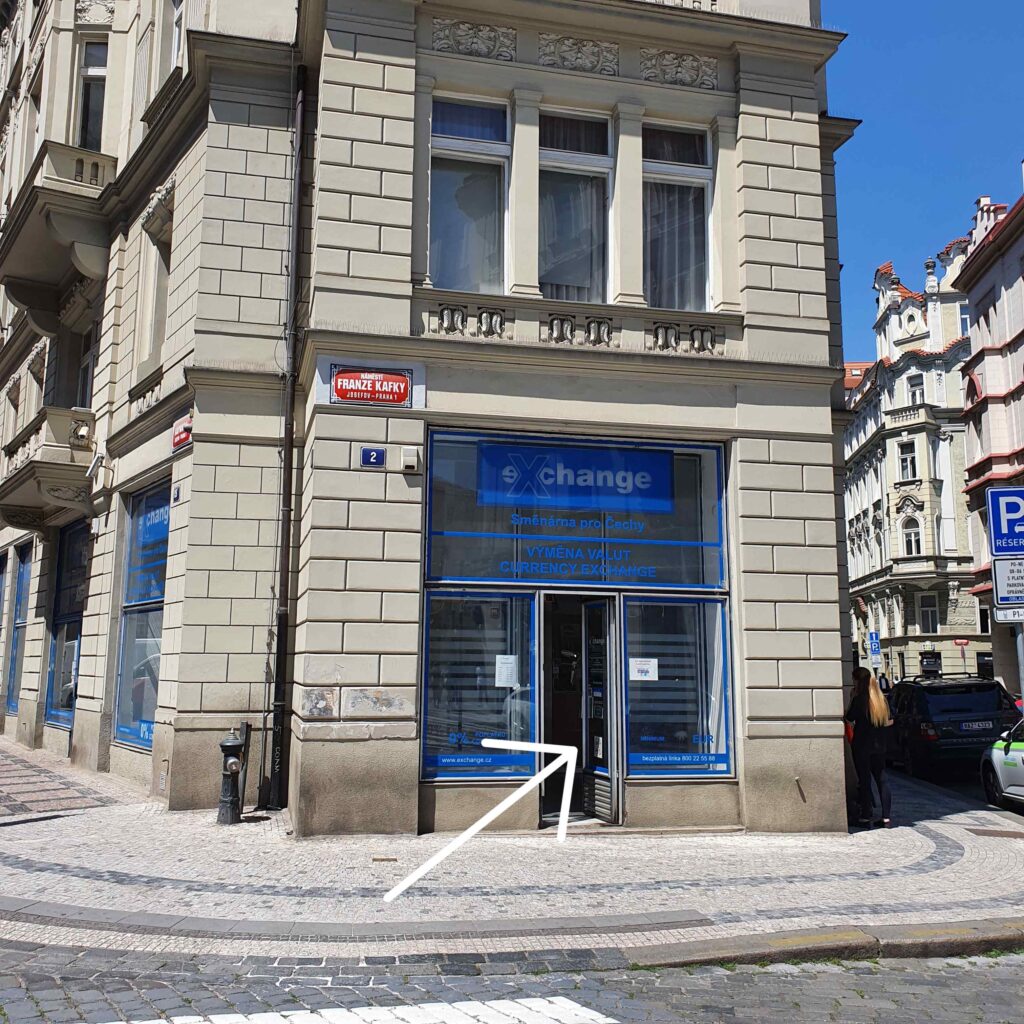 Please read this paragraph carefully if you are arriving during the Christmas 2023!!!
Unfortunately, this fair exchange office is changing location. From January 2, 2024 you will find it at the new address: Štefánikova 203/23 Prague 5 Smíchov. This is very sad news. The new location is a bit tucked away for tourists, so the scammers who still operate conveniently downtown will get more chances to steal your money…don't give them a chance, please!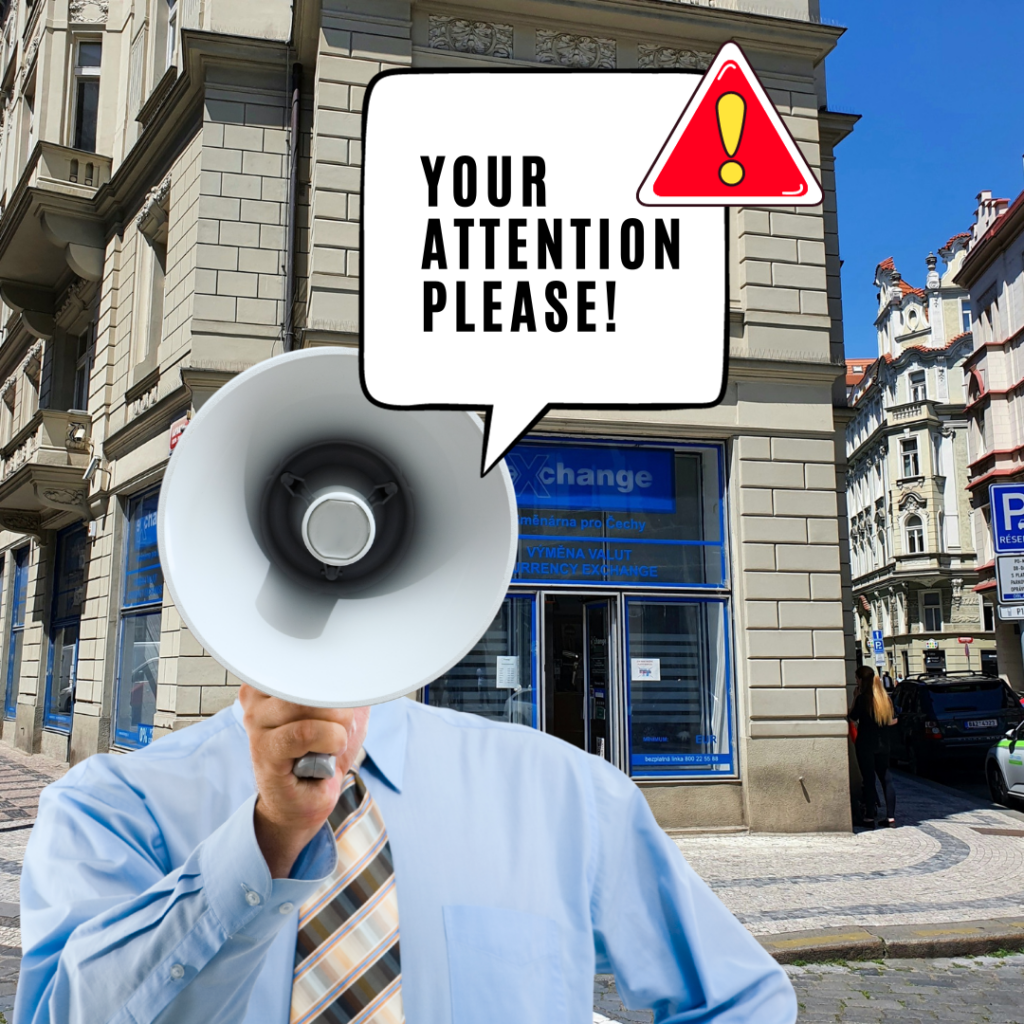 Exchange CZ will be open at the old address only until December 22, 2023!!!
Reopen at the new location (Štefánikova 203/23 Prague 5 Smíchov) on January 2. 2024.
Please make sure you exchange your money before Christmas / NYE. They take one week off for the moving.
Cash for cash only
Many of my clients have already asked me if this exchange office takes cards. So I rather mention it here as well: this exchange office doesn´t accept cards, you need to bring the foreign cash and they will give you cash back. They don´t exchange coins, just bank notes.
My clients also ask me if they can exchange in this office USD to EUR or any other currency (Forint, Zloty….) Yes, this is definitely possible but I wouldn´t recommend it because they first exchange the money into Czech Crowns (our local currency) and then to your required currency. In the end probably not the best rate. If you are travelling from Prague to some other country where they use euro or any other currency (Austria, Germany, Hungary, Poland…), I recommend exchanging the money in these destination. But of course if you want some back up money for your way there, you can exchange a portion in Prague. it´s not a problem. USD to Forint, Euro to Zloty….whatever you need.
But no Scandinavian cash!
If you are coming from Norway, Sweden or Denmark and you need Czech cash, please use our ATMs. Czech exchange offices don´t accept SEK, DKK or NOK. This is currently very common in most countries, not only in the Czech Republic. But no worries, you can perfectly pay here by cards!!!
Official statement of the Danish national Bank: Danish cash cannot be exchanged in most countries, and it is therefore recommended that you do not bring Danish cash abroad.
Official statement of the central Swedish bank Riksbank: For those travelling abroad, alternatives to exchanging banknotes abroad may be to exchange them in Sweden or to use other payment methods, such as cards that work abroad.
Official statement of the central bank of Norway: In the current situation, Norges Bank recommends that Norwegians planning a trip abroad consider exchanging NOK for foreign currency before departure or using cards or other electronic means of payment during the trip itself.
VIP exchange rate: just show them this coupon
In the EXCHANGE CZ you can also use this coupon for even better exchange rates! If you want, you can take a picture of it. Just show it at the desk and you will get the VIP exchange rate. I am not saying it´s some extremely better rate but it´s definitely more than just the regular one. If you exchange more than 45 euro (more than 1000 CZK) you will get this VIP rate. Try it, it will cost you nothing!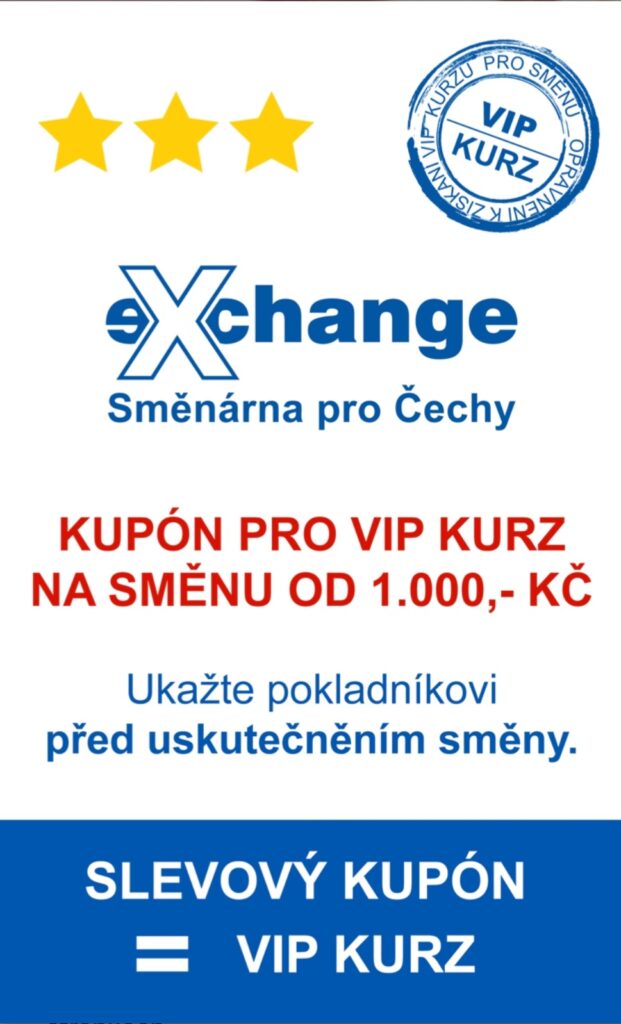 How much money should you exchange?
If you prefer cash in Prague and don´t want to pay by card, one person should have around 2500 CZK / pp / day. To cover all meals, drinks, tickets, basic grocery. This is equal to ca 110 euro. But of course, it also depends on your standards. Below is an example of what you can buy here for 110 euro.
Examples of what you can buy in Prague for ca 110 euro / 2500 CZK during one day
(Counted for one person / day)
Nice breakfast in a bistro + take away pastry as a snack for later (350 CZK)
Entrance ticket to Prague Castle interiors (250 CZK),
Lunch + 1 beer (300 – 400 CZK),
24-hour public transport ticket (120 CZK),
Good bottle of wine or prosecco from a shop (350 CZK),
Two coffees (140 CZK),
Mineral water from a supermarket – Albert, Billa, Lidl (25 CZK),
Nice dinner with a dessert and two glasses of wine (900 CZK)
What if you exchange money in Prague at a bad place and get scammed?
If you get ripped off at some unfair exchange office and you find it out later, according to Czech law, within the timeframe of 3 hours, you can be refunded at the place of transaction. You just need the original receipt. Don´t be afraid and ask your money back. It's your right. Or ask for help the police!
Watch out – some bank notes can be expired!
Some older versions of Czech bank notes are no longer valid and we are withdrawing them from circulation. The new versions still look the same, just have a wider silver security strips. Only 5000 CZK bank notes remain unchanged (with a thin strip). So, what to do if you get the old one? No worries. It actually happened to me as well while paying in a drug store. I was told I had the old one. So I went to the nearest bank office and they gave me a new one. Again – rather pay by a card. This could be troublesome on weekends when banks are closed.
If the bank doesn´t take your expired money back, please go to the Czech National Bank downtown, address: Na Příkopě 864/28 Prague 1. They will help you for sure – it´s their duty!!!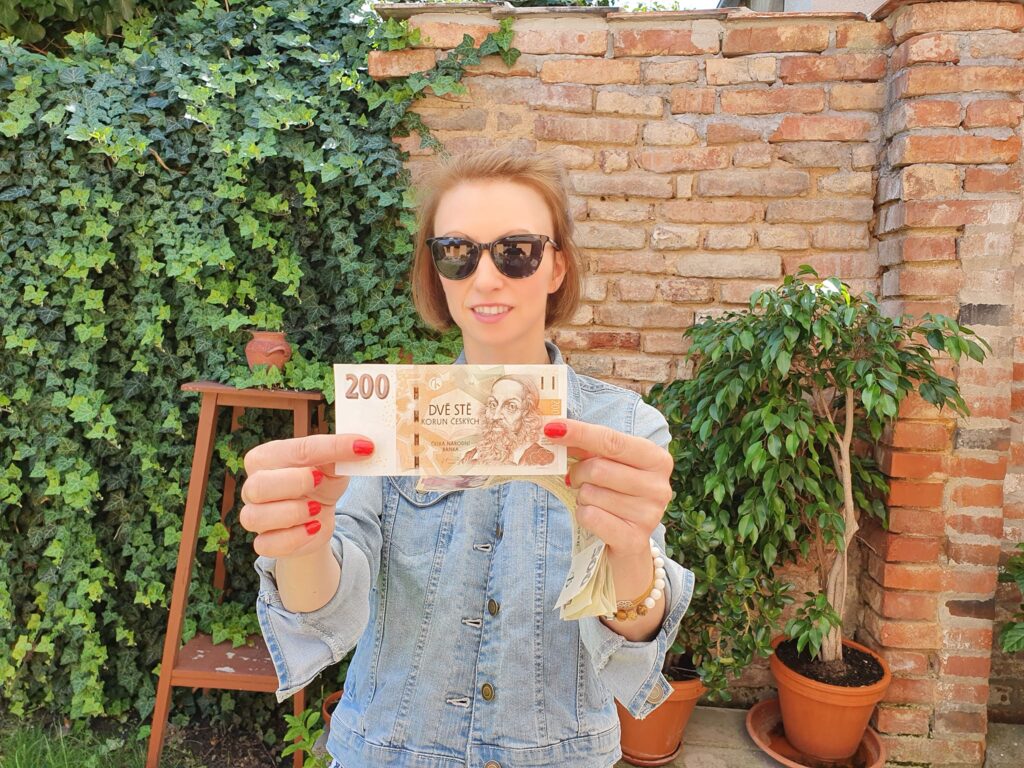 Do you prefer ATMs? Make sure you choose the right one!
In case you prefer withdrawing money from an ATM, please avoid Euronet Worldwide machines (of course, they are strategically located everywhere downtown, actually all over Europe).
Once their ATMs detect a foreign card, they will push you to withdraw a high amount of money – like 10 000 CZK – for this amount you can get 222 large tap beers. Any other machines are ok (not best, just ok, you will always lose some money on transaction fees, withdrawal fees, etc. but of course it also depends on your bank or if your are EU citizen or not).
But what is important? Always choose on the ATM the option "without conversion" when clicking on the screen and trying to get through all the confusing options.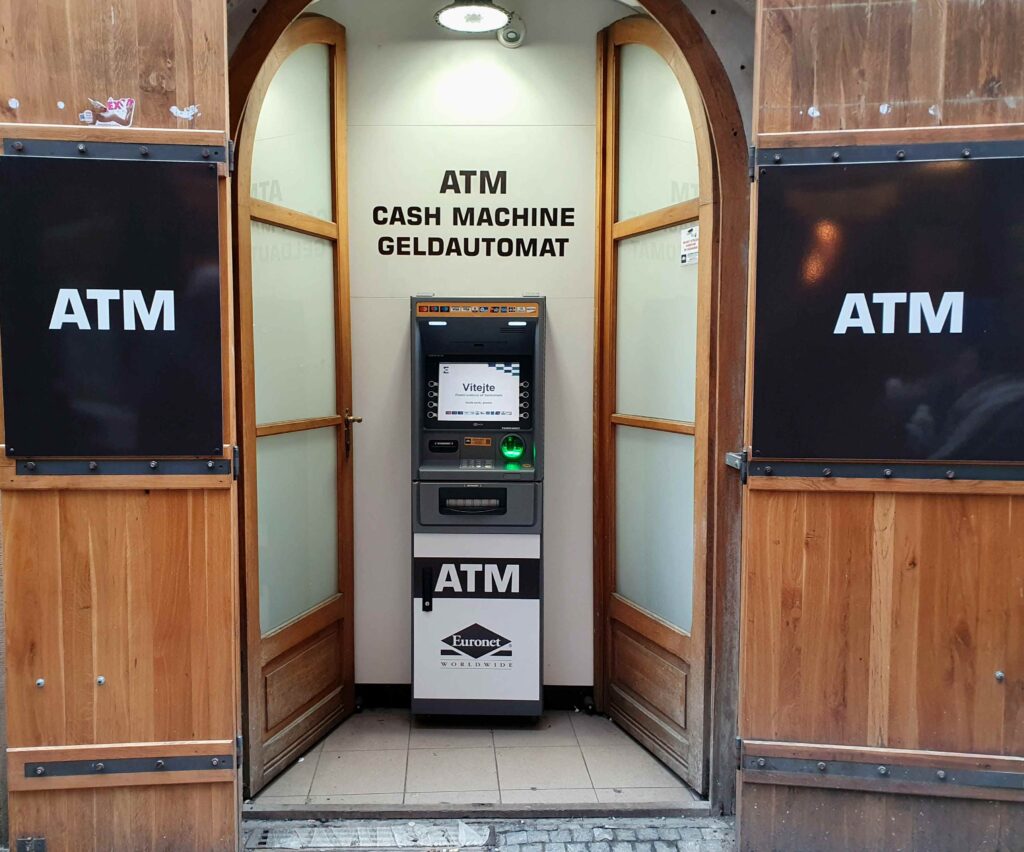 Summary and the best practices
1) Try to pay by card (Visa, Mastercard) everywhere you can. Amex is almost never accepted, be careful!
2) Want to exchange money? Go to a fair exchange office called Exchange CZ (this is a place where locals go). Or anywhere where they offer ca 24 CZK for 1 euro. And where they don´t charge a commission.
3) If you plan to pay by card here and just want to exchange some back up money for small purchases, exchange around 50 euro / pp for the whole stay.
4) Always ask the exchange office clerk for some smaller bank notes and coins. Coins are very useful when paying for public WC (10 – 30 CZK).
5) If you prefer cash and don´t want to use cards: exchange 110 euro / pp / day.
6) When using an ATM, avoid Euronet machines!
6) Check your bank notes if they are valid (some older versions are not valid anymore and we are withdrawing them from circulation). The new ones have a wide silver strip. But this situation doesn't happen often, don´t be afraid!!!
7) If you are from Denmark, Norway or Sweden, exchange your money in your home country or use ATM here. SEK, NOK and DKK are not possible to exchange in most countries including the Czech Republic.
Little reminder from a local guide: look under your feet
In case you go to exchange your money to the EXCHANGE CZ office as I recommended you earlier, please take a look at these two brass cobble stones. They are placed right in front of the entrance to the exchange place. Thousands of people step on them or pass them every day without knowing that these are memorials to victims of Shoah (Holocaust). Placed in front of their last homes. We call these memorials "Stolpersteins" and you can find them all over the city. Just carefully look under your feet…thank you for your respect.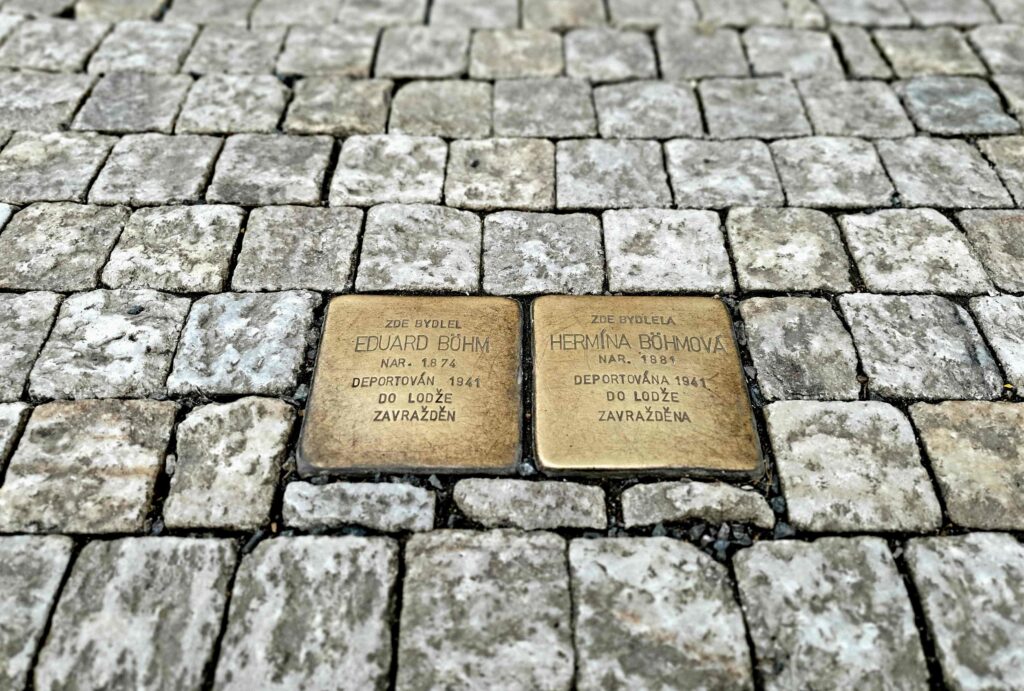 ---
Dana, owner and guide for Prague Behind The Scenes | small-group tours and experiences.
Please feel free to contact me if you have any questions or want to tour with me, I am a tiny business and you will always communicate directly with me: dana@praguebehindthescenes.com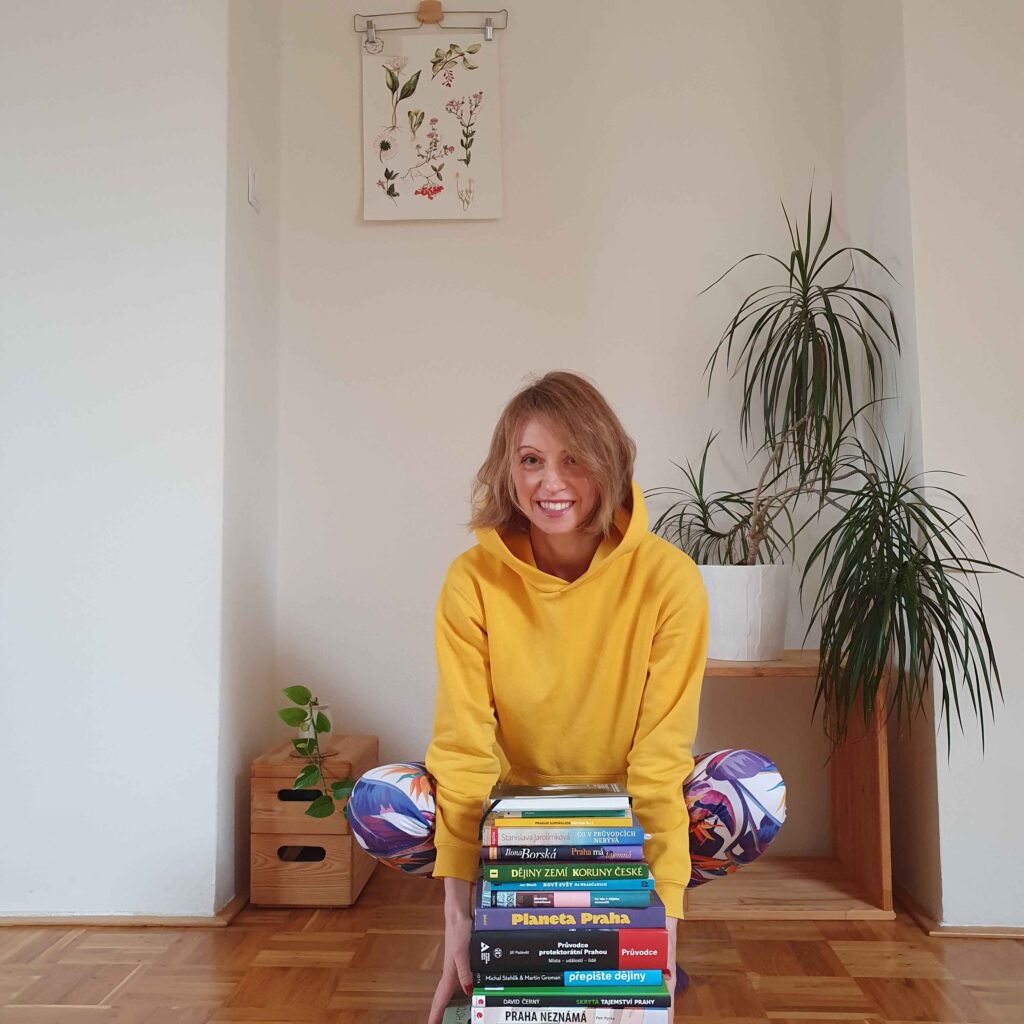 ---
Where to next – my other blog posts
What to avoid in Prague? This is a list of the most flagrant Prague tourist traps.
Private 3-hour off-the-beaten-path tour with Dana, author of this blog post.
How to read (and understand) the Astronomical Clock in Prague?
How tipping works here in Prague? Do we tip? Where and how much?
4 ideas for how to spend a rainy day in Prague