Hours and days googling, validating information, reading reviews, checking pics on Instagram. So many questions, so much planning before every trip. Aaaaaaah – overwhelming! So, I decided to stop this carousel!!! At least for all of you visiting Prague, my hometown. I´ve created a simple travel guide book summarizing the most important topics related to Prague. To help you with planning and also to prevent you from the local tourist traps. If you want to save some time, money (and nerves, haha), the Prague Survival Travel Guide is your thing.
---
Who wrote this blog (and the guide book) for you?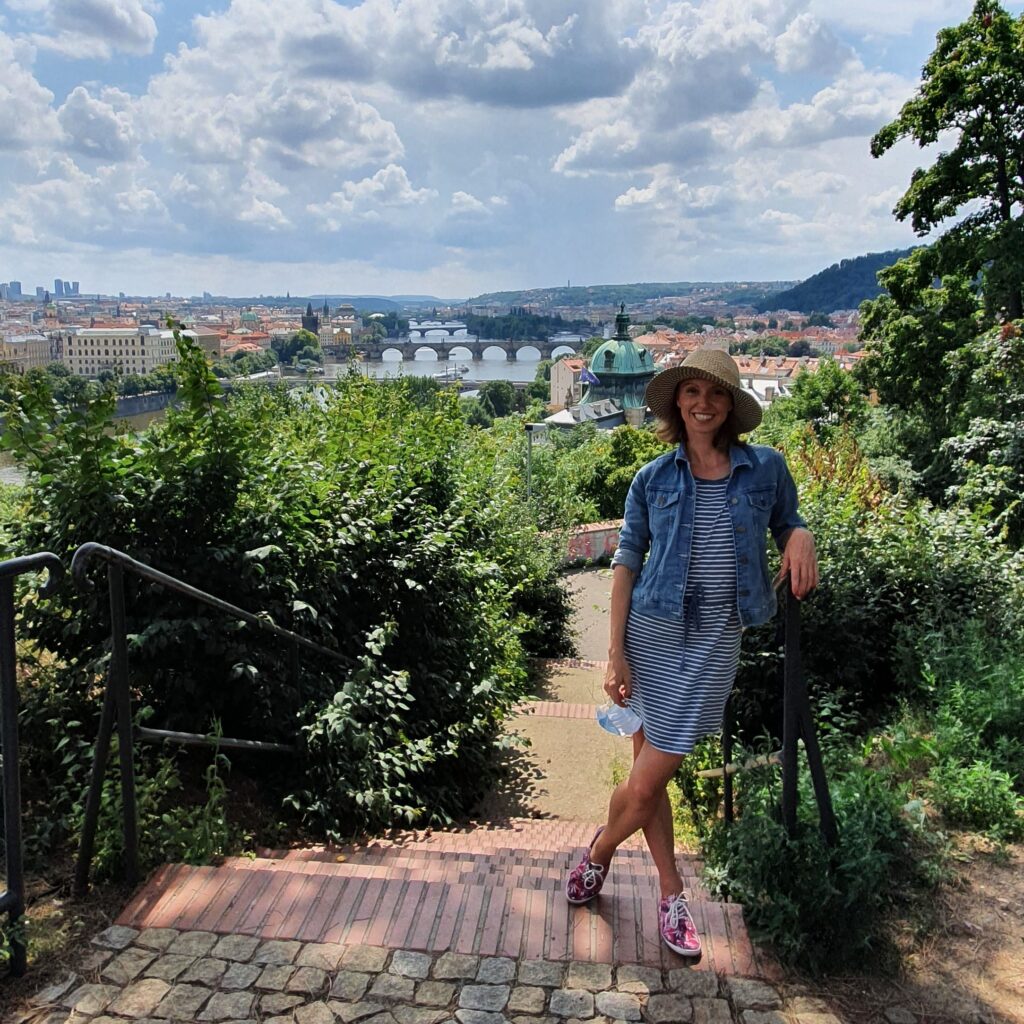 My name is Dana and I am a licensed Prague guide. Since 2015 I´ve been striving to support responsible and sustainable tourism here in Prague. I am also owner of a small touring business called Prague Behind The Scenes. With my services I try to present Prague in a less touristy way. That´s why I also wrote the Prague Survival Guide.
Prague Behind The Scenes is a small boutique service, local, personable and 100% professional. If mass tourism scares you just like me, welcome to my tranquil world!
What is the "Prague Survival Guide" about?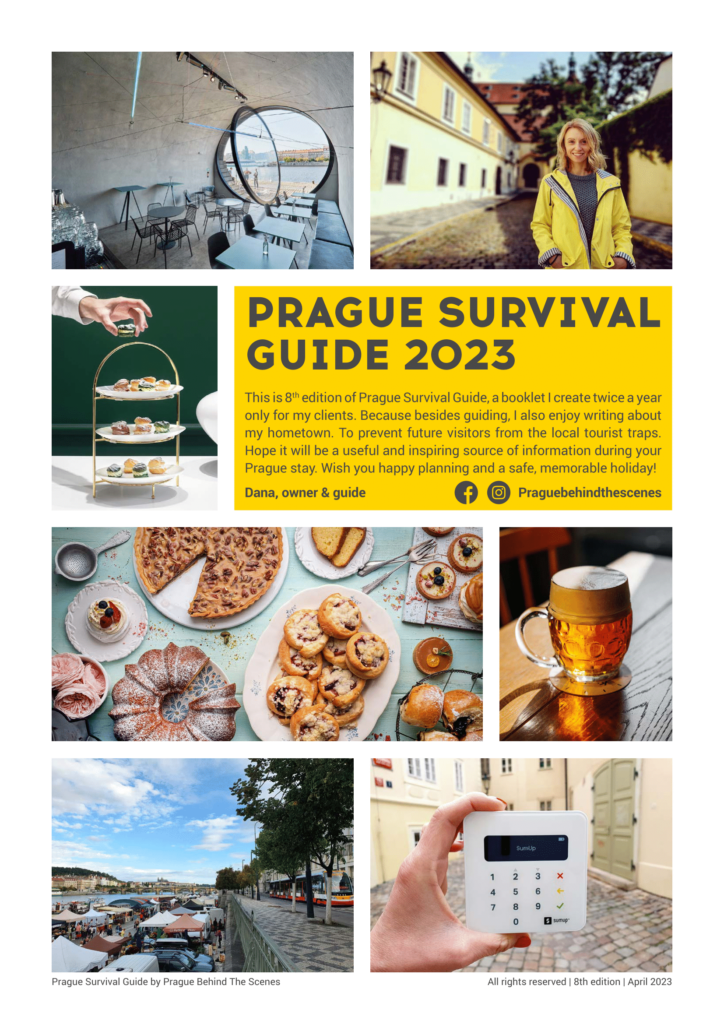 Prague Survival Guide is a travel guide book I create twice a year for my clients. This booklet is a gift for all of you who book a tour with me. A gift for your decision to support sustainable tourism in Prague by choosing one of my tours. It´s a useful PDF that will help you to avoid local tourist traps and brings a local´s perspective to your travel plans.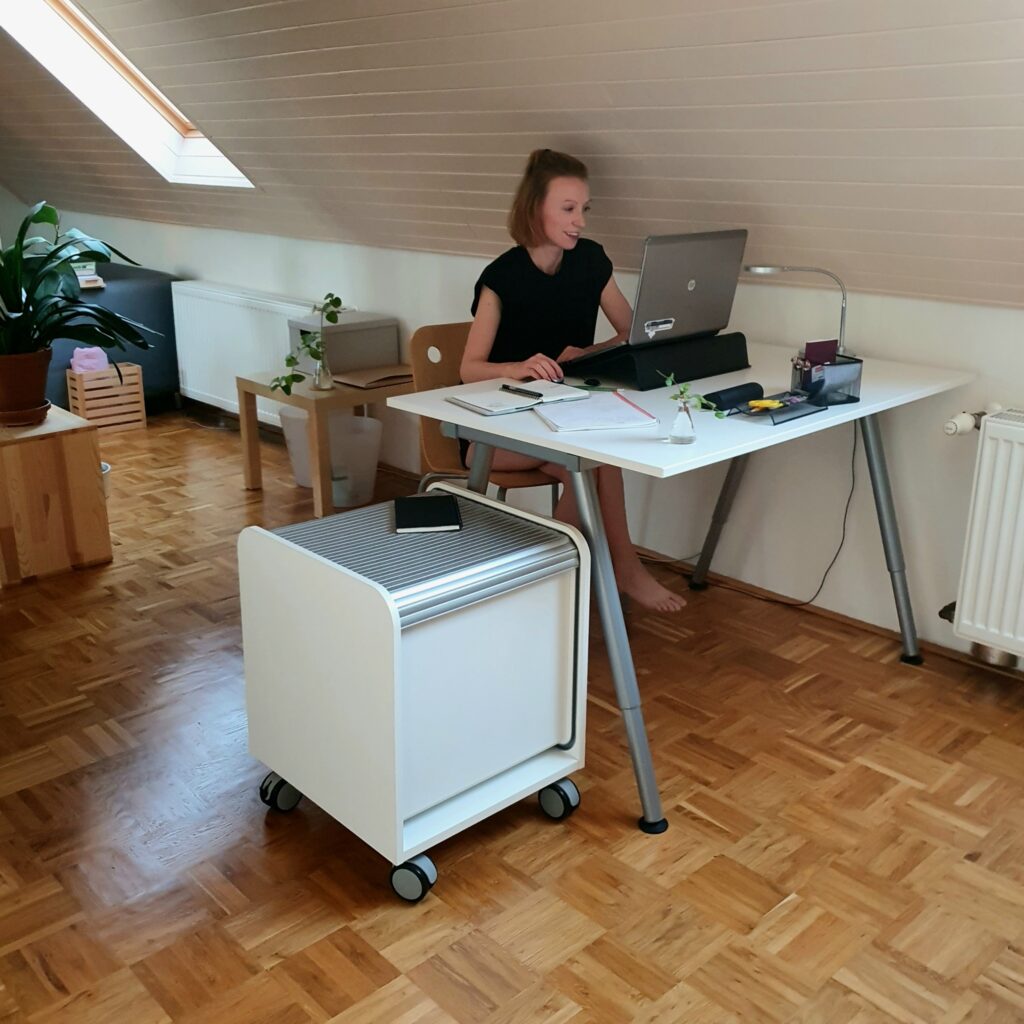 22 pages and 13 chapters: abolutely sufficient!
There are 22 pages and 13 chapters (e.g. how to get from the airport – and how much it costs, where to exchange money – and how much, tipping etiquette, where to eat Czech cuisine, vegetarian meals or local pastries, what are the worst tourists traps here, where to taste great Czech beer…. basically all the practical tips how to "survive" Prague without being ripped-off or act like a typical tourist. There are no commission based recommendations, just tips from me, a regular Prague local. The extent of 22 pages is absolutely sufficient. No overhelming!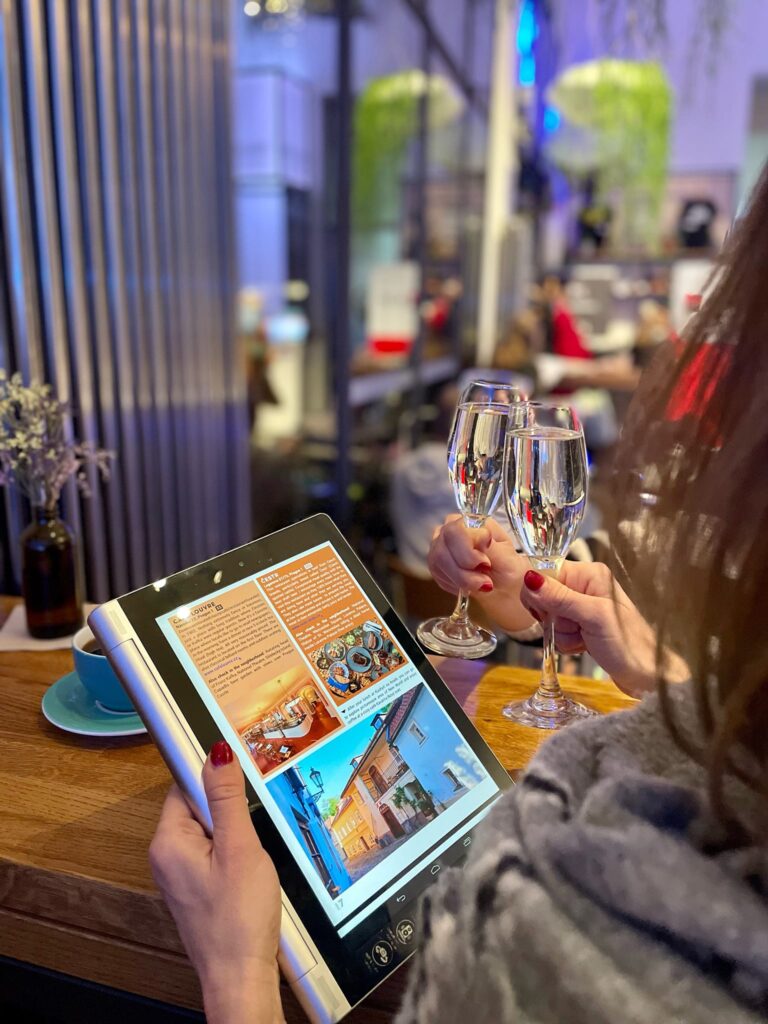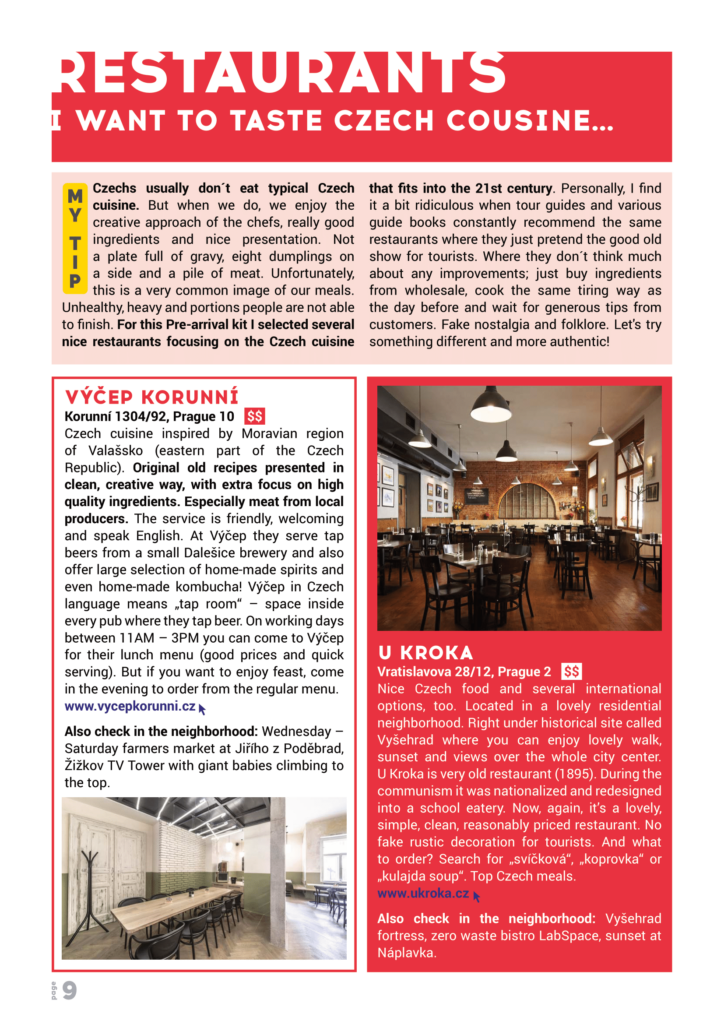 Is the "Prague Survival Guide" for sale?
Nope, this booklet is free, for all my clients. It´s my "thank you" for the tour reservation. I also wanted to kindly ask you, please don´t book the tour if you plan to cancel it later just because you want to get the guide book. Guiding is my full time job and any cancelation will cause me a trouble. Thank you for your understanding and being fair. If you need a help or recommendation, please drop me a line at dana@praguebehindthescenes.com I will be happy to help you via email.
How to get one?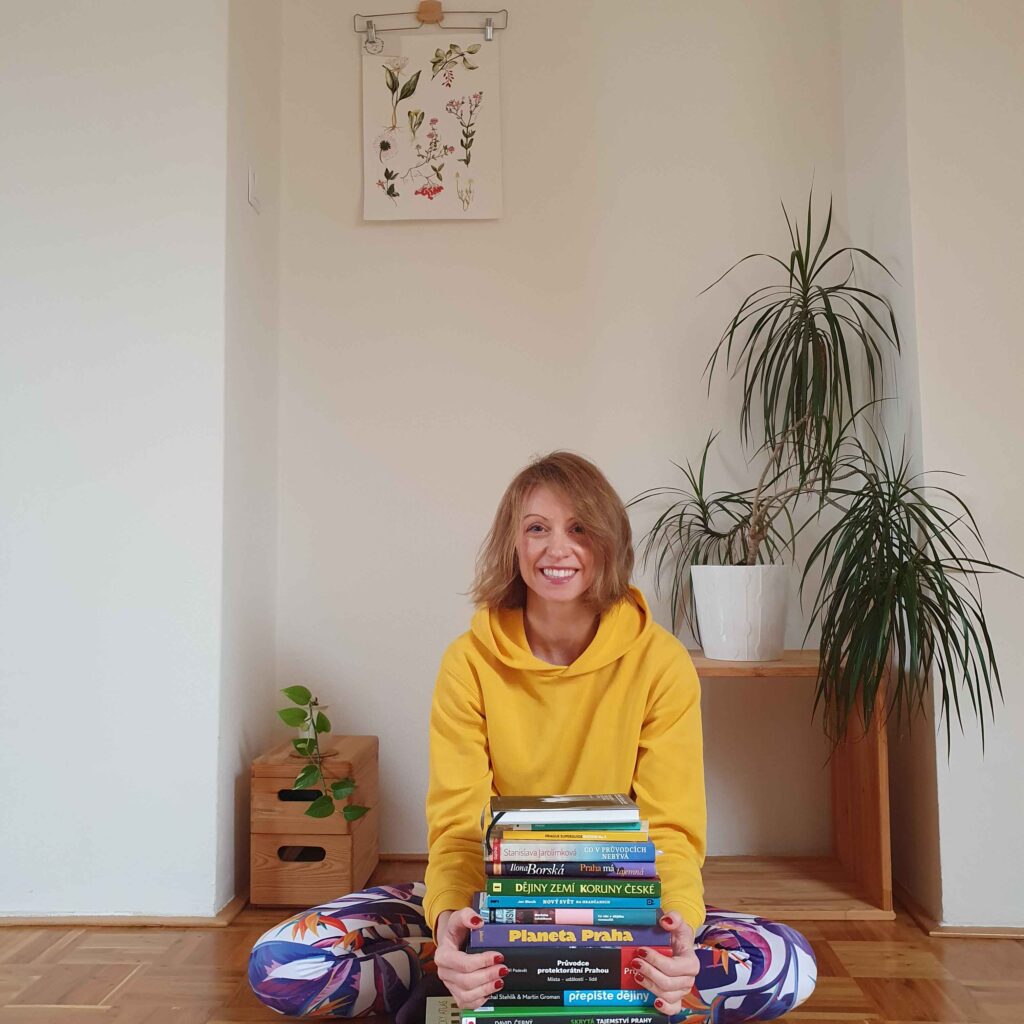 Book a tour with me 🙂 If you like the concept of my tours and wish to see Prague downtown with a local, don´t hesitate.
Small-group tour for only 4 people in a group
Private 3-hour off-the-beaten-path tour of Prague downtown
Fully customized private tours
Still not sure what to expect? Please check the reviews from my past clients: TripAdvisor, Google Reviews, Facebook Reviews
---
Dana, owner and guide for Prague Behind The Scenes | small-group tours and experiences.
Stay in touch:-)
---
Where to next?
Traditional and fun Czech sweets – easy to pack souvenirs from Prague.
Don´t be a dull tourist: This is a list of the most flagrant Prague tourist traps.
Prague Castle: How to plan the visit? What to see and what to skip? How much does it cost?
How not to irritate Praguers: 10 simple dos and don´ts when visiting Prague.
What you shouldn´t miss in Prague? 6 unforgettable highlights and hidden gems.