Charles Bridge, one of the oldest bridges in Europe (1357) and the oldest bridge in Prague. Highlight of the city visited by 30 000 – 35 000 people every day. Both sides of the Charles Bridge are also decorated with 30 sculptures of famous saints and patron saints of Czech lands. However, almost nobody knows that many of the oldest originals are not on the bridge but somewhere else. Do you think they are in a museum? Nope, they are in much more unique space!
---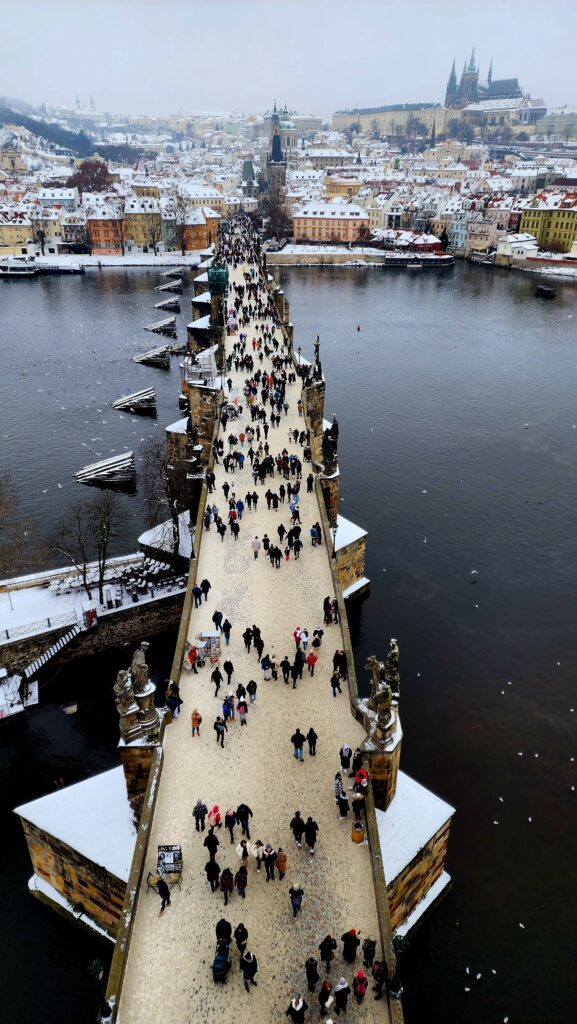 30 000 – 35 000 people walk through this stunning open air sculpture gallery every day. Yes, Charles Bridge truly is one big gallery open 24/7. For free. In order to save and protect the rare sculptures against vandals, drunk tourists and elements, we continually replace them with 1:1 replicas. But don´t be said. You can still see the originals. Do you know where?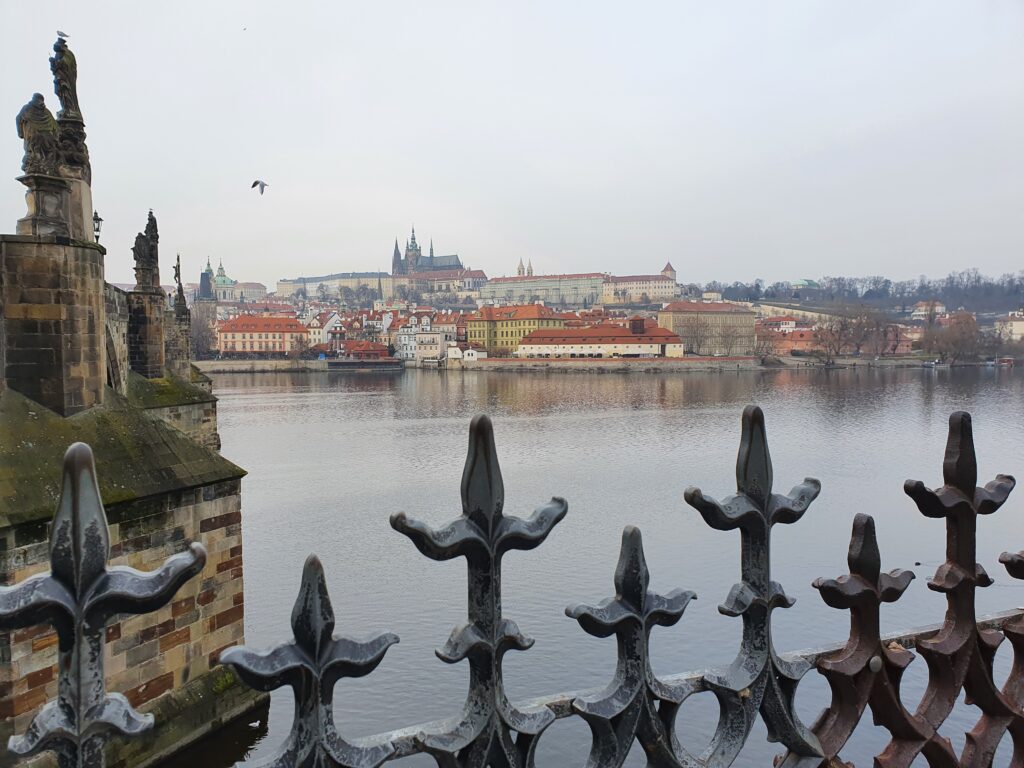 Saints hidden between fortification walls
Six original sculptures from Charles Bridge are perfectly hidden inside a giant brick hall called Gorlice. What is it? Gorlice hall is a part of the original fortification of Vyšehrad fortress built in 17th – 18th century. You can easily get there by walking. It's only 30 minutes from Charles Bridge!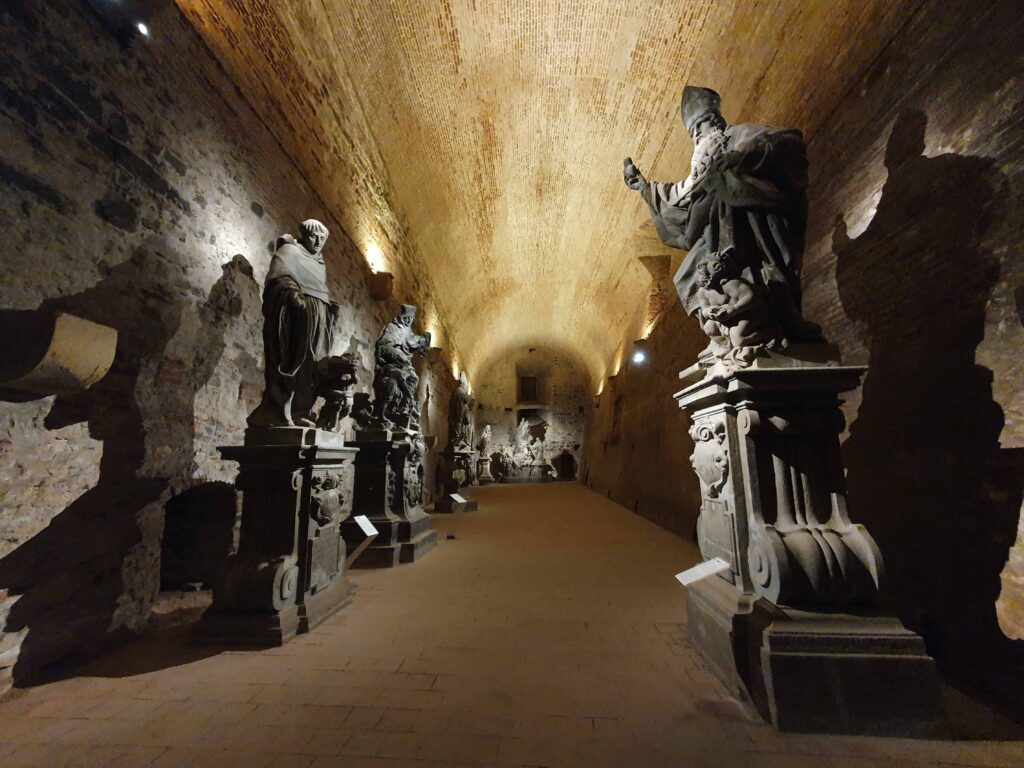 First, you will have to find the fortification gate called Cihelná brána (Brick Gate). This is the entrance and also a place where you can get the entrance ticket (130 CZK / pp). Plus, you will also get a guide!:-) The door leading through the fortification gets open every whole hour between 10 – 5pm.
Sculptures instead of vegetable and armoury
Now, when the door into the fortification is open you will walk through narrow Baroque casemates (walled corridors for troops). The corridors are about 1.6 metres (5.2 feet) wide and 2 metres (8.5 feet) high, very humid and cold. Perfect hideaway place during hot summers! After a short walk – 10 minutes maximum – you will reach a giant Gorlice hall. This huge brick space with a high vaulted ceiling was earlier used as a storage space for vegetables, armoury or chairs for various social events during the communism.
Since 90s, Gorlice hall has housed six original sculptures from Charles Bridge. And here we are!! Alone, no crowds, no noise…just peacefully standing in front of the beautiful Baroque sculptures: Madonna and St. Bernard (1709), St. Augustine, St. Nicholas of Tolentino (1708), St. Adalbert (1709), St. Anna (1707) and St. Ludmila with the infant Wenceslaus (1724).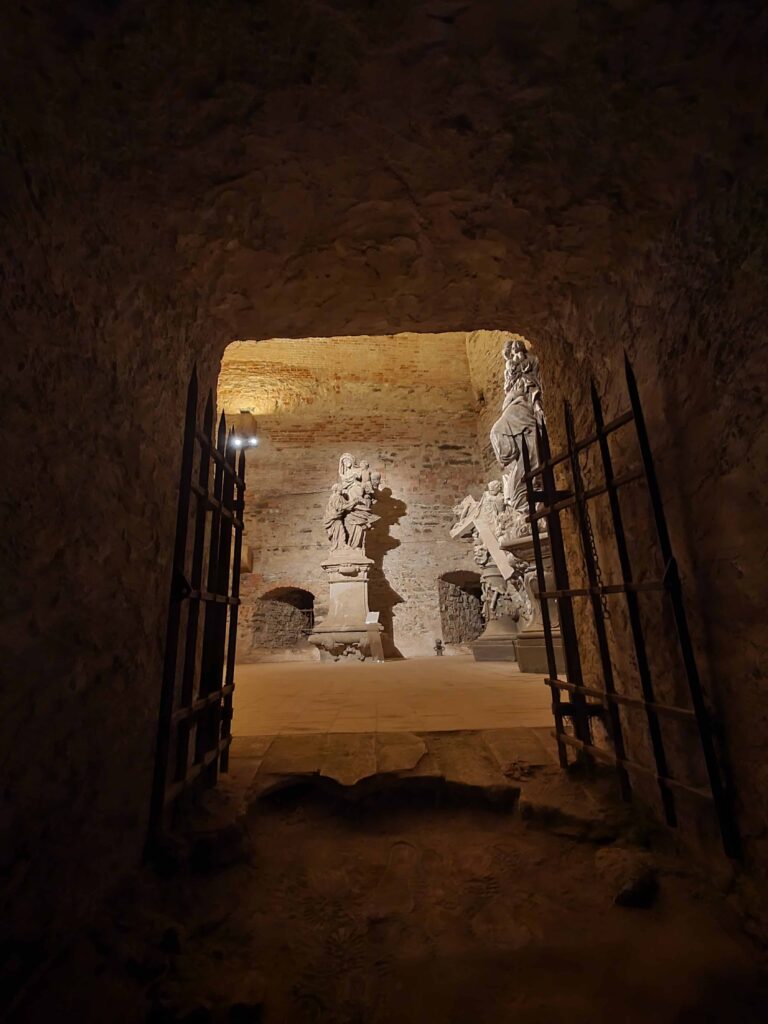 How did they get them here?
Maybe you now wonder how the sculptures got in here. The original sculptures from Charles Bridge are huge and massive. But – it's possible to dismantle them. These giants consist of several smaller parts so the moving was quite smooth. But there was also a special entrance built from outside right into the Gorlice hall. The new gate is almost by the ceiling, ca 13m above your head.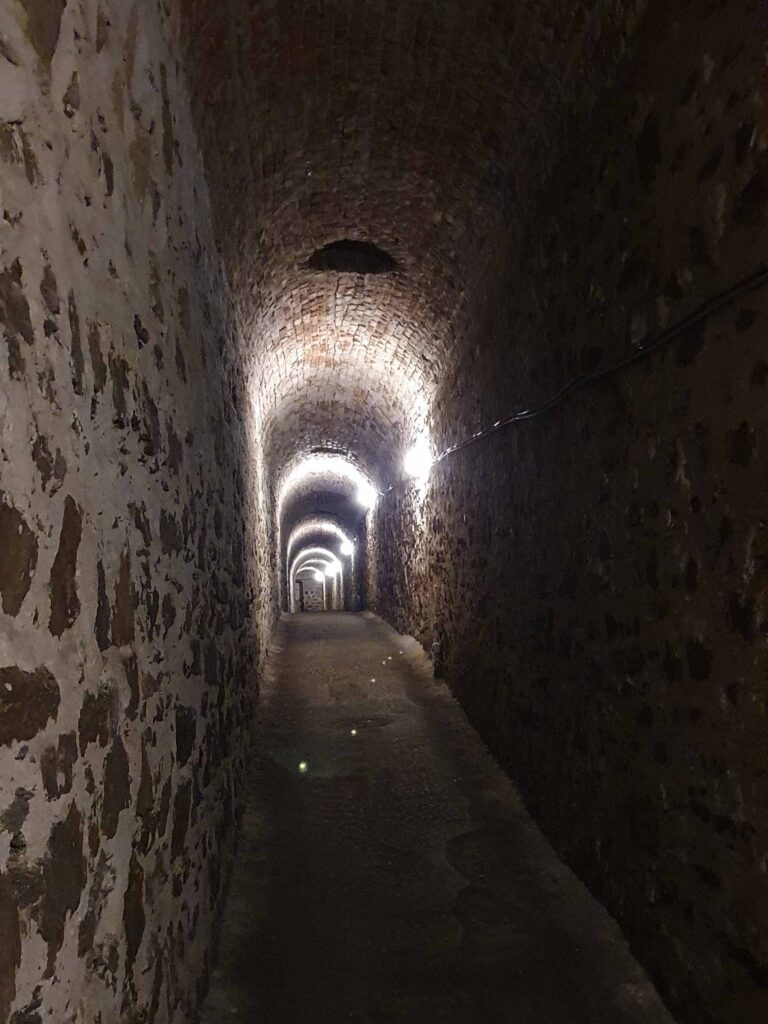 Only during the tours, the lights inside Gorlice hall are turned on. Otherwise the sculptures made of sandstone rest in the dark. And you know what? People are jogging and walking above them every day without knowing what treasures are hidden under their feet…
After you finish….
It´s fun to follow the casemates line from outside. You will see the gate leading to Gorlice hall through which they moved the sculptures in. And on the top of the casemates (in the sidewalk where people are usually jogging), you can see the original ventilation holes leading down to casemates. They look like regular drains or manholes 🙂 But now you know where they are leading to.
The whole area of Vysehrad is not only the casemates and Gorlice hall. It's actually a big, safe park with the most beautiful views over the city. Basically 360° views! The area above casemates is a great spot for watching sunsets and taking pictures of Prague Castle. If you would like to check some other great view points, you can find inspiration in my article Best Prague views – 7 stunning locations for taking pictures or watching sunrise.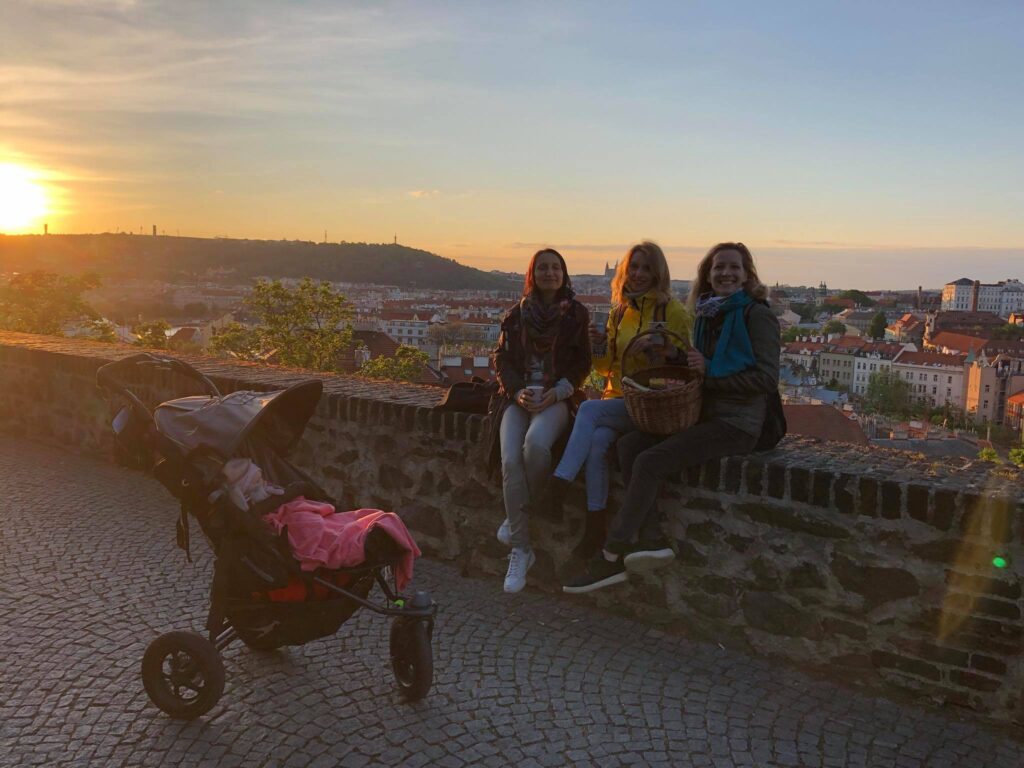 5 minutes from the Vyšehrad casemates you can also visit The Basilica of St. Peter and St. Paul (basilica minor) and the famous Vyšehrad cemetery where the most honoured Czechs are buried.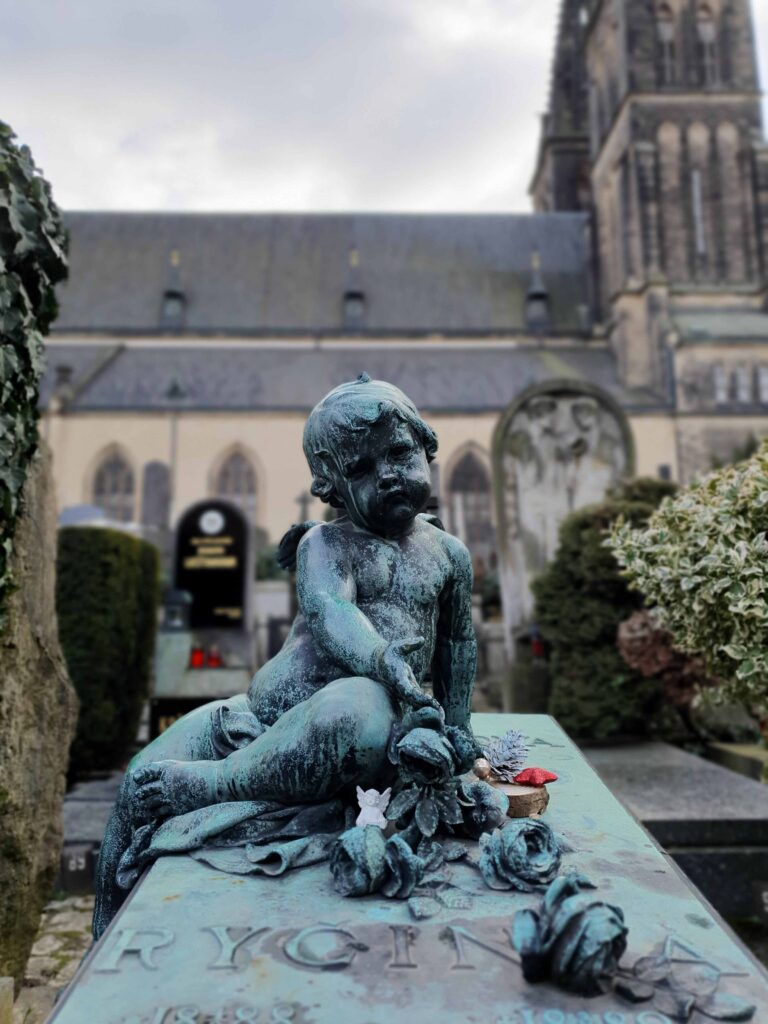 From Vyšehrad you can easily walk down back to riverbank and have a snack and drink on Náplavka – locals favourite hang out place with many bars inbuilt in a river embankment.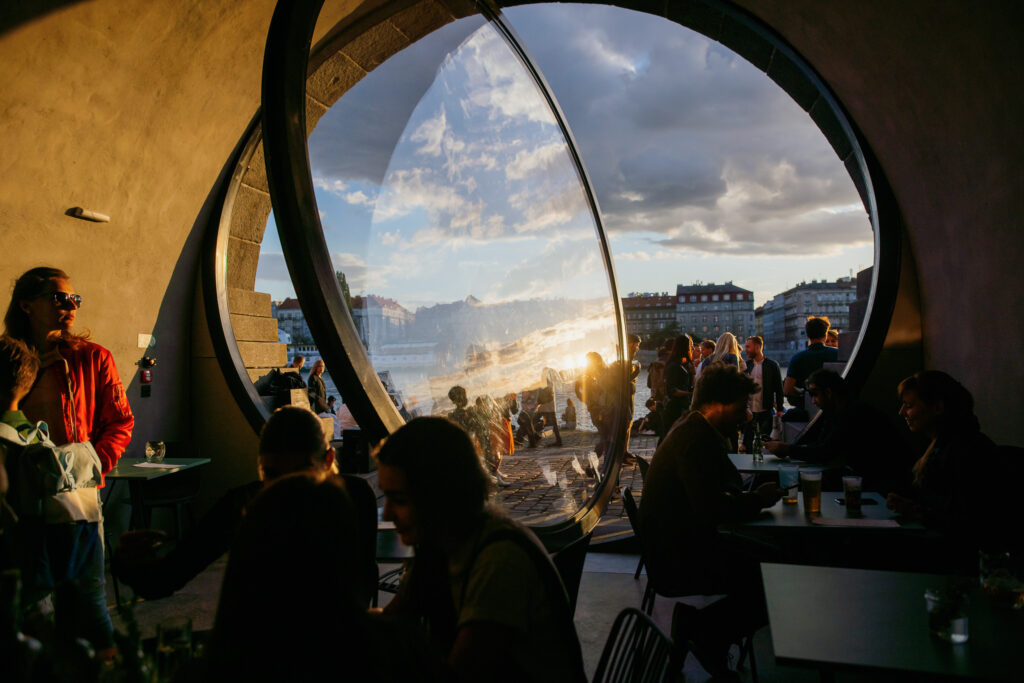 Who wrote you this article?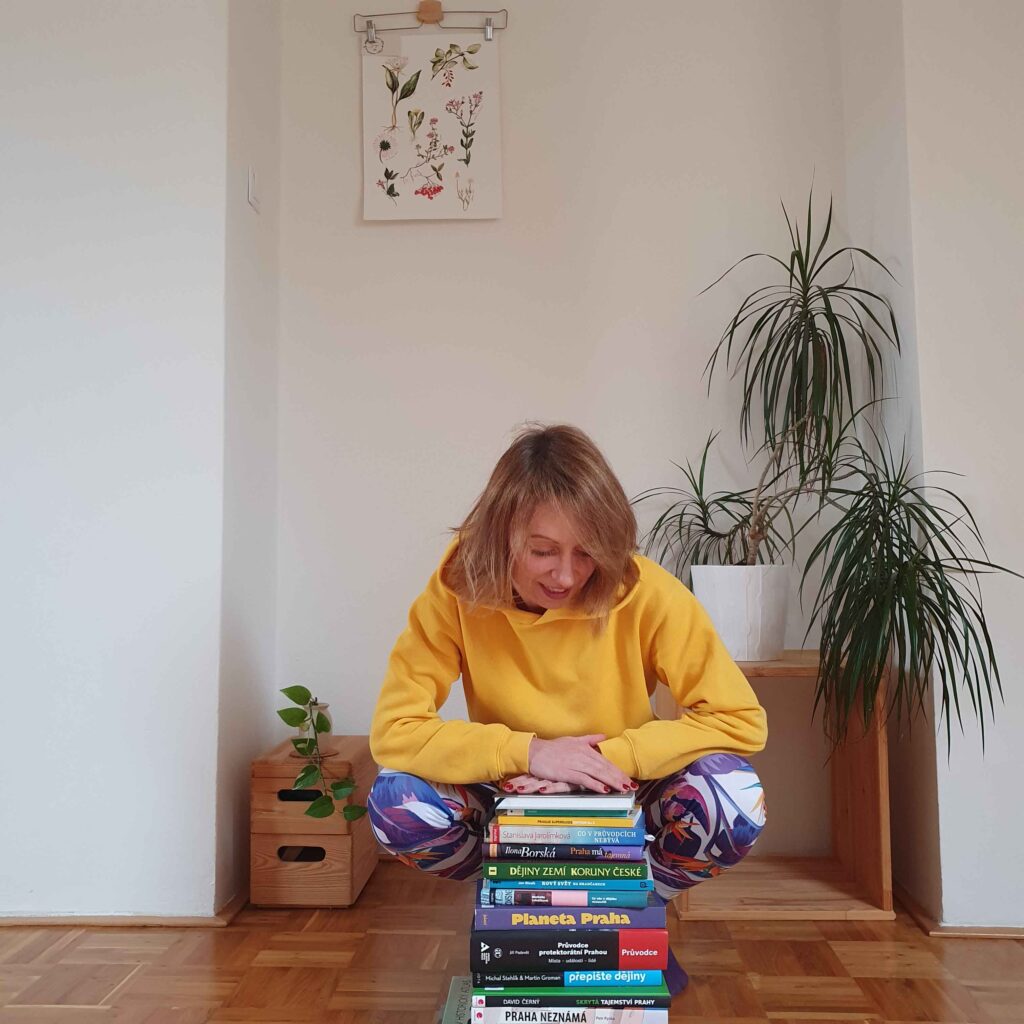 My name is Dana and I am running a small local business called Prague Behind The Scenes. I am designing and guiding original small-group tours of Prague. No umbrellas, no microphones, no stereotypical routes, that´s my style. With my services I strive to support sustainable tourism in Prague. Not mass tourism.
Should you have any questions or need any recommendations, please feel free to contact me. I am not an anonymous company 🙂
Have a lovely stay in Prague.
Dana | owner and guide for Prague Behind The Scenes
Where to next
Learn about the most bizarre Czech Easter traditions.
Where to exchange money in Prague and how much – blog post with my recommendations.
10 useful do and don´ts when visiting Prague – how to naturally get along with Praguers 🙂