Have you already seen all the major highlights of Prague? Now it's the highest time to discover some of the hidden gems of Prague downtown, what do you think? Let me take you for a short tour of Prague Old Town. We will squat, look up, we will walk through Prague back alleys and discover their secrets that only locals know about.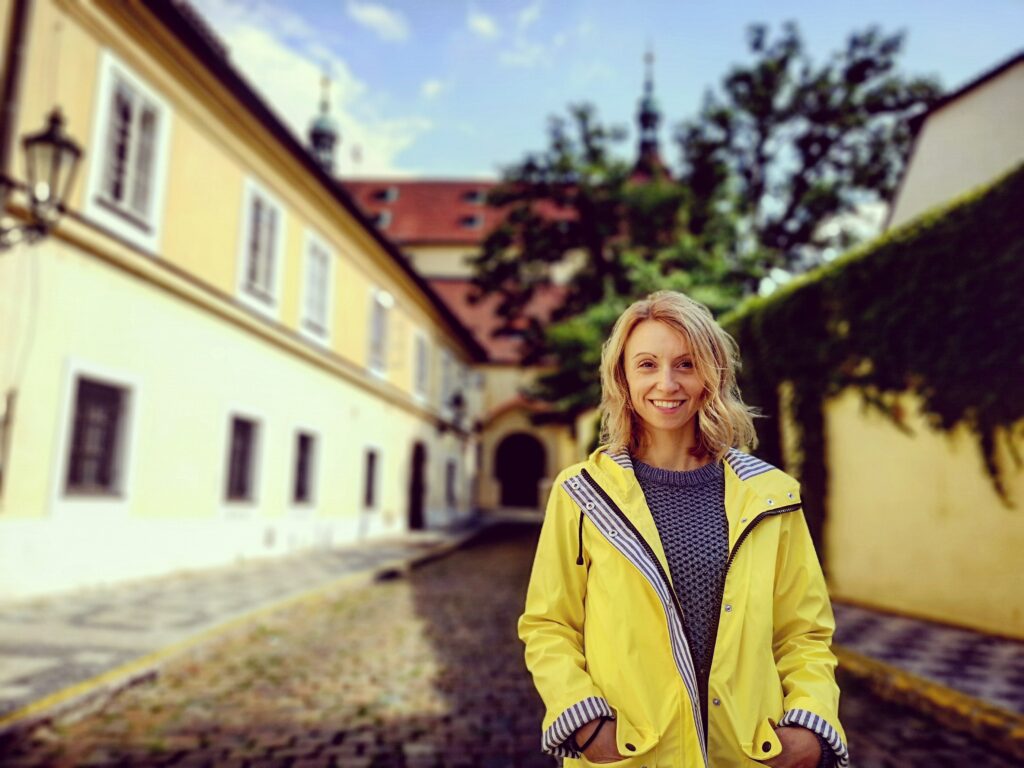 Who is writing this blog for you?
Hi! I am Dana, Prague local and also owner / guide for Prague Behind The Scenes. If you are interested in touring Prague in a less touristy way, with a local, in a more authentic way, please get in touch with me: dana@praguebehindthescenes.com
Ready?
With my services I strive to support sustainable tourism in Prague. Not mass tourism. That's why I am taking you today away from the mainstream routes. No worries, we will stay downtown! And we will only need two hours to cover all these lovely hidden gems of Prague Old Town. I love the quirky details! There are so many. Today we will visit 5 of them! Enjoy!   
1. The smallest house in Prague is in the Old Town!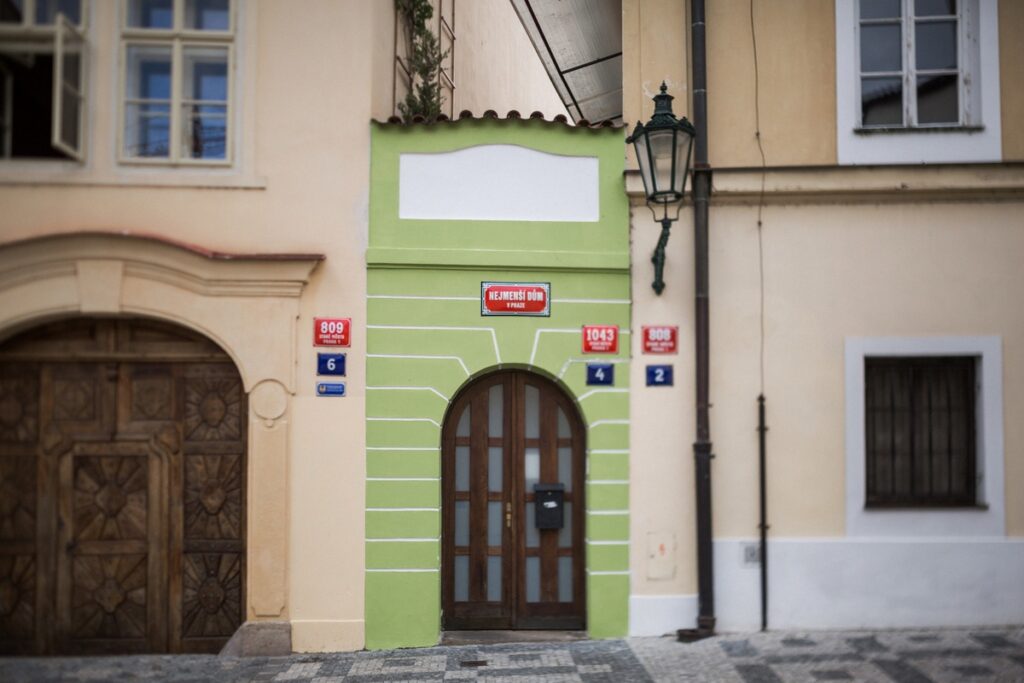 Believe it or not, this hidden gem is located only 10 minutes away from the Old Town Square and almost nobody comes here! This tiny place used to be a brothel (small business, indeed). Nobody lives here and it's no longer used as a brothel but it's still considered to be an official house because it has an official address and the board above the door says: "Nejmenší dům v Praze" (The smallest house in Prague).  
This place is part of the itinerary of my private 3-hour introduction tour of Prague.
2. Let´s squat now. These are slightly different cobble stones!
These brass cobblestones are called Stolpersteins. If you carefully look under your feet while roaming around Prague, you can spot them in front of many buildings. Stolpersteins are little intimate memorials commemorating victims of Nazi regime. They are installed in sidewalks in front of the victims' last homes before deportation.
A Stolperstein is a ten-centimetre cube bearing a brass plate inscribed with the name and life dates of victims of Nazi extermination or persecution. Each Stolperstein also features an inscription saying: Here lived – name of the person – date of birth – date of deportation – name of the concentration camp – date when and where the person was murdered.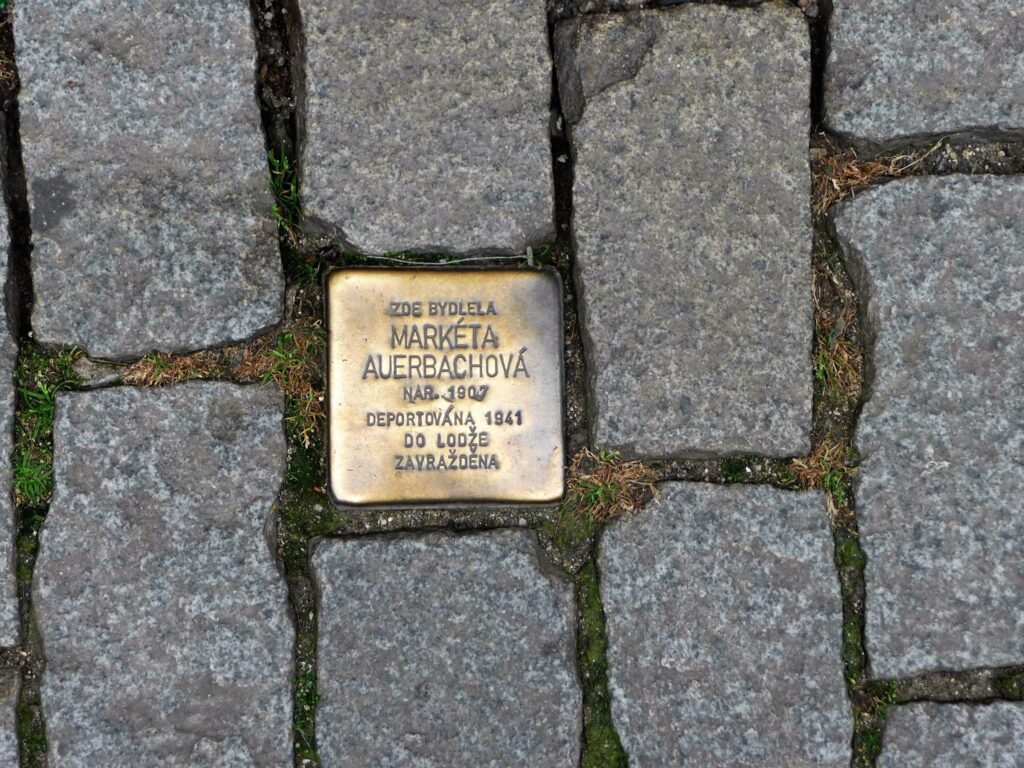 3. Glowing Embryo in a drain pipe
Heeeey! Look up now! Do you see the red thing inside the drain pipe? This is a great art work of David Černý, a famous and a little bit controversial Czech artist. This giant baby / fetus is trying to get through the drain pipe. It symbolises how difficult it is for artists to be understood by narrow minded people! If you come here at night, the baby's heart will be beating and glowing.
You will find this art installation at Anenské náměstí = Anna´s square. Did you know that St. Anna is a patron saint of people who lost something? My clients stayed in a hotel on this square and their luggage didn't arrive! I assured them that when staying on Anna´s square it would turn out well!!! And I was right, the luggage arrived the next day (from the USA to Catania / Sicily via Switzerland finally to Prague).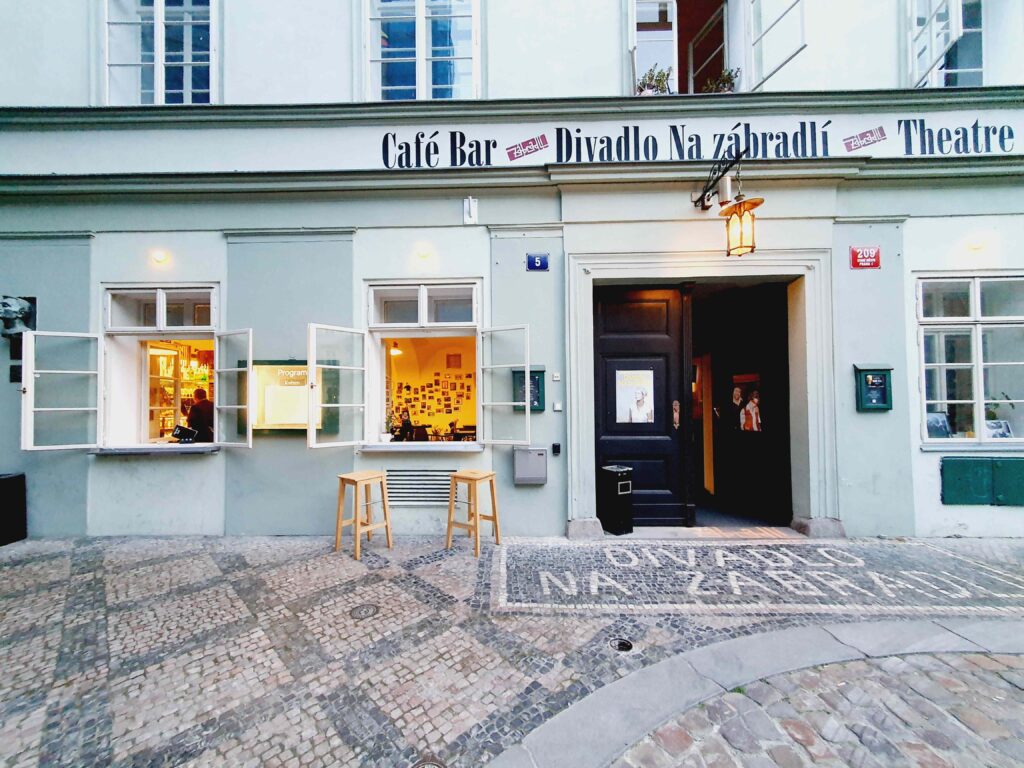 4. Hidden art workshop inside the medieval convent: create your original souvenir for free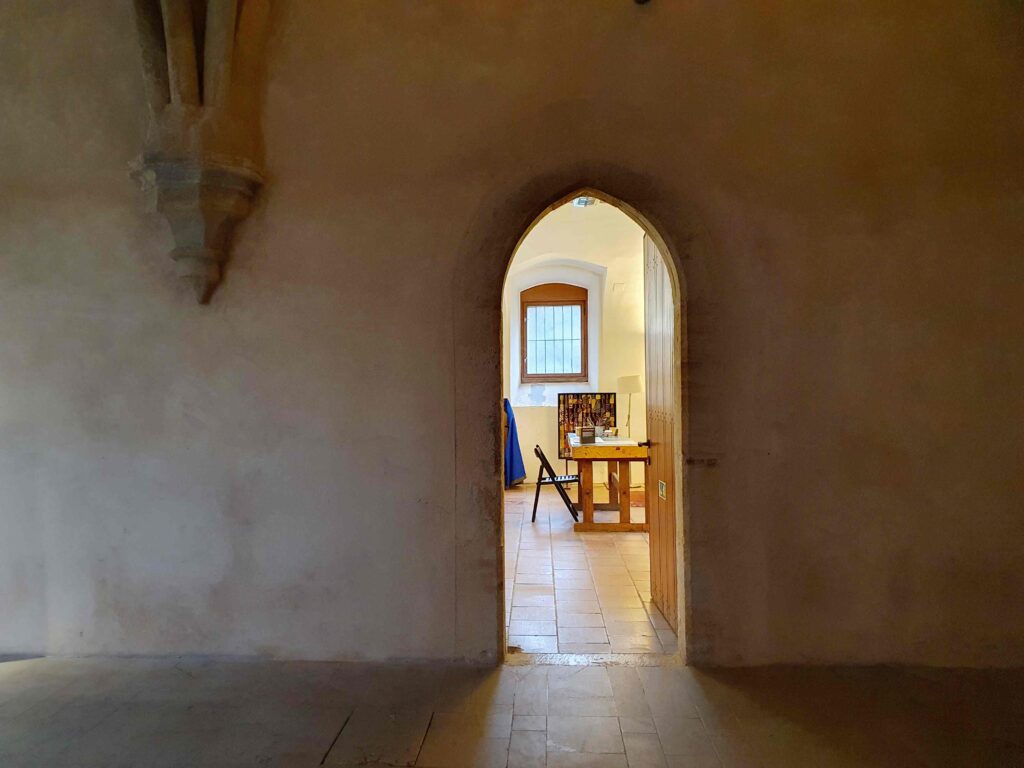 This is my favourite hidden gem and perfectly unknown spot. You can´t see it from the street, there are no signs saying: "heeeey folks, come in here, in this 13th century convent we have a lovely art workshop where you can create something! Oh, and did we say it´s for free and you will most likely be there all alone?"
Such a sign doesn´t exist:-)) Only in this article. You really need to know where to go. It´s located in the Convent of St. Agnes of Bohemia, open every day (except for Mondays) and you are welcome to visit it for free. This workshop is a great way how to spend a rainy day in Prague, especially if you are travelling with children.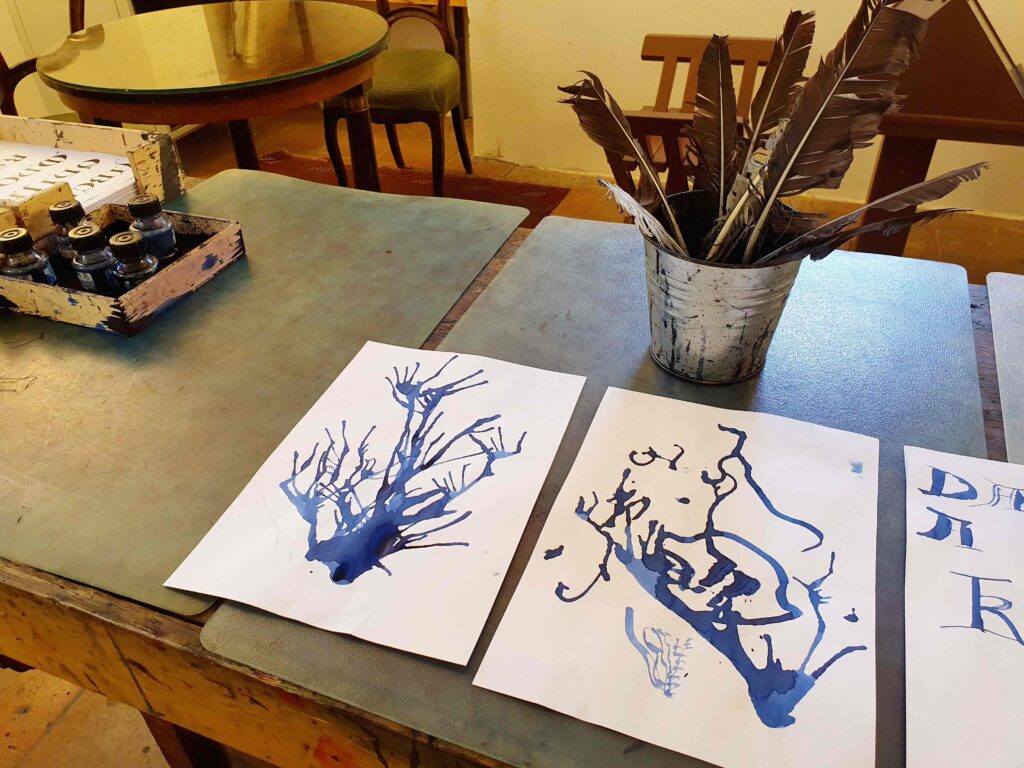 5. Man with a helmet and goggles!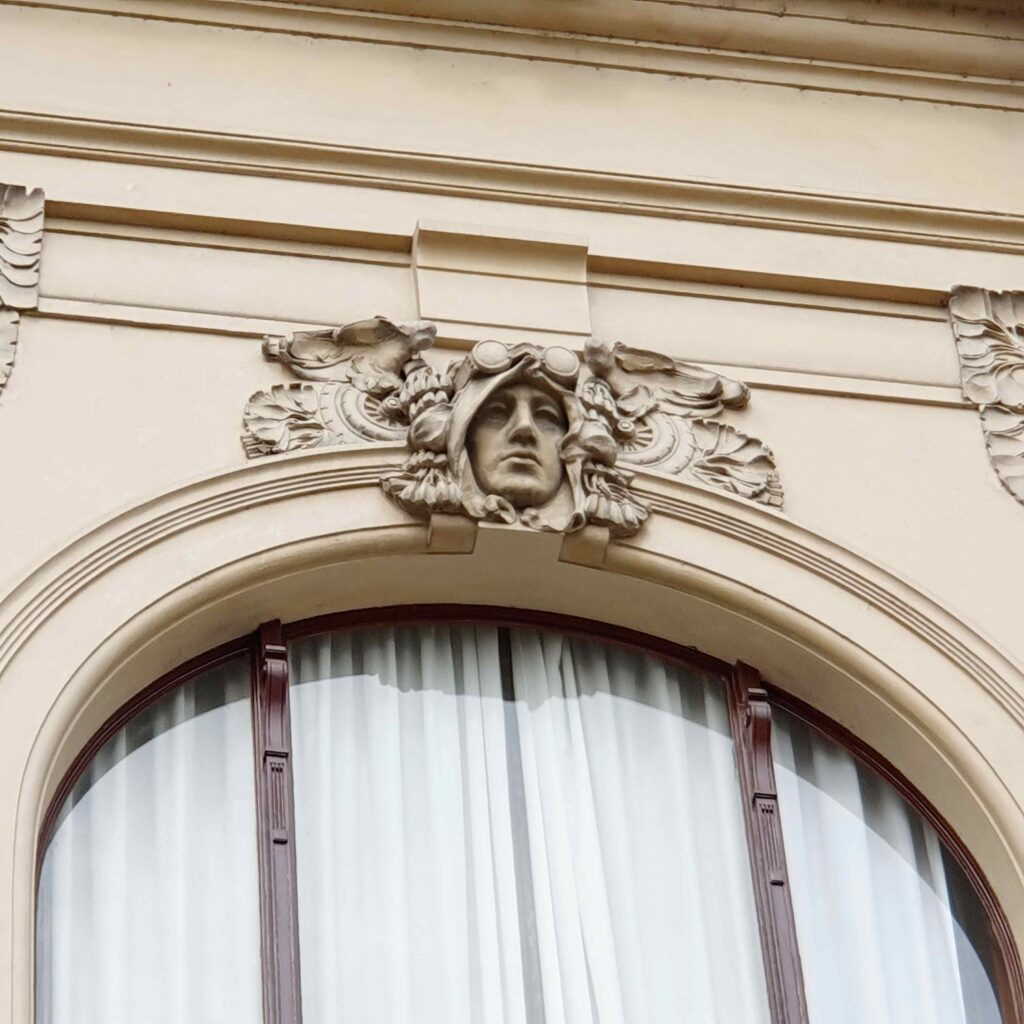 What is he doing on the most beautiful Art Nouveau building in Prague – Municipal House?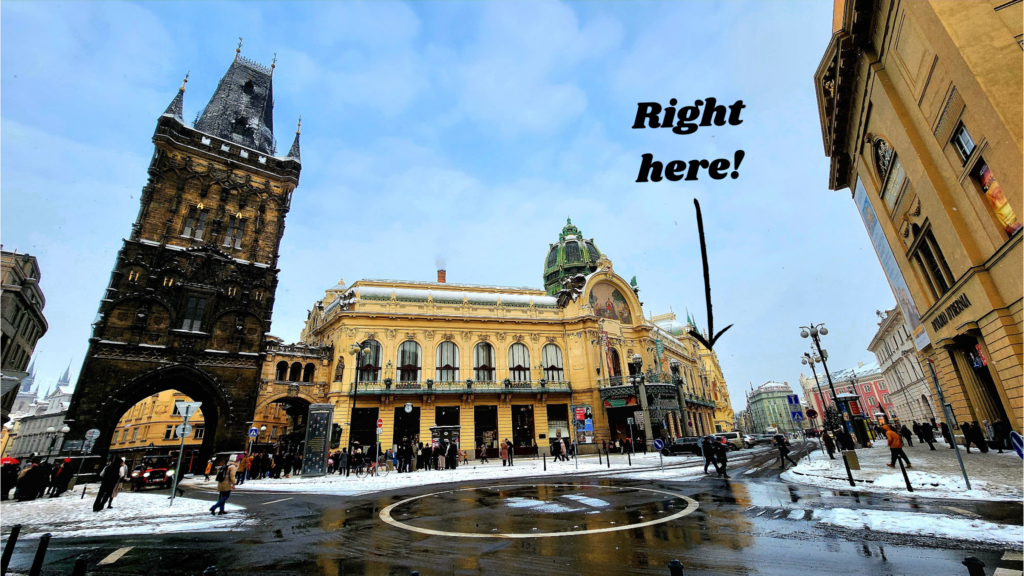 This is not a joke or some optical illusion. This is really a man in a helmet and goggles! On the building from 1912! The Art Nouveau Municipal house exterior features numerous allegorical sculptures and stuccoed heads on the facade. One of them is our man with protective glasses! It´s an allegory of the aviation and motoring industry. By the time Municipal House was completed, these activities were becoming more and more popular and developing in the Czech lands – so why not to capture the first attempts for future generations?
---
Dana, owner and fully certified guide for Prague Behind The Scenes | small-group tours and experiences.
Did you like my "behind the scenes" tips? Please feel free to contact me if you have any questions or want to see Prague with me: dana@praguebehindthescenes.com
You can also follow Prague Behind The Scenes on Facebook and Instagram for more inspiration.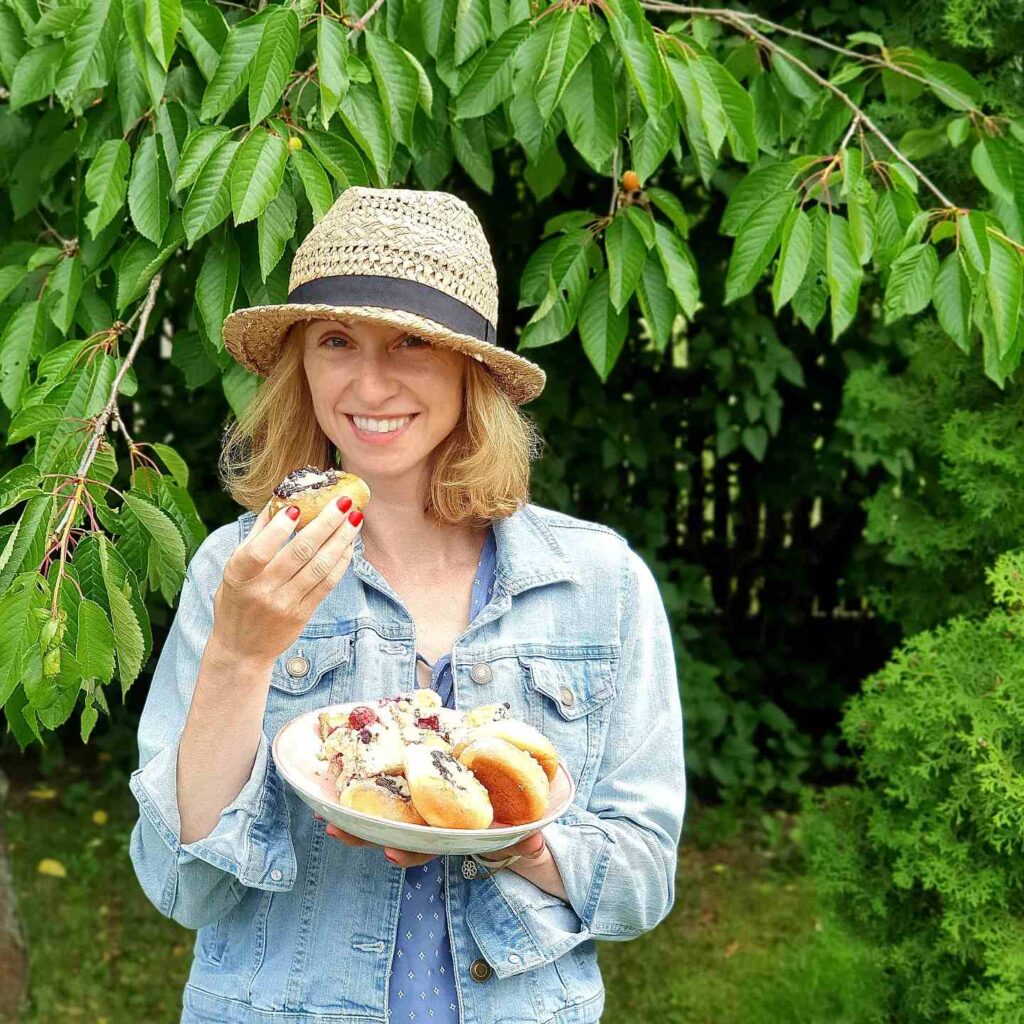 Where to next?
How tipping works in Prague: where to tip and how much?
3-hour private tour of Prague downtown with Dana
3 hidden gems of Prague food scene (still undiscovered by food bloggers and masses)
Where to exchange money in Prague and how much?
How to read (and understand) the Astronomical Clock in Prague?