Today it's going to be a fun post! We will talk about food again. And actually about a very cool, local and totally forgotten Prague pastry called Metro dessert. It's a type of pastry locals perfectly know but all the travel bloggers haven't discovered it yet. So, be ahead of others and taste Metro dessert before it becomes mainstream! And learn about its interesting history.
Who creates this content for you?
My name is Dana and besides guiding my Prague Behind The Scenes tours I also like writing about Prague, to help travellers avoid local tourist traps and make them feel prepared for their Prague vacation. I especially like writing about the less known things you can´t find elsewhere. Today about the cult Prague pastry called Metro dessert.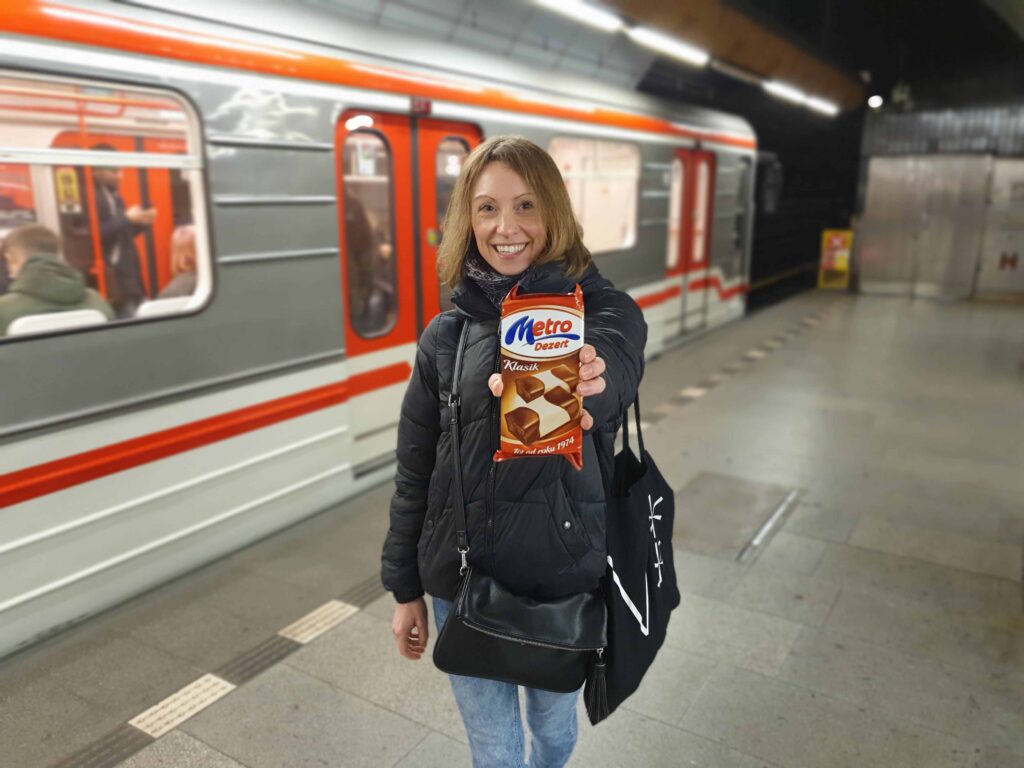 Metro dessert: official pastry designed for Prague metro opening. In 1974
Metro dessert is undoubtedly a part of our history (and my childhood:). This pastry has been a cult merchandise of Prague metro since 1974.
"Metro" in Prague means subway, the underground train. And the first metro line in Prague was officially opened on May 9 1974. Big thing and a very important moment for the whole country.
Specifically for this event, as a tribute, was also designed a special cake called Metro dessert. It became so popular that it´s still sold in supermarkets until nowadays. The most legendary Prague pastry undiscovered by all the travel bloggers visiting Prague! Seriously, I haven´t found a single English article about it! So, thank you for reading this one!!
Four cakes in a package = four vagons of a metro train
Yes! In one package of the Metro dessert you will always find four rectangular cakes symbolizing the metro vagons and their original amount in one train: 4. Place them behind each other and you have the full train set!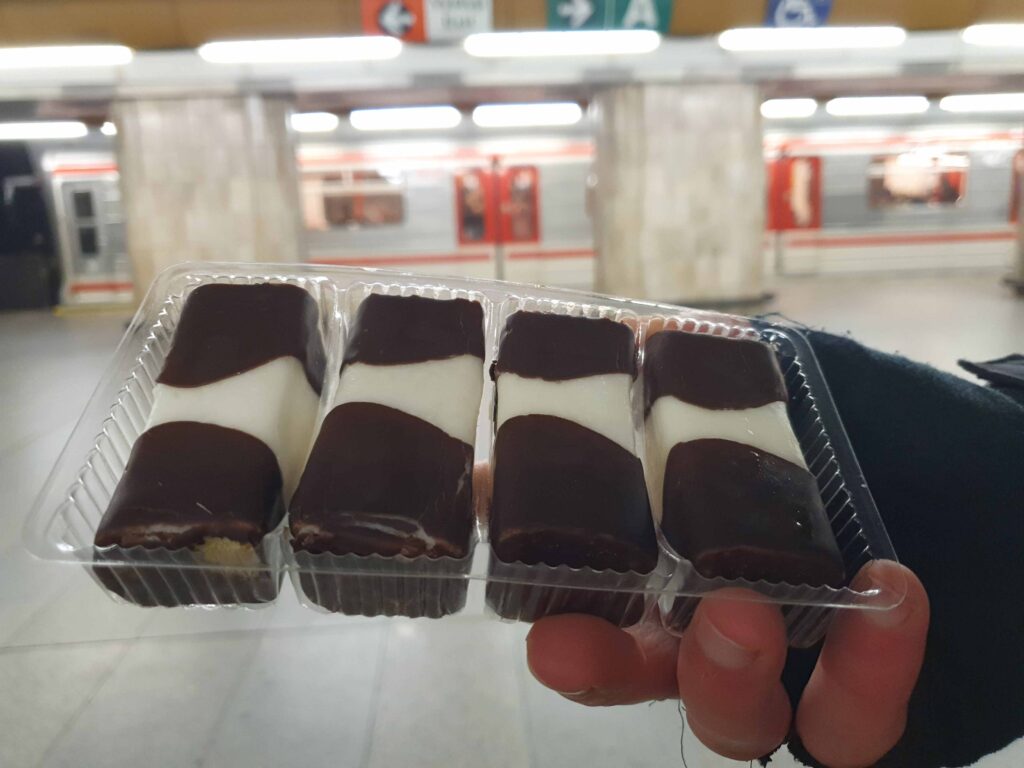 How does this cult Prague pastry taste?
Let´s be honest – this is not a cake you will be raving about upon your return from vacation (probably…but who knows). This is more for fun. But once in a while I really have a craving for Metro. Such craving was an inspiration for this blog! Kill me:))
So how does it taste? It's very sweet!! High-speed glycemic trip to the 70s and 80s in Czechoslovakia.
The core of Metro dessert is basically a soft sponge cake topped with very tasty buttercream and covered in marzipan. Both ends of the "vagons" are dipped in chocolate.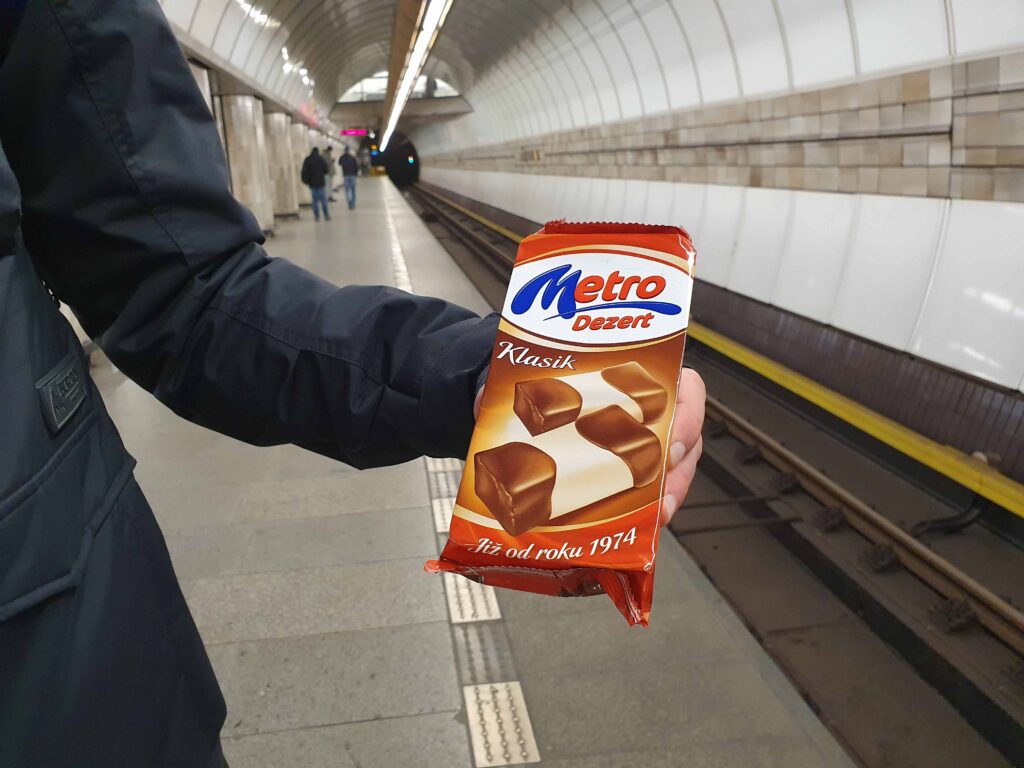 Original gift from Prague?
Now, when you know the whole story, you may wonder where to buy a metro dessert. I was always lucky and got it in Billa supermarket and also in Penny market. Metro desserts only cost around 30 CZK (ca 1.50 euro). So, wouldn't it be a fun gift from Prague? Inexpensive and easy to pack 🙂   
---
Dana, owner and fully certified guide for Prague Behind The Scenes | small-group tours and experiences.
Please feel free to contact me if you have any questions, want a recipe for metro dessert or want to see Prague in a less touristy way: dana@praguebehindthescenes.com
Stay in touch!!
---
Where to next?
My small group tours of Prague
Private off-the-beaten-path tour of Prague downtown
How tipping works here in Prague? Do we tip? Where and how much?
Prague pulic transport: tickets, prices, practical tips and recommendations from a local
Communism in Czechoslovakia: why did it happen, how was life in the communist state and how this hell ended?
Best Prague views: 7 stunning locations for taking pictures or watching sunrise