Planning a trip – anywhere – is often quite a long-term activity. You spend hours browsing the internet, hours reading in guide books and blogs, checking reviews, making Pinterest boards…and suddenly you have a million sources, information, recommendations and a confused head on the top of it all. Where to start planning and how to put it all together so you don't get completely crazy? These are my tips on how to plan your trip to Prague. From the local´s perspective.
Who is writing this blog for you?
My name is Dana, and I am a local guide designing various tours and experiences of Prague downtown. Besides running my own guiding business Prague Behind The Scenes, I also like writing about my hometown. To help future visitors to enjoy Prague more like locals and less like tourists. Hope this blog will help you to plan your trip to Prague with ease. It´s honest, with no unreal recommendations. Everything is based on my own experiences.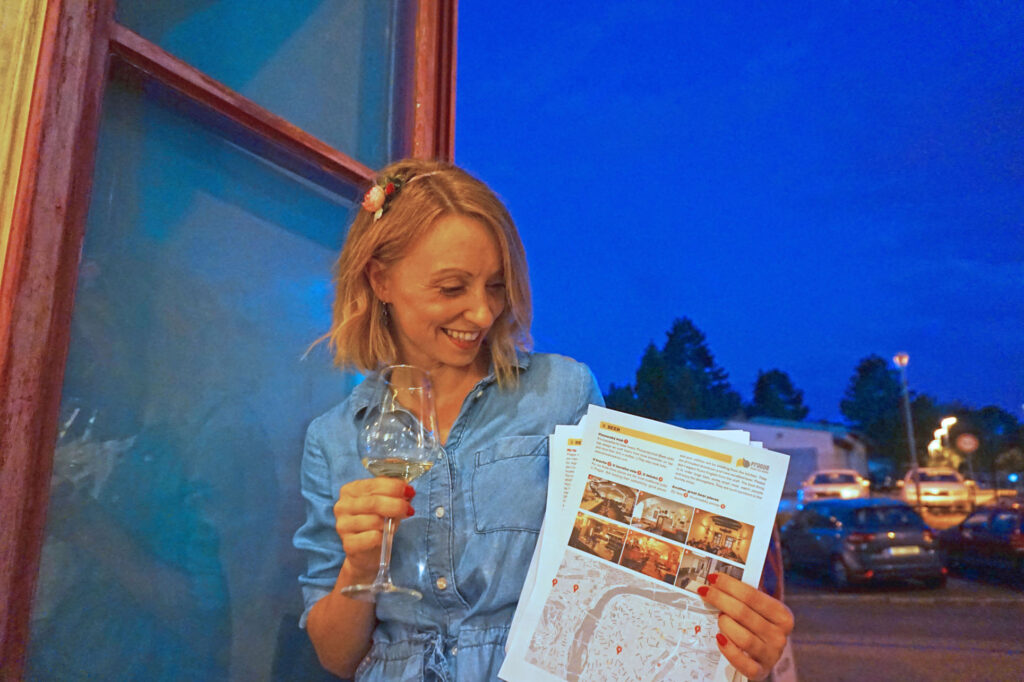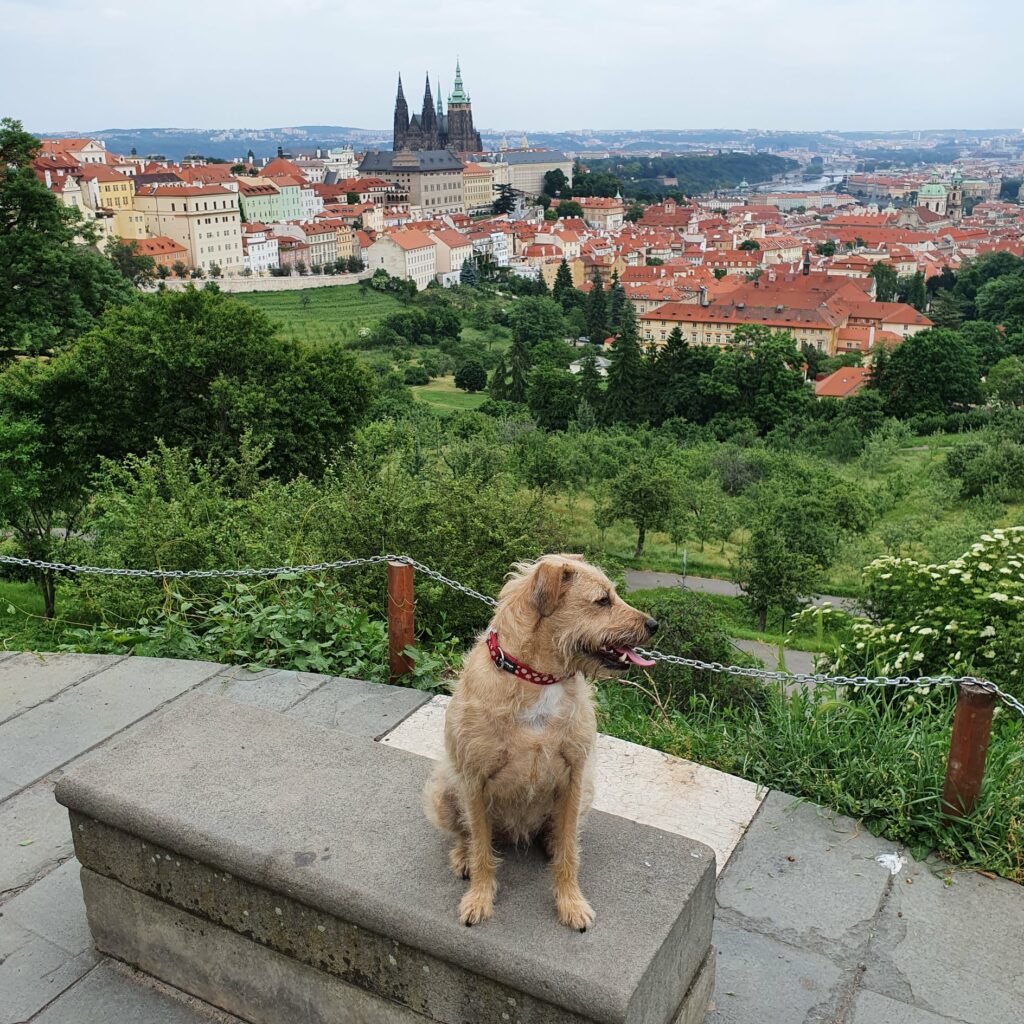 1. Where to find the right information about Prague?
When planning a trip to Prague, it´s good to only choose 3 – 5 sources max. in order not to get too overhelmed. They will help you to build the frame of your trip. For Prague I can recommend you the following ones.
Honest Guide
YouTube channel Honest Guide Prague. It´s not a tour guide company – it´s a channel of two Czech journalists, Honza and Janek, who are making smart, practical weekly videos about Prague. And other cities as well.
Prague.eu
Prague.eu is another good source. It´s a hub for basically everything you may need in Prague: sights, food, events, transportation, accommodation, culture – all in one place…it´s an official website of Prague City Tourism, joint-stock company established by the city of Prague.
Prague Survival Guide
Prague Survival Guide is an e-guide book I have been creating twice a year for all of my clients. Anybody who book a tour with me will get a free copy via email. 22 pages of hand-picked information about the city and how things work here (restaurants, bars, transportation, tipping, top tourist traps, gift ideas and much more).
Taste of Prague
Taste of Prague – completely everything about the current food scene. Besides blogging they also run fantastic food tours and create inspiring Instagram content.
Dream Prague
Dream Prague – YouTube channel of Jen, an American living in Prague. She is presenting great insights about Prague, the Czech Republic and us, Czechs:-) Smart, fun, videos.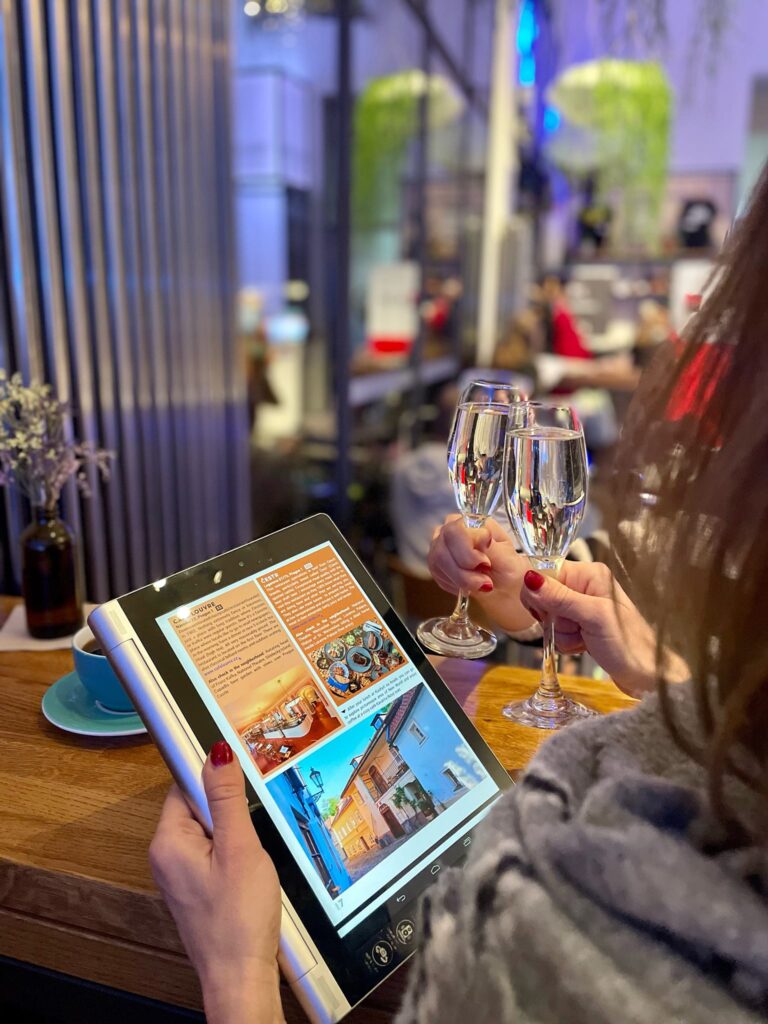 2. What is the best time to visit Prague?
It´s also quite importat to think about the right timing of your trip to Prague. The Czech Republic is a Central Europen country which means we have four regular seasons with their positive and negative sides. Prague might not be as beautiful in February as in May. Due to low season, from November – April, some places can even be closed. This may apply to popular historical gardens: Wallensten garden, Vrtba garden, South garden of Prague Castle, etc.. Bloggers often like posting photos from there without saying that they are only open during certain time of the year.
Mondays and weekends
If you are a fan of art, museums and galleries, try not to plan your visit on Mondays. Most of the places will be closed on Mondays!
On the other hand, weekends are absolutely fine here, everything works and is open: shops, supermarkets, sights, museums…
So, when should you come?
All in all, best time doesn´t exist. It´s always beautiful and it only depends on your expectations and preferences. For me, Prague is best in May, June, July, August, September, October and December. But for example in January, February, March, Prague is completely empty, super affordable. You can find tons of various deals, discounts, etc. Sometimes you can even see snow. Roaming the streets of Prague with hot mulled wine in your hands has its magic, too. If you are hesitating which month is the best for you, check my other blog post What is the best time to come to Prague? to learn about pros and cons of each month.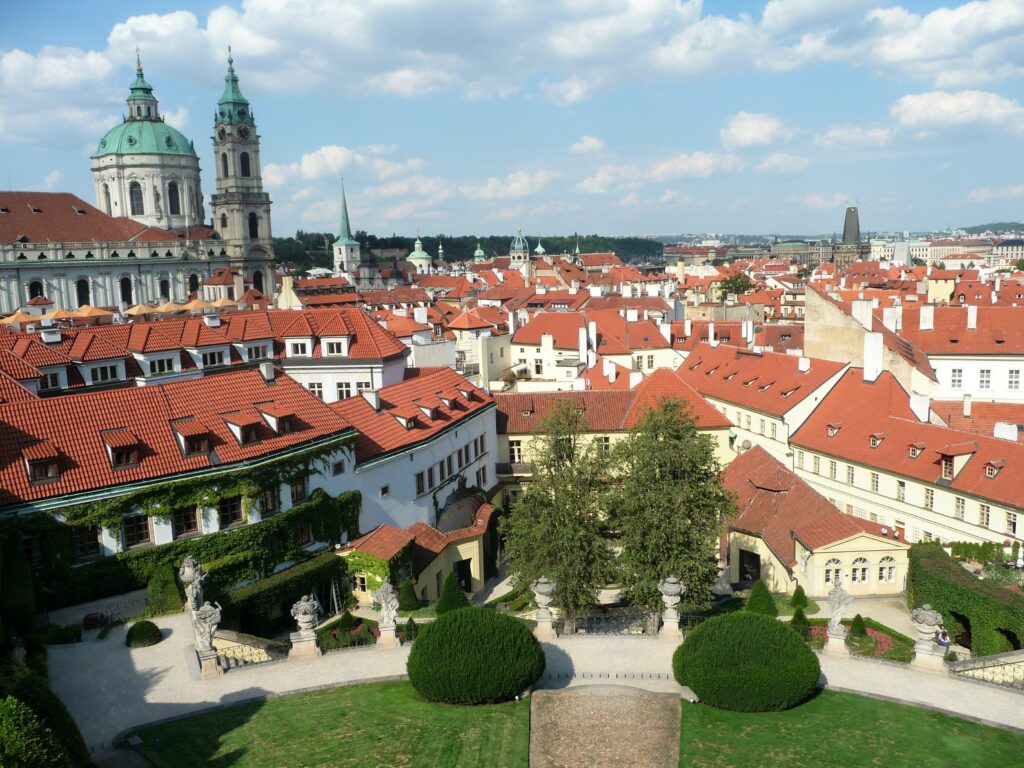 3. How many days are enough for a trip to Prague?
Europeans usually come here for pro-longed weekends. Travelling within Europe is so easy. Two of my Swedish clients have already been here 30 times!! But that´s quite an exception:-) Majority of overseas visitors come to Prague for 2 days only. In my opinion, that´s quite a rush. 3 – 4 days are absolutely enough and perfect option.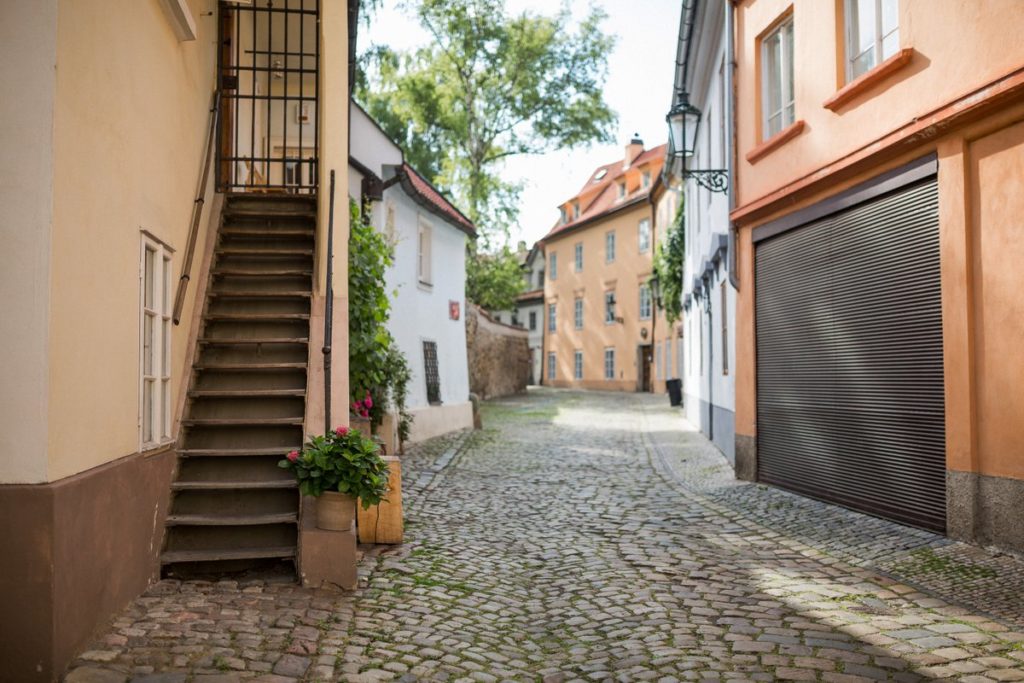 4. What to see in Prague?
It all depends on the lenght of your stay. However, the most important sights that shouldn´t be missed by anyone are: Charles Bridge, Prague Castle, St. Vitus Cathedral, Astronomical Clock, Old Town Square. If your trip to Prague is longer, then you can continue to: Rudolfinum, Powder Tower, Municipal House, Walenstein garden (only open during high season), Estates Theatre, National Theatre, Dancing House, Jewish Quarter, Strahov Monastery, Loreta, John Lennon Wall or Klementinum. it´s also
Prague downtown with all its landmarks is pretty compact and walkable. To see all of the monuments mentioned above, you don´t need a taxi or public transport. Just Google maps:-)  You can also join one of my small-group tours.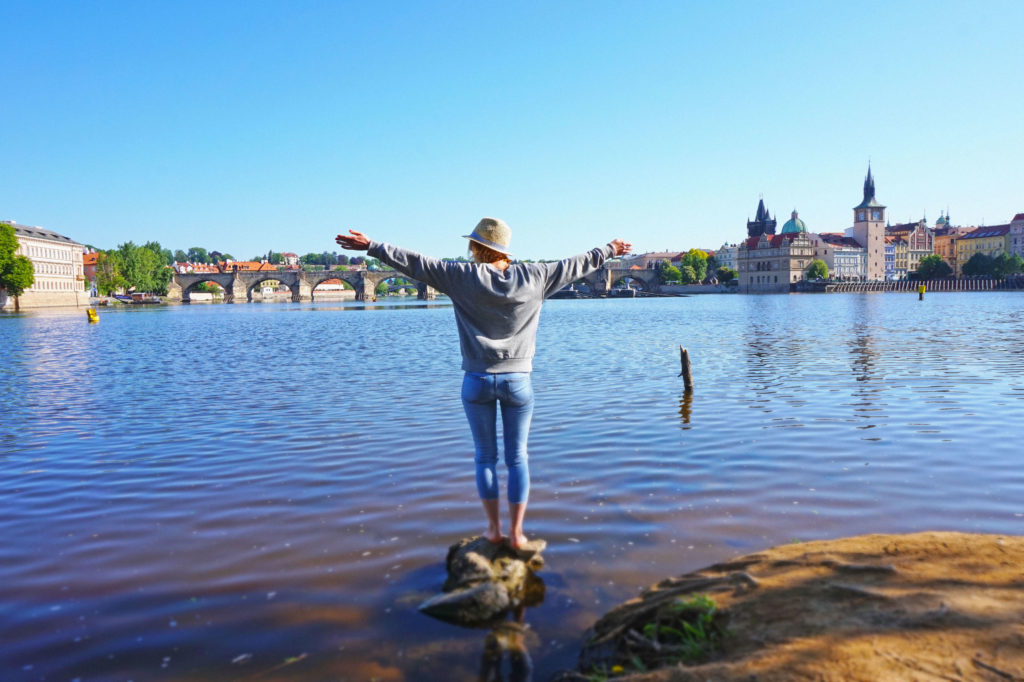 5. Visit or not to visit interiors of Prague monuments?
This is also very common question of my clients. Again, it all depends on how much time you have in Prague. Less than 2 full days? Then skip the interiors / or pick just few. For example: Týn Church or St. Nicolas Church on Old Town Square. However, even during a short trip to Prague I highly recommend visiting Prague towers. We have many! The views are stunning and unforgetable. My favourite towers downtown are: both towers on Charles Bridge, Great South Tower of St. Vitus Cathedral and Tower of St. Nicolas Church in Lesser town.
Prague Castle interiors – yes or not?
Prague Castle interiors are great but count with at least 2.5 hours to see everything. The ticket to Prague Castle interiors cost 250 CZK, it´s called B circuit and allows you to enter St. Vitus Cathedral, St. George Basilica, Old Royal Palace and Golden Lane. Prague Castle grounds (countyards and gardens) are open for free. The Castle garden are open between April – October.
And now few tips for Prague Castle: it is open daily from 6am – 10 pm, very generous, right? Get there between 7 – 8 am and the whole Castle will be all yours, empty and quiet. Perfect time for taking pictures or shooting a video. You can also visit the Cathderal without buying a ticket, the front part of the cathedral is open for free all day long. Golden Lane is open for free after 5pm. You can also watch a beautiful sunrise from Hradčanské square.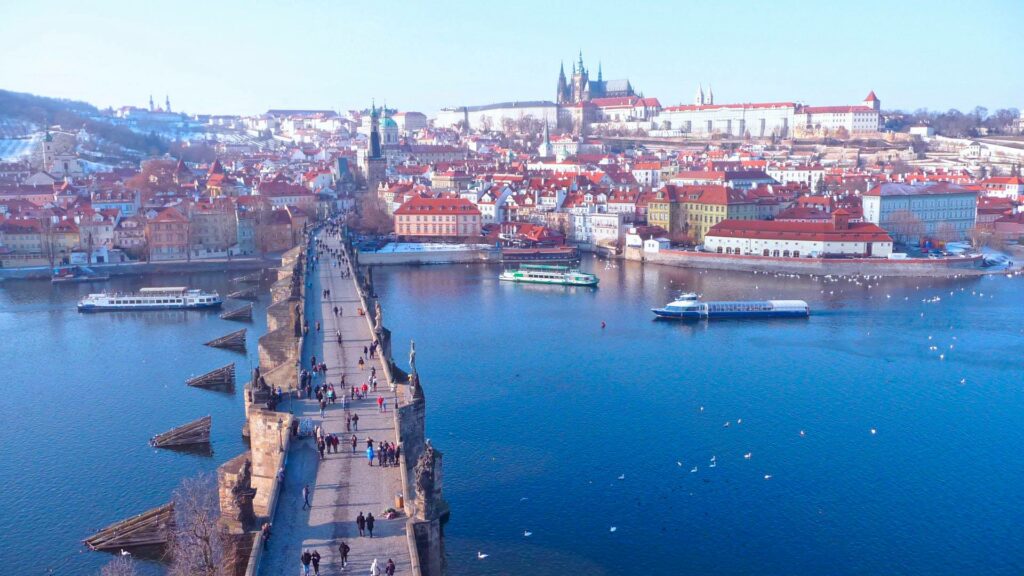 6. How to get from the airport?
Many European cities, including Prague, have very good connection with their city centers. From the Prague airport you can take a practical Airport Express (AE). It is a shuttle bus going directly downtown. This bus is especially practical for all of you staying in the Old Town and New Town. The AE will take you to the Main Train Station ("Hlavní nádraží") located right in the city center. AE is a convenient and affordable compromise between taxi and public transport. This service only cost 60 CZK / person; luggage is free of charge.
By taxi. My recommendation is: never take a taxi in the street / airport / train / bus station, that´s the most expensive options, these drivers are tricky. Try online apps instead. For example, Liftago (Czech company), UBER (global player) or Bolt (most affordable option). In terms of quality they are all the same, so just pick the best price and go! I recommend downloading one of these apps before you come so that you can start using them right upon your arrival to Prague. There is a free WiFi at Prague Airport and you can order your ride immediately. Your taxi ride downtown shouldn´t be more than 500 CZK / 20 euro.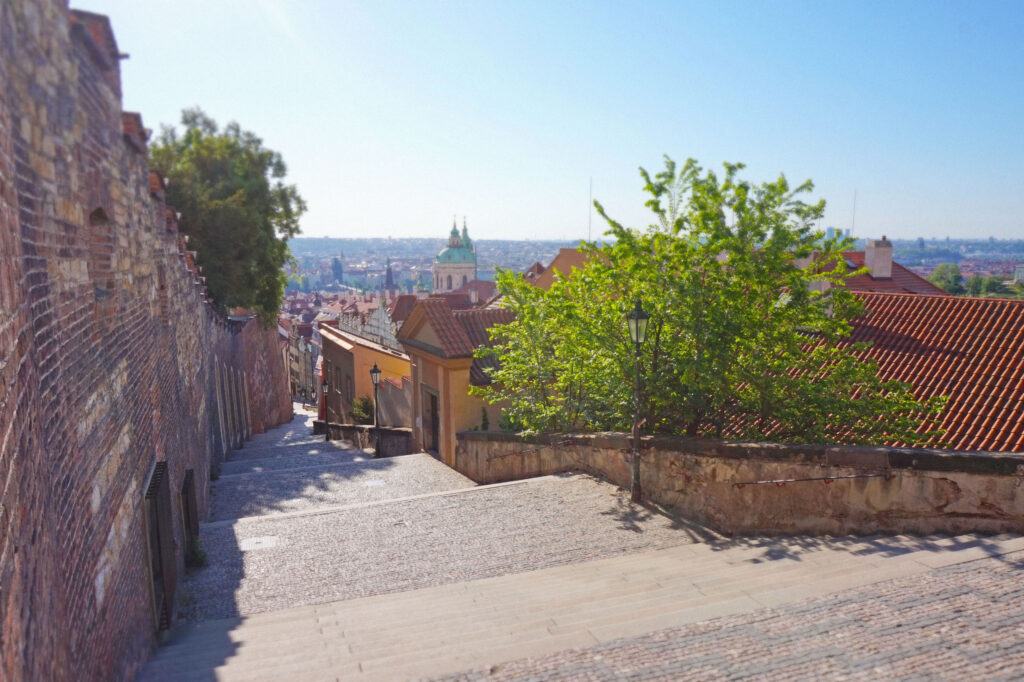 7. Where to exchange money in Prague?
Prague is a very card friendly city. However, it's also good and recommended to have enough cash with you as a back up. At least for toilets, tipping, buying public transport tickets or bottled water in a small grocery store. Regarding the cards – American Express is not always accepted. But Visa and MasterCard are absolutely fine. The best and reliable exchange office in Prague is Exchange.cz. I go there myself. It´s located 1 minute from Old Town Square. Czechs usually don´t keep so much cash in their wallets. Usually around 1000 CZK / person. For this money you can buy e.g. 20 beers or 3 good lunches including drinks, 33 public transport tickets or use public toilets for 66 times. All details about Prague money exchange offices, tricky ATMs and fair exchange rates you can also find in my blog post: Where to exchange money in Prague?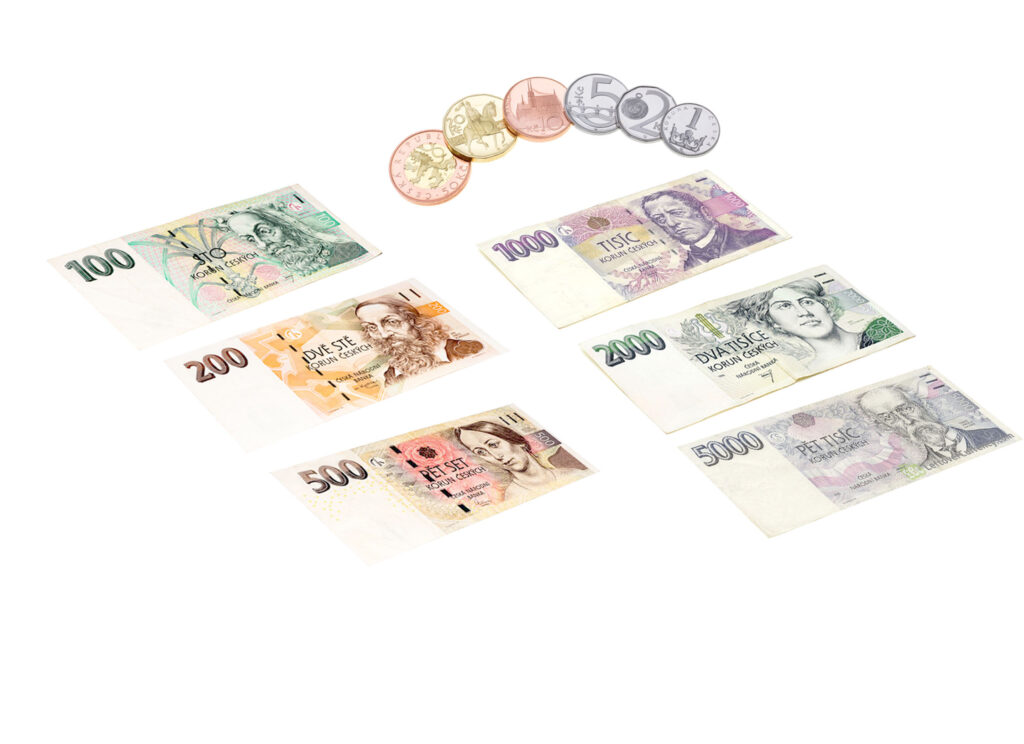 8. Where to stay in Prague?
If you only come here for a short trip definitely stay downtown. Everything will be close to hand and within a walking distance. There are three main locations, all great.
Old Town "Stare mesto": main attractions in this area are Astronomical Clocks, Powder Tower, Municipal House, Convent of St. Agnes of Bohemia, Jewish Quarter, Old Town Square, National Theatre, Týn Church, Estrates Theatre, Klementinum, Wenceslas Square, Charles bridge. Most of the good restaurants, clubs, bars, hotels are located here.
Lesser Town "Mala strana": main attractions in this area are Charles Bridge, John Lennon Wall, Kampa island, Prague Castle. Very picturesque area, good compromise between Old Town and the Castle district.
Castle district "Hradcany": main attractions in this area are Prague Castle, St. Vitus Cathedral, Loreta, Strahov monastery. The Castle district is very peaceful in the evening and there are no clubs and very few good restaurants. But as I mentioned earlier, all these three areas (Old town, Lesser town, Castle district) are pretty much walkable. You can have your dinner in the Lesser town and then simply walk to quiet Castle district.
If you are staying longer or wish to be closer to Prague residents, consider New Town, Vinohrady, Letná or Holešovice districts.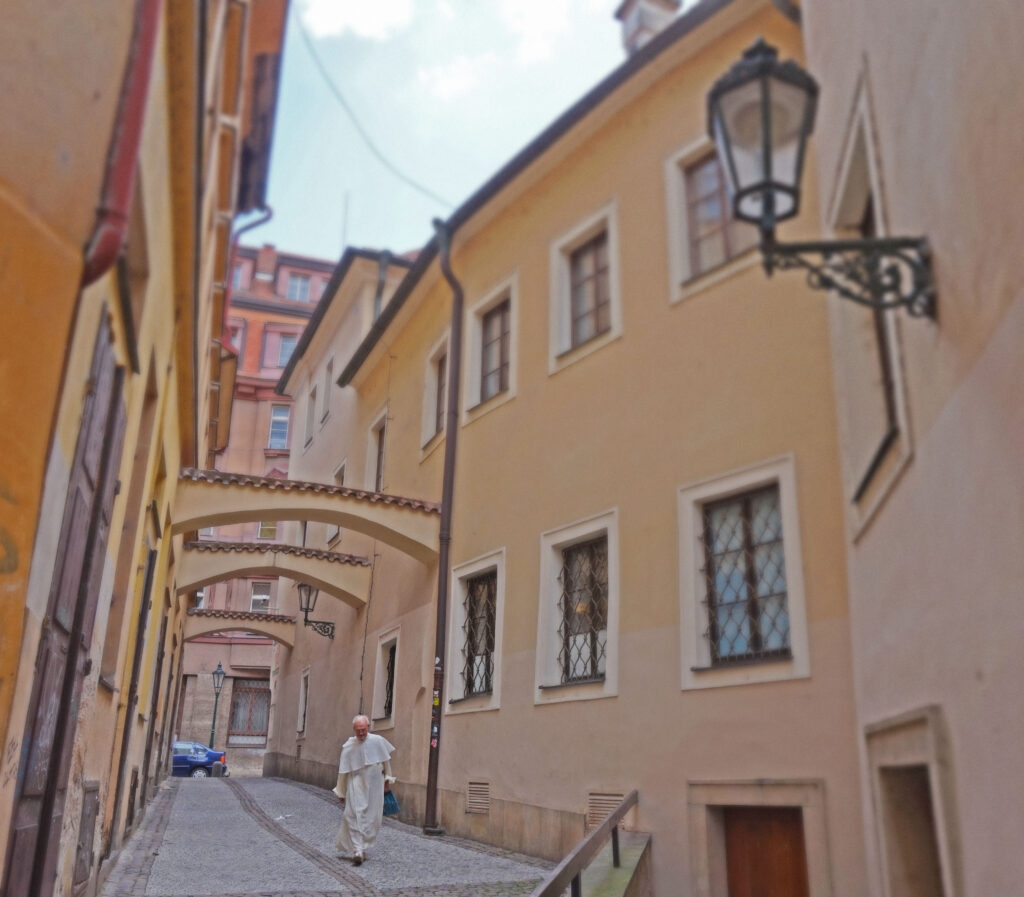 ---
Did you like my tips? Do you have a question or need help during planning your trip to Prague? Please feel free to contant me. I am not a virtual blogger. You will always communicate directly with me.
Where to next?
Bizarre Czech Easter traditions: pooping lamb and treats for whipping
Prague in a less touristy way: small-group tours of Prague downtown for only 4 people in a group
How to use Prague public transport: prices, tickets, tips from a local