The Czech Republic has been a member of the EU since 2004, however we still use our own currency, it's called "koruna" (Czech Crown = CZK).
So yes, when you come to Prague, Czech Republic, the currency is different from Germany (euro), Poland (zloty) or Hungary (forint). This is extremely uncomfortable. I know….
Who is wiriting this blog for you?
My name is Dana, Prague local guide and also founder of Prague Behind The Scenes – small touring company. With my services I strive to support sustainable and respectful tourism in Prague. No mass tourism! Besides guiding I also enjoy writing about my howtown – today about money.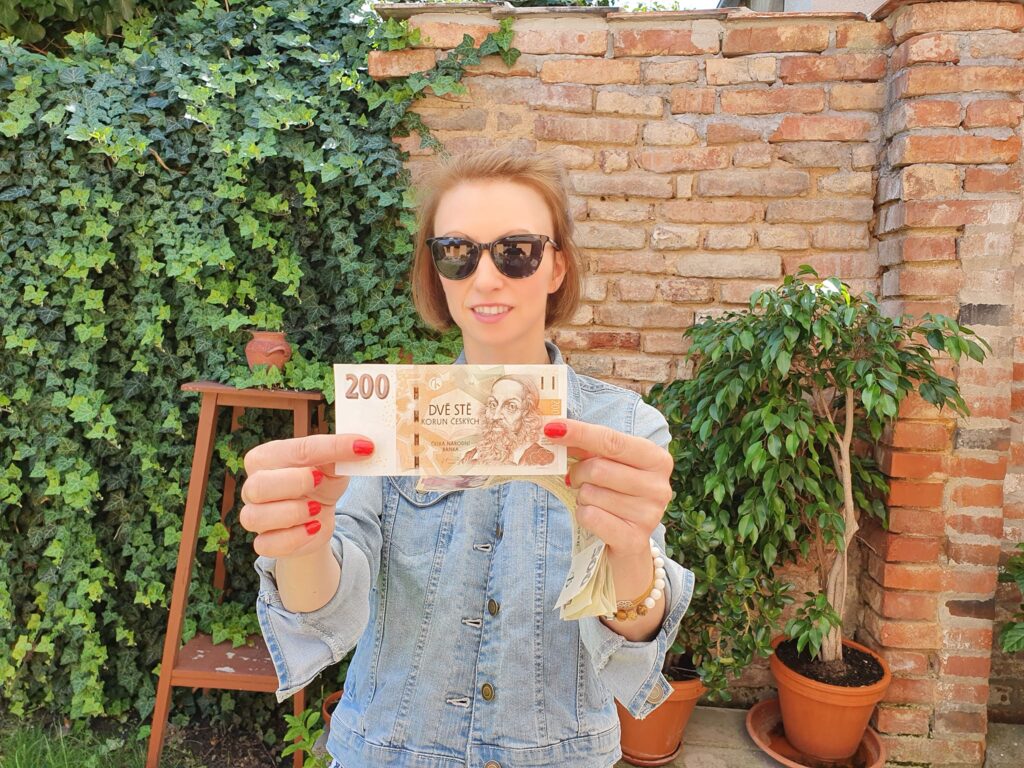 Cards: our best friends
Prague is very card friendly city and you basically don´t need so much cash when staying here. Honestly, you can perfectly survive without cash and only pay by cards.
Regarding the cards – American Express cards are not always accepted!! To be honest, it´s very rare if AMEX is accepted somewhere. If you can, rather take with you Visa and MasterCard.
What if you only have euro when coming to Prague?
Many downtown located businesses in Prague accept euro currency alongside with Czech Crowns. Especially those ones operating in a travel industry (tour guides, travel agencies, hotels, public toilets and majority of supermarkets). But don´t count on that. As I mentioned earlier: we still use our own currency called Czech koruna, Czech Crown (CZK), and accepting euro is not mandatory.
If you come to Prague only with euros or US dollars or any other foreign currency, you can always exchange the money. Just make sure you choose a fair exchange office. It´s not always easy to recognize the right one. Please never exchange money in the streets. Don´t let anyone to take you to some "recommended" or "better" exchange office. Don´t get scammed by these "full time crooks" operating in Prague streets. They are not even Czechs, they are members of organized groups from Romania, Bulgaria, Kazakhstan…Don´t talk to them, don´t accept their offers!! You can end up with expired Belorusian rubels or fake money.
Where to exchange money in Prague?
The best exchange office in Prague is called Exchange CZ – located 5 minutes away from the Astronomical Clock (Old Town Square). For 1 EUR you should get approx. 23 CZK (information from May 2023).
Address of the exchange office: Kaprova 14/13, Prague 1 (corner house with blue/white logo)
How much cash we usually keep in our wallets?
Not much, around 1000 CZK (ca 40 euro) but usually even less as we prefer card payments. If you plan paying cash in Prague, one person should have around 2000 – 2500 CZK / day. To cover all standard meals, drinks, tickets. But of course you can perfectly survive here with less than that. On the other hand 2500 CZK will not be enough for someone… Bugdet 2000 – 2500 CZK, I believe, is a good compromise for comfortable stay.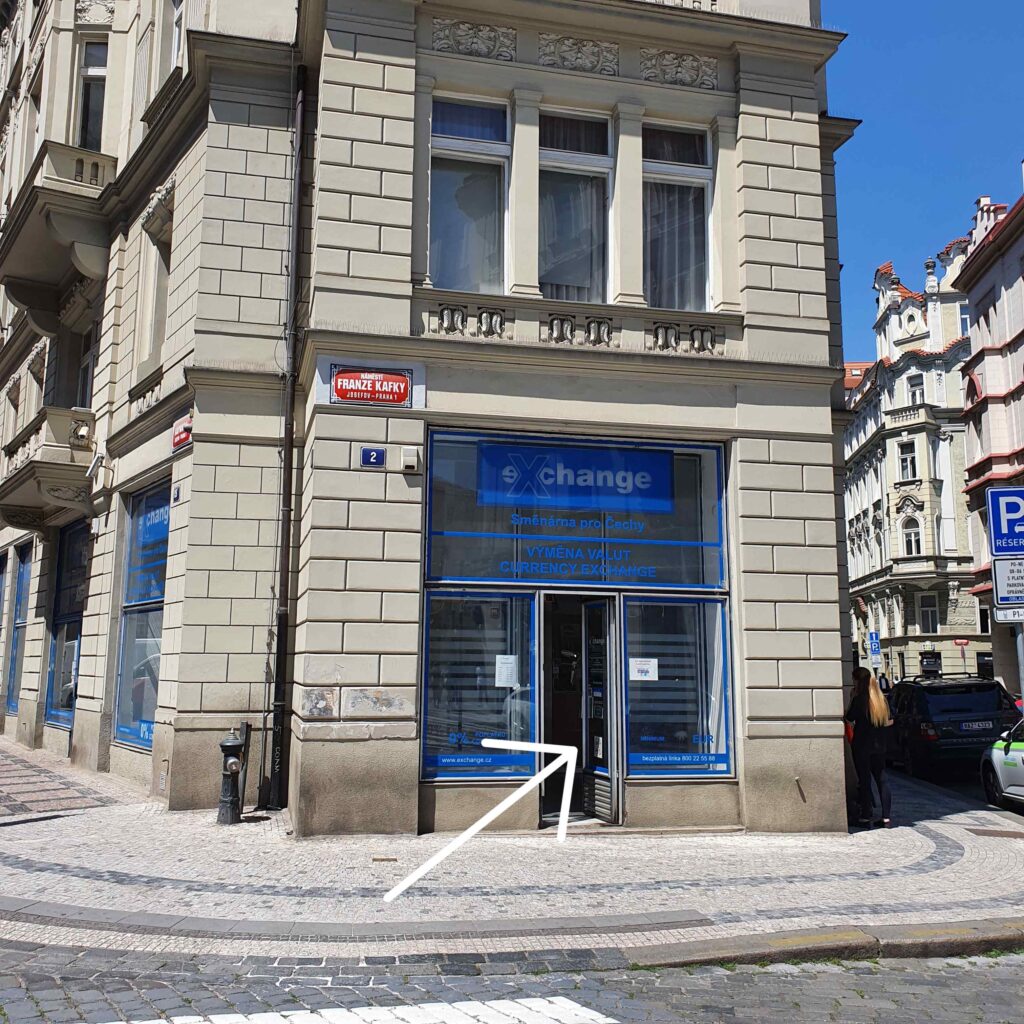 Where will you need cash in Prague?
Let me think….:-) ….5 minutes later: ok, there are still places and situations when it´s recommended to have some cash with you. For example farmers markets, public toilets, for tipping (please don´t forget to tip in cafés, restaurants), you may also need it at street stalls with refreshments or in small grocery stores…. In general, cash is most useful for tipping – to learn more about Prague tipping etiquette, please check my other post about tipping.
Cash is also good back up when card terminals don´t work (or if there is a minimum card spend set). But cards are preferred payment method everywhere in Prague. Some places are even fully cashless!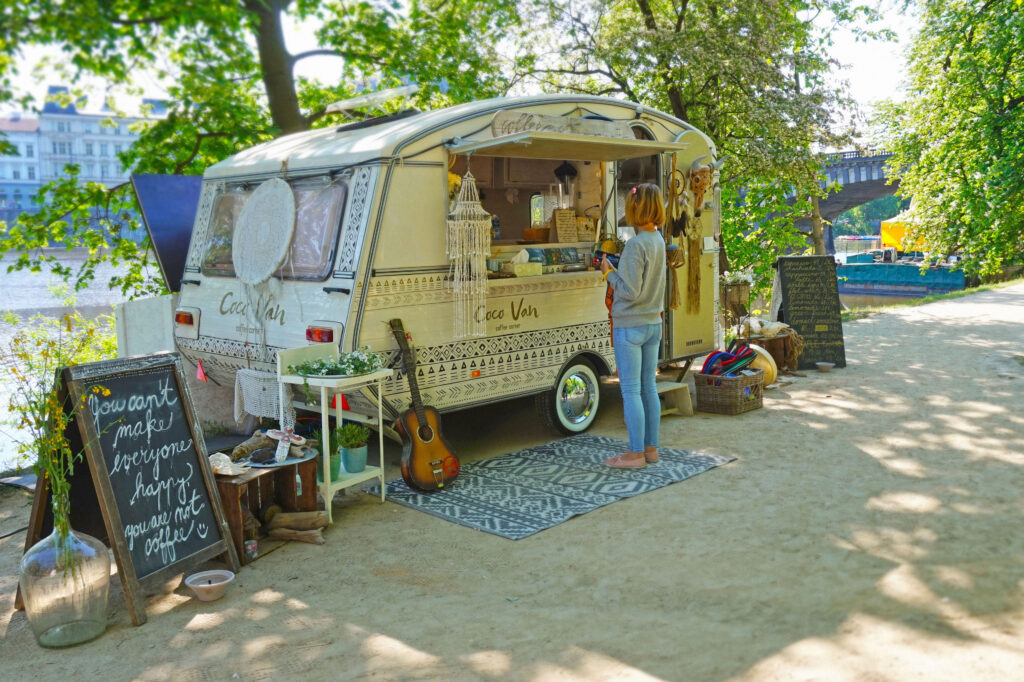 Even guides have card terminals!
Yes, Prague is getting more and more cashless! As a tour guide, I also have a card terminal in my backpack. You can basically pay for your tour after we finish. To make the transaction a bit more convenient. Handling a cash in the street is a bit old fashioned but still possible on my tours. You can choose 🙂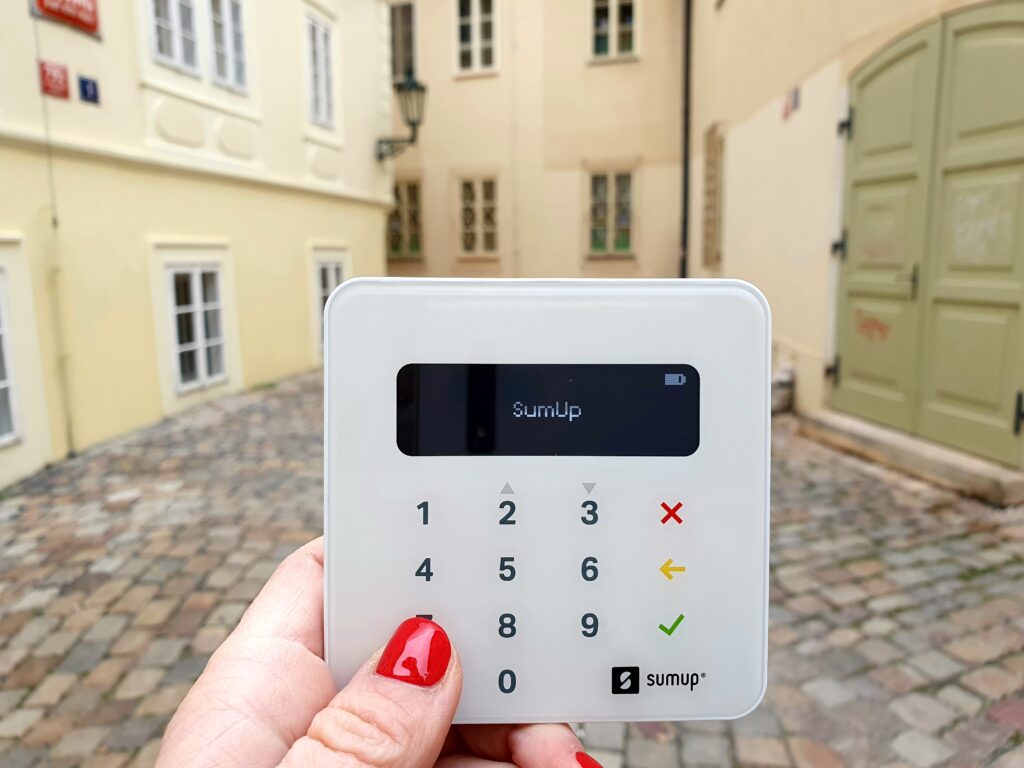 Have a lovely stay in Prague! 💛
---
Dana, owner and guide for Prague Behind The Scenes | small-group tours and experiences.
Please feel free to contact me if you have any questions or want to tour with me: dana@praguebehindthescenes.com
Stay in touch and learn from a local via my social media channels.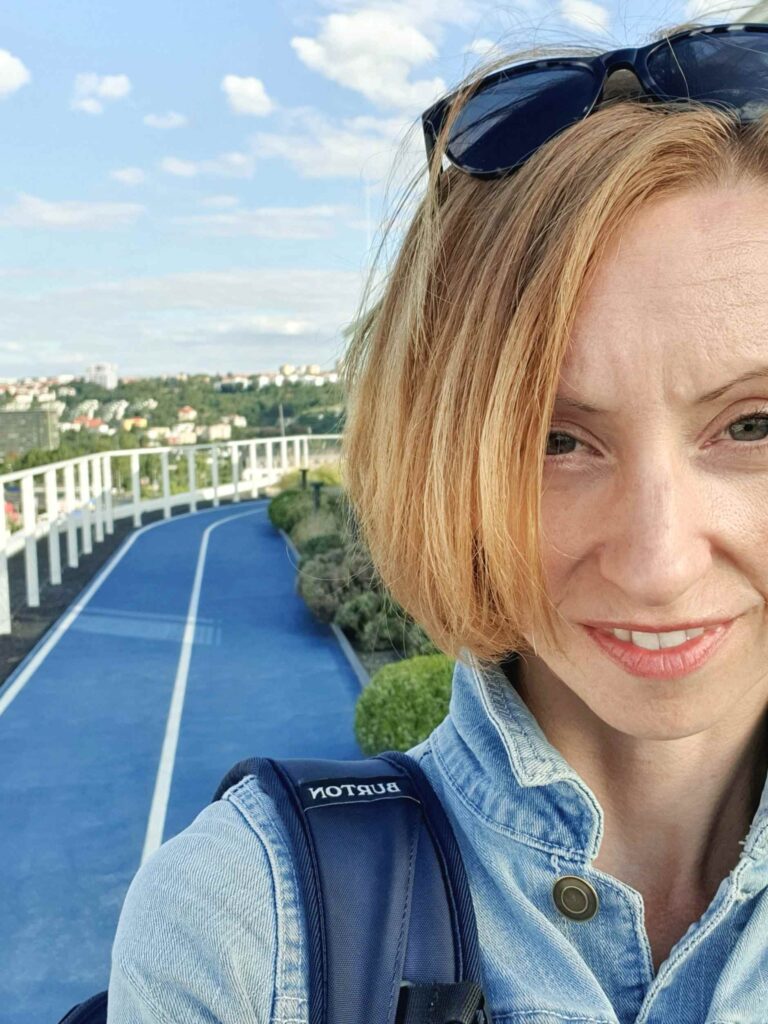 ---
Where to next?
Prague in a less touristy way: small group tours of Prague downtown
Easy trip from Prague: Nelahozeves, hidden gem of Czech countryside only 40 minutes from Prague!
Metro dessert: cult Prague pastry undiscovered by travel bloggers!!!
Souvenirs from Prague: 8 original gifts ideas with Made in the Czech Republic label
Communism in Czechoslovakia: structured, easy to read and understand. Fundamental moments and important facts.