Prague historical city center is a patchwork of all architectural styles. Easily walkable and very compact. You will not need a taxi or public transport to get around. All the major Prague highlights are reachable on foot! The only thing you will definitely need here is a pair of good walking shoes. Got your sneakers on? Perfect, these are my tips on what you shouldn't miss in Prague during your Prague visit.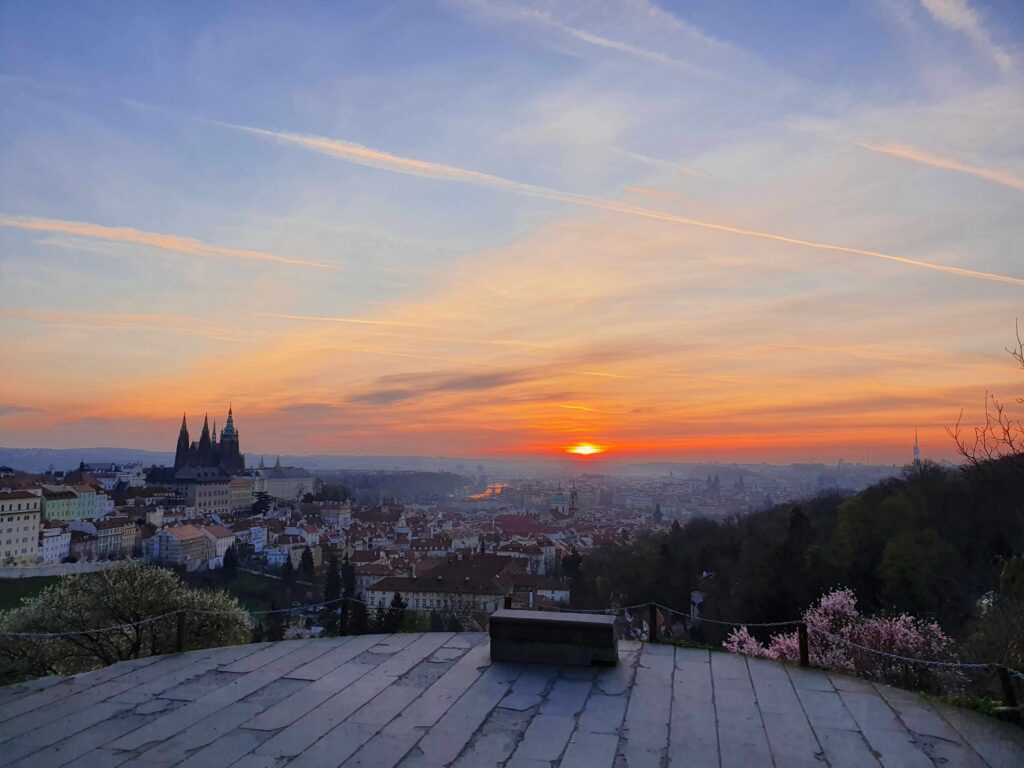 Who is writing this article for you?
I am not a journalist or a travel blogger who has been to Prague for two days and knows everything best 🙂 My name is Dana and I have been living here my entire life. Besides writing this blog, I also work as a tour guide. Running my own tiny business called Prague Behind The Scenes. Today I would like to show you 6 places you shouldn't miss in Prague – but not only the highlight, but also the hidden gems that only locals know about! Hope it will be a useful and inspiring source of information for your Prague visit. If you are interested in touring with me, please check my tours or learn more about my work on social media.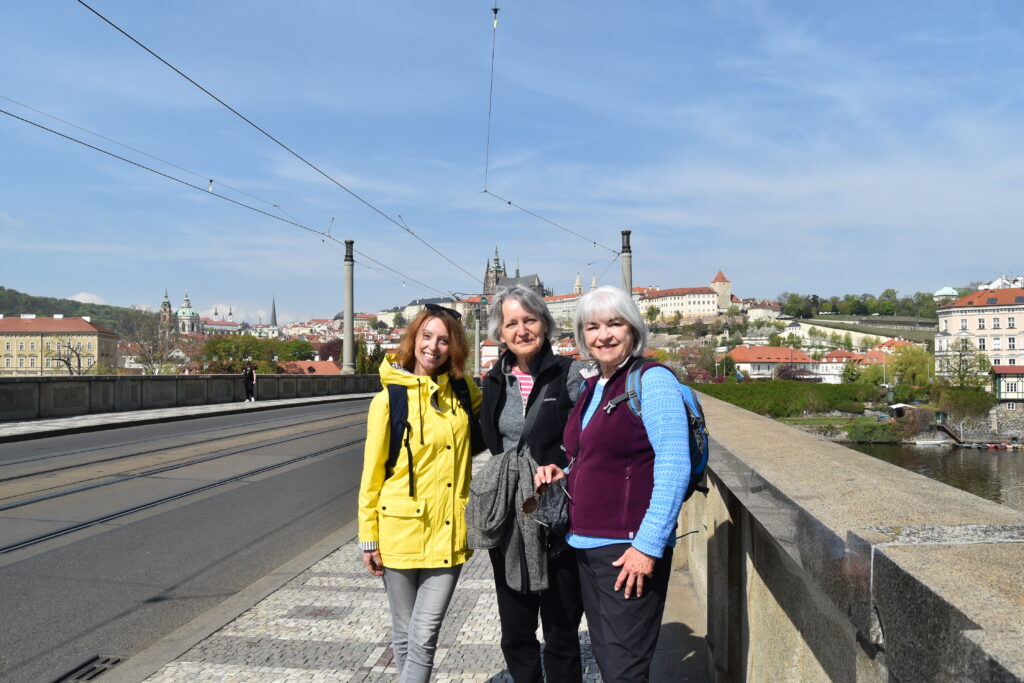 This is me (left) during a private tour with my dear clients from the USA.
What you shouldn't miss in Prague
There are three top highlights in Prague you shouldn´t miss even during a short visit!!!
Prague Castle with St. Vitus Cathedral
Charles Bridge
Astronomical Clock on the Old Town Square
Another very important Prague sights:
Powder Tower
Municipal House
Rudolfinum
Loreta
Strahov Monastery
Jewish Quarter
Klementinum
National Theatre
St. Nicolas Church in Malá Strana
In the next paragraph I would like to share with you my tips how to explore some of these sights in the best possible way: where to start, what to avoid and what is the best (and worst time) to visit them:)) And of course, close to every highlight, there must be also a hidden gem!! So, under every description of the highlight you will find my recommendation for what else you shouldn't miss in the neighborhood!!
1. Prague Castle with St. Vitus Cathedral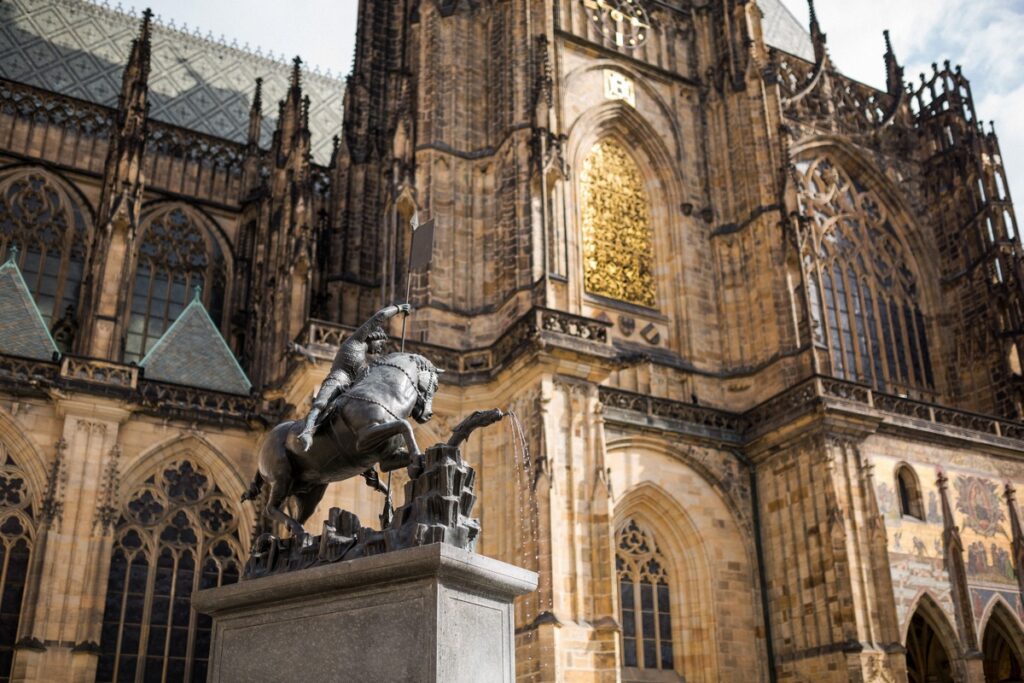 Many of my clients are surprised, that St. Vitus Cathedral is part of Prague Castle. Yes! This stunning French style cathedral is standing on the 3rd courtyard of Prague Castle. So, whenever you go to visit Prague Castle, you can also visit the cathedral. It´s the dark high building overlooking the whole castle complex. You will see it from the distance, its towers are rising high above all the castle palaces.
Prague Castle complex is open daily from 6am – 10 pm! And for free! St. Vitus Cathedral interiors have opening hours: Mo – Sa: 9.00 – 17.00; Su: 12.00 – 17.00. Last entrance is always at 16.40. To visit the whole cathedral you will need a ticket (ticket office is right opposite to the cathedral). But this is my tip: the front part of the cathedral is open for free, so just walk in and take a look!
More in my article Prague Castle: How to plan the visit. 7 hints from a local guide.
Hidden gem in the neighborhood: Strahov orchard located only 15 minutes walk from Prague Castle. Whenever the fruit is ripe you can come here and pick some fruit for free (apples, pears, walnuts, quinces, mirabelles). And if there is no fruit, there is always great view!! Do you like this way of exploring Prague? Come on my tour and see Prague downtown in a less touristy way! Like locals do!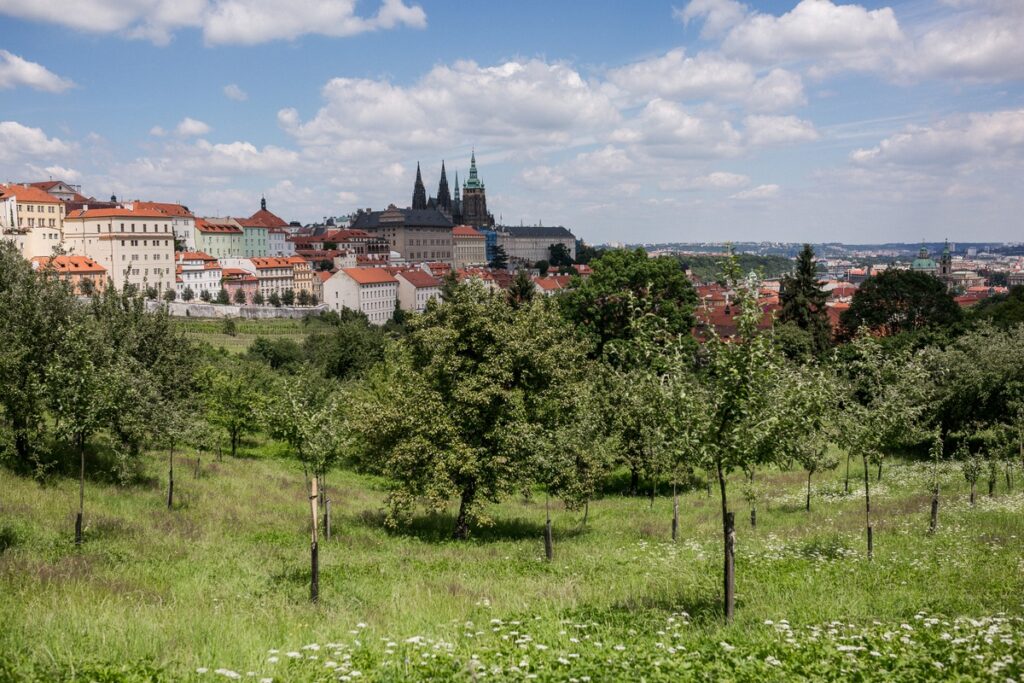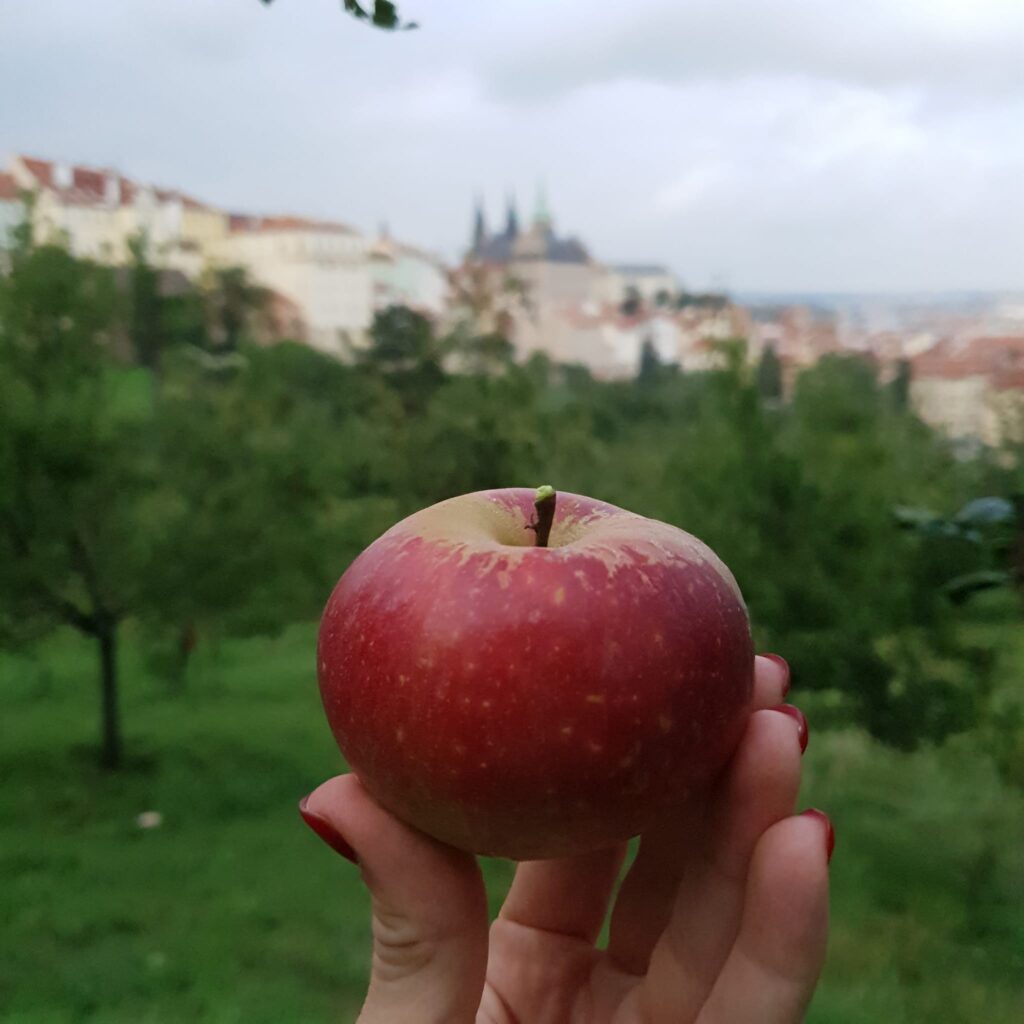 2. Charles Bridge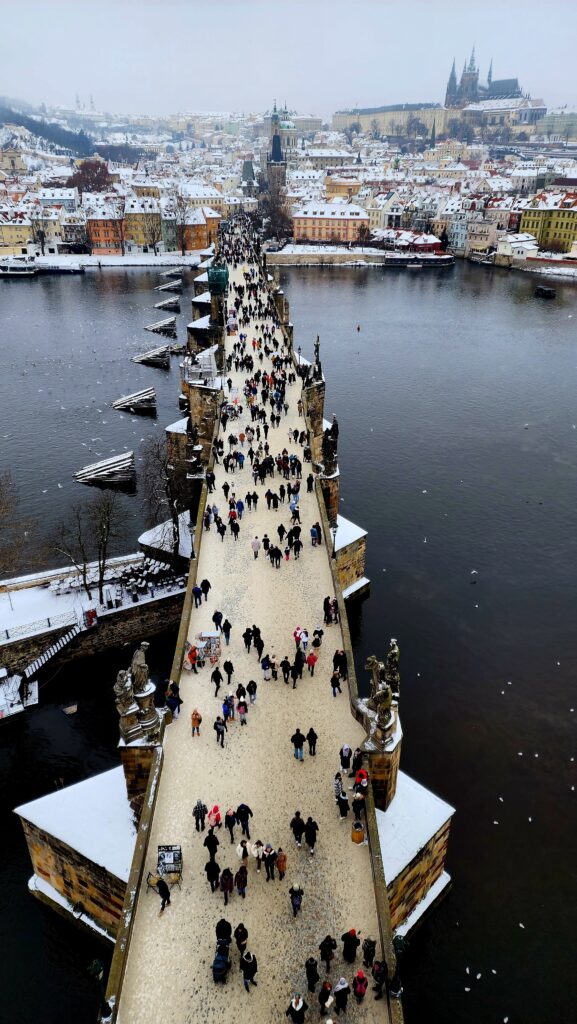 Another wonderful highlight of Prague! This year (2023), Charles Bridge is celebrating a "satanic anniversary"!!! 666 years with us!!! Charles Bridge is an icon you shouldn't miss in Prague. It´s open 24/7 for free and is only for pedestrians. The best time for a visit is morning. Repeating: morning!!!! Until 9am. During the day it becomes a true tourist hell. My tip: once you get on the Charles Bridge you will notice two high towers at both ends. They are open to the public. The views from the top are magical and unforgettable.
Hidden gem in the neighborhood: There are 30 sculptures on Charles Bridge. Under many of them you will find latin sentences and also "chronograms" – hidden messages from the past. Some of the letters of the sentences are written in capitals, right? These are Roman numerals. Count them all together. The result tells you when the sculpture was created.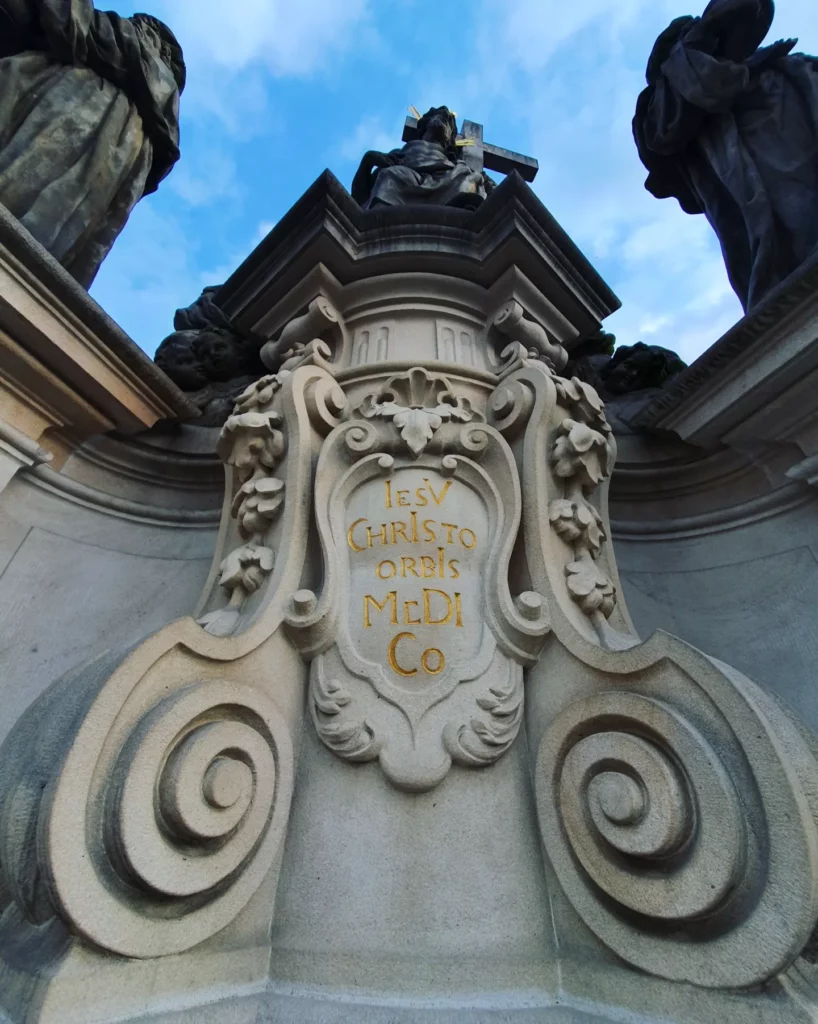 3. Old Town Square and the Astronomical Clock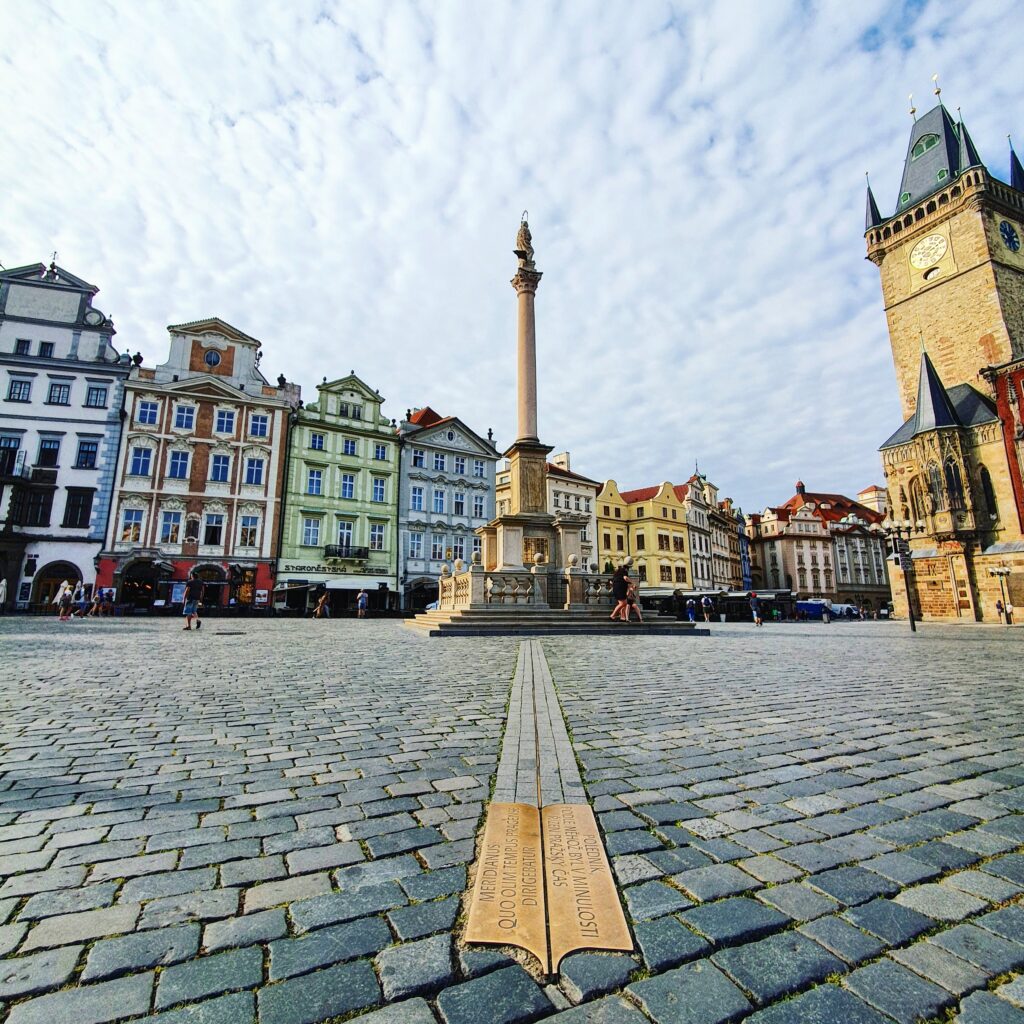 Undoubtedly one of the most beautiful parts of Prague. This is the square where you can visit the cult Prague Christmas markets. But you can also experience here the worst rip-offs!!! I am very sorry for being so honest but this is simply a true. I am never guiding on Old Town Square during the day time. Because it´s crowded, noisy and simply ridiculous circus. Come here in the morning, it is magical until 9am! Empty and quiet. Astronomical Clock is standing right on this Square.
Hidden gem in the neighborhood: The best money exchange office in Prague. Yes, it definitely ranks among the hidden gems because there are so many unfair places ripping tourists off!! This exchange office is called EXCHANGE CZ and you will find it 5 minutes from the Astronomical Clock. To learn more about money exchange, please check my blog Where to exchange money in Prague and how much.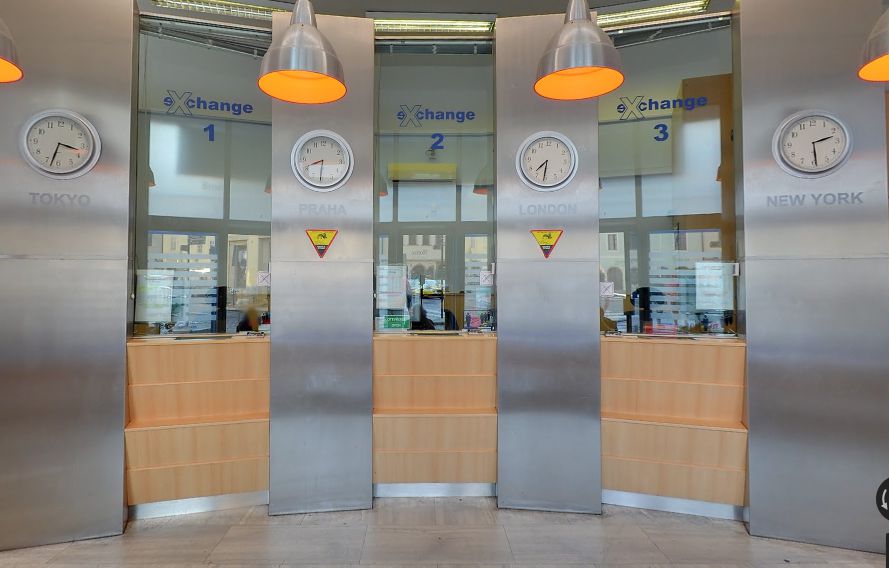 4. Powder Tower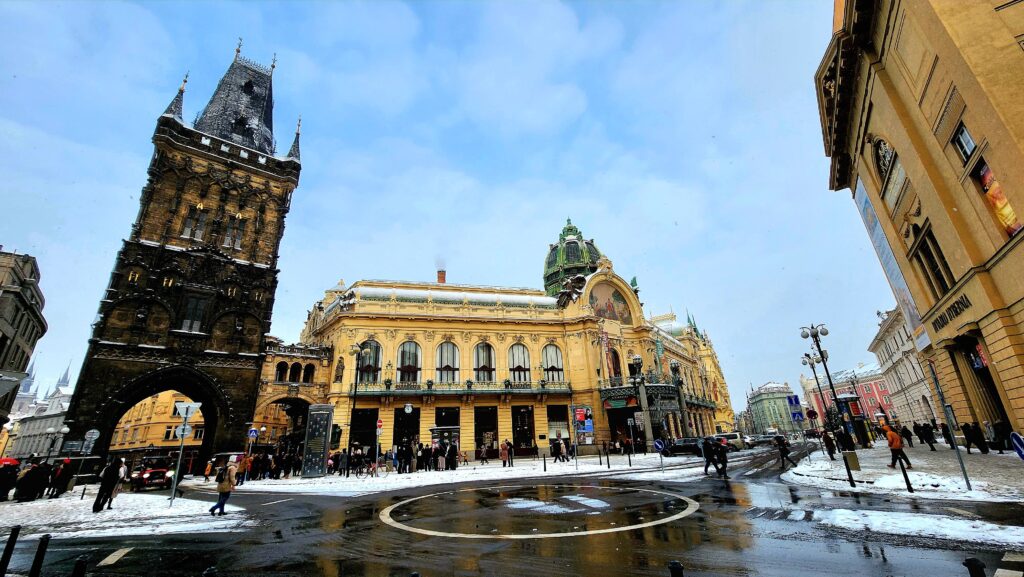 Powder Tower is neighboring with another beautiful Prague sight called Municipal House. Once you reach the Square of the Republic (Náměstí Republiky), you will see them both! Then you can simply continue towards the Old Town Square (5 minutes away), Jewish Quarter (10 minutes away) or Wenceslas Square (5 minutes away). Powder Tower is a dominant of the square – and you know what? You can climb to its top! From the top there is a fantastic view over the whole Old Town, in the distance you will see Prague Castle. During the first opening hour there is even 50% discount on the entry!
Hidden gem in the neighborhood: Tiny bakery called Kolacherie. Walk through the Powder Tower and find this minimalist bakery / café specializing in baking "koláče ", the most traditional Czech pastry. Best in the morning when everything is fresh and not sold out!!!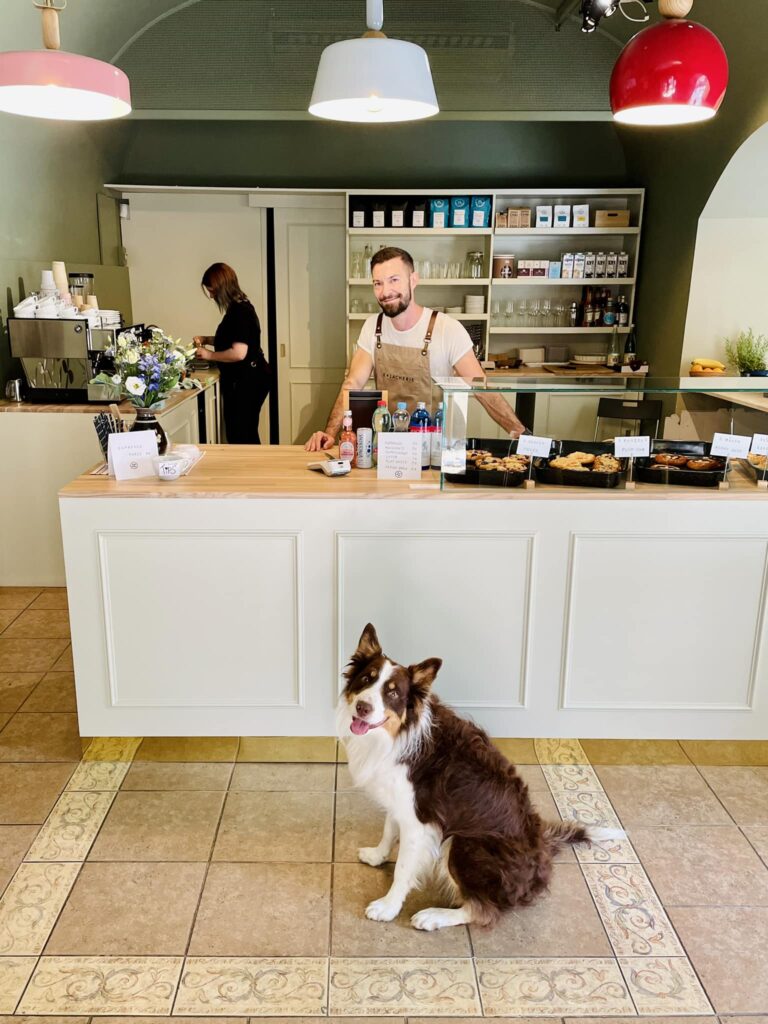 5. Municipal House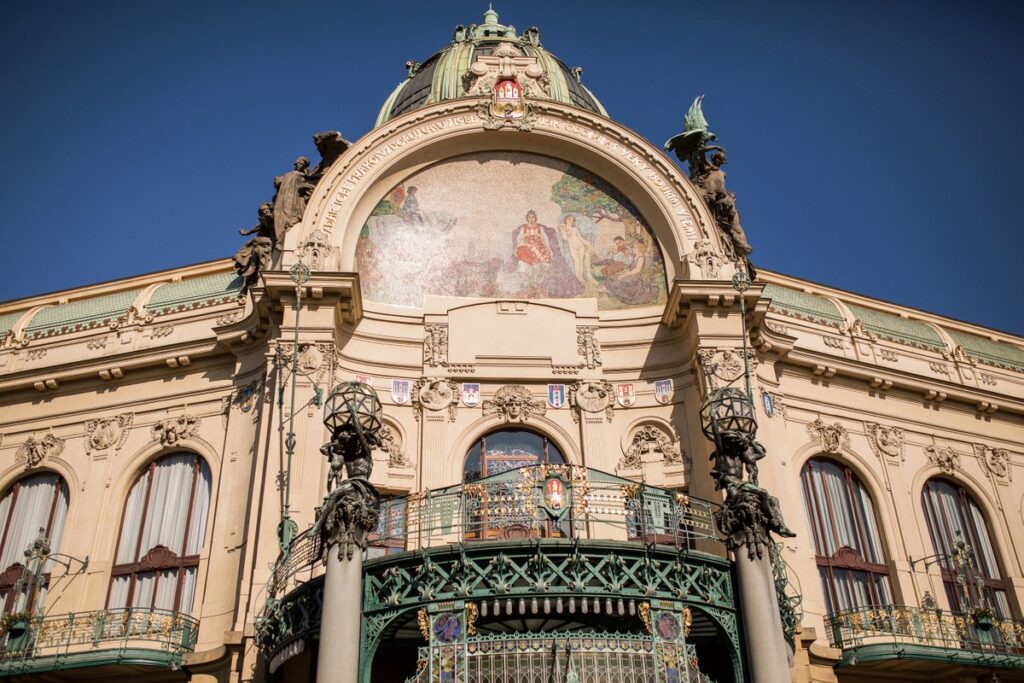 Municipal House is located on the Square of the Republic (Náměstí Republiky) and neighboring with a stunning Powder Tower (two highlights in one square!!). The Municipal House is my most favourite building in Prague. My parents used to work there and sometimes they took me with them. I loved the backstage. And was always fascinated by how the floor of the Municipal House was always cleaned: by a long push broom and sawdust….crazy, right?
In the underground of this building you can also find a local curiosity – the 2nd oldest bar in Europe. But it doesn't have very good reviews so you can probably skip that. Just wanted to mention it as a fun fact. The oldest bar in Europe is in Vienna. Important: there is a difference between words bar and pub in Prague. Bar is a coctail place and pub is a simple beer hall. So this is the 2nd oldest coctail place in Europe 🙂
Hidden gem in the neighborhood: Tiny beer hall called Pult: six lagers on tap and small pub meals. What else do you need!? You need to know the address. Otherwise you can easily pass it by. The place is small but very cozy. If you want to taste the best selection of Czech beers in one place, this is your spot. All beers for the same price.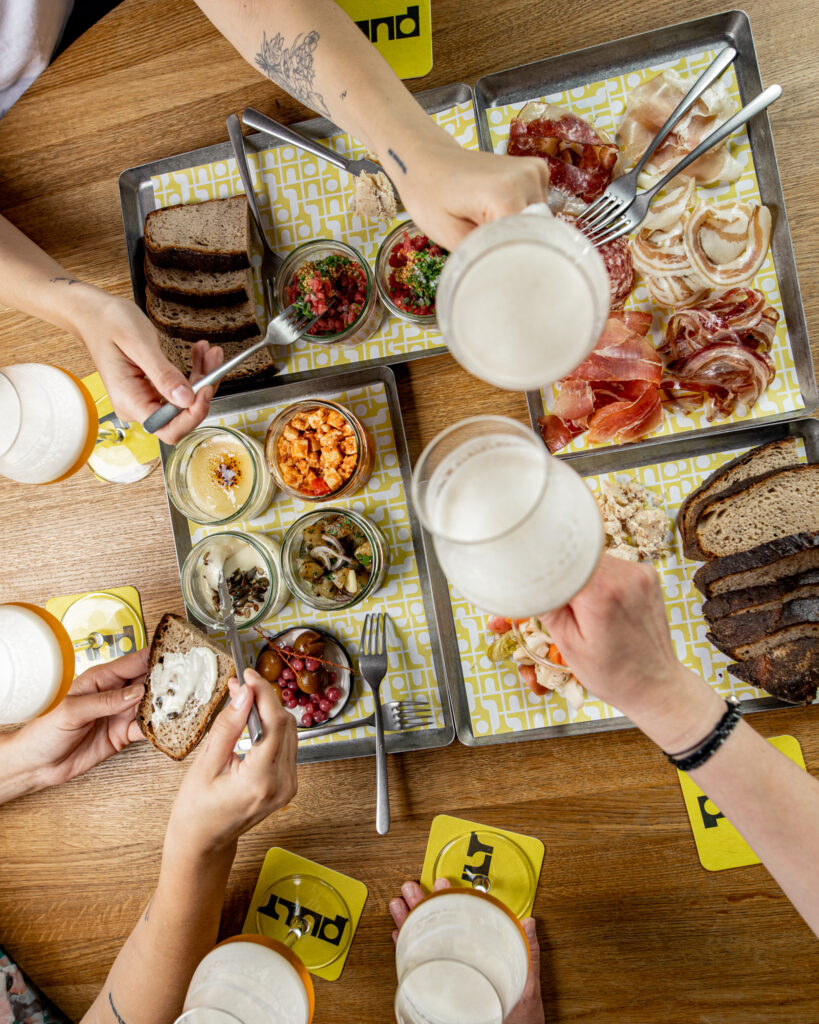 6. Rudolfinum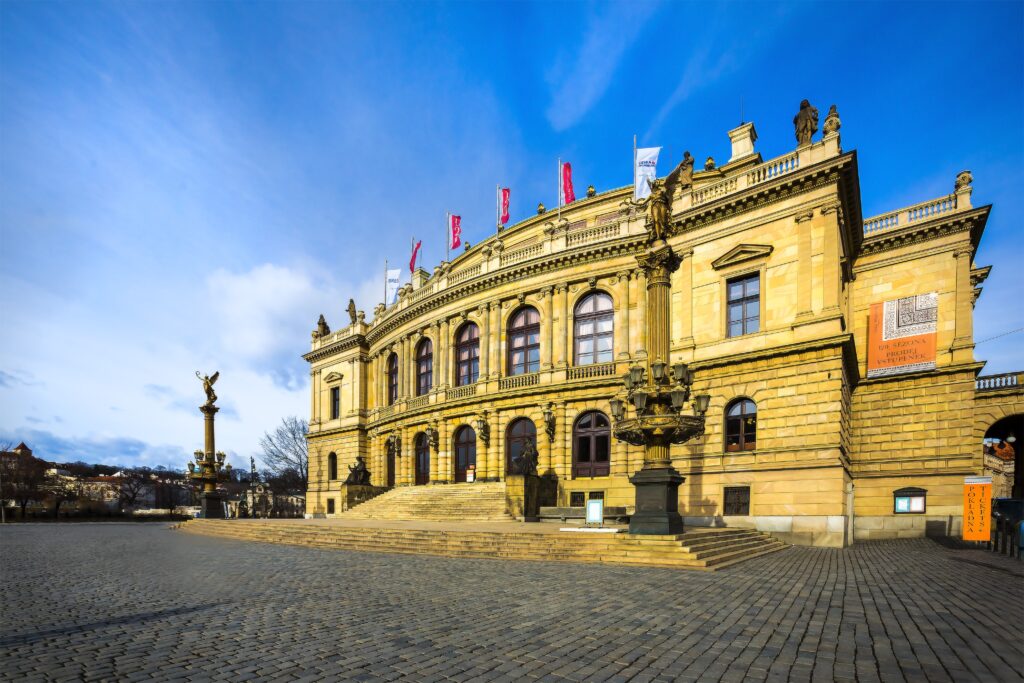 What else, what else, what you shouldn't miss in Prague? Definitely Rudolfinum, located only 5 minutes away from Charles Bridge. Rudolfinum is home to the Czech Philharmonic Orchestra. But, not many people know that there is also a beautiful gallery for contemporary fine art. Art + music in one place. That's why there are 16 sculptures of music composers on the rooftop, and 16 artists! And you know what? There are also beehives on the rooftop and the main beekeeper is the viola player of the orchestra – Mr. Vácha.
Hidden gem in the neighborhood: Would you like to taste the honey from the Rudolfinum building? Just enter through the main door and there is a shop! Voilá! Philharmonic honey. What a lovely gift from Prague. More about souvenirs and gifts from Prague: 8 original gift ideas with Made in the Czech Republic label.
---
Dana, owner and fully certified guide for Prague Behind The Scenes | small-group tours and experiences.
Did you like my "behind the scenes" tips? Please feel free to contact me if you have any questions or want to see Prague in a more authentic way: dana@praguebehindthescenes.com
You can also follow Prague Behind The Scenes online for more inspiration.
---
Where to next?
3 hidden gems of Prague food scene (still undiscovered by food bloggers and masses)
Where to exchange money in Prague and how much?
How tipping works in Prague: where to tip and how much?
3-hour private tour of Prague downtown with Dana
How to get from / to Prague airport?
How to read the Astronomical Clock in Prague?
Easy trip from Prague to Olomouc: city of a famous cheese that smells like sweaty feet
5 hidden gems of Prague Old Town. Discover them with a local!